Nvidia (NASDAQ:NVDA) has spent a lot of money developing the Tegra SoC. However, the Tegra is not getting enough industry support from smartphone and tablet device makers. Tegra revenue dropped 37% during the Q4 FY 2014 period. The decline may even go worse since Xiaomi is not going to use Tegra 4i for its new Mi3S premium Android phone.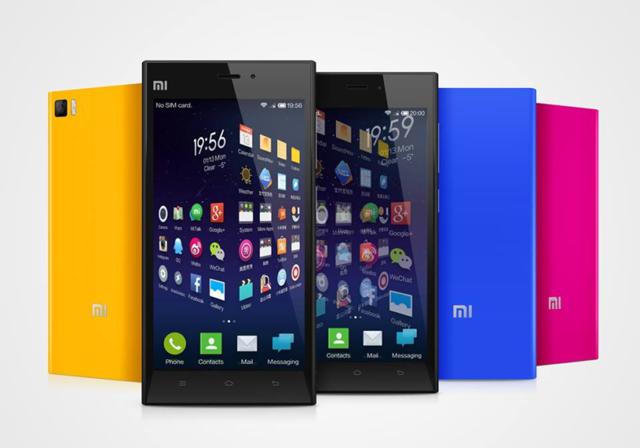 Click to enlarge
Source: Xiaomi
In my previous article, I emphasized the importance of retaining the Xiaomi business for NVDA. Xiaomi's Apple-like cult following in China has made it a $12 billion company just by selling iPhone clones at a much reduced price. The older Xiaomi Mi3 had two variants last year, one powered by Tegra 4 and the other by a Snapdragon 800.
Xiaomi is expanding beyond China. Lei Jun, founder of Xiaomi, said his company plans to sell its phones to 10 more countries this year. Former Google Executive, Hugo Barra, is leading Xiaomi's international expansion. Nvidia still benefits if Xiaomi sells the older Tegra4-equipped Mi3 to the 10 countries where they plan to expand. Tegra 4 Xiaomi phones will soon be available to the following countries.
The Philippines
Brazil
India
Russia
Indonesia
Malaysia
Mexico
Thailand
Turkey
Vietnam
India and Brazil are huge markets for smartphones. The U.S. is just north of Mexico, Tegra 4 phones could also soon be available to American customers. However, it would be much better if the new Tegra 4i SoC with LTE baseband also finds home in the new Mi3S phone.
Gaming Gadgets May Improve Tegra Revenue
The Tegra 4i-powered Wiko Wax is not going to significantly help Nvidia post $200 million revenue from Tegra sales. Fortunately, other OEM companies are going to help Nvidia make up for the loss over the new Xiaomi Mi3S phones. Asustek, the world's No.3 tablet vendor, is plotting to market a mini-console for Android gamers. The Asus Game Box will feature a Tegra 4 SoC, 8GB of storage, and 2GB of RAM.

Click to enlarge
Source: Asustek
Asus is global brand and has a worldwide distribution network. Asustek can easily market the Tegra-powered Game Box for $100 and have more success than the Ouya Tegra-3 powered Android gaming console. Asus, unlike start-up Ouya, has the money and sales muscle to really saturate the world with a cheap Android console.
ZTE, another mega-cap multinational corporation, also helped The9 come up with the $159 FunBox Android gaming box. The FunBox is another Tegra 4-powered game console that runs Android OS 4.3. The high price tag is probably due to the Dolby DigitalPlus Audio, wireless controller, dual-band Wi-Fi, and support for 4K video.
The FunBox was originally intended for Chinese customers but it is now also available for international buyers. This ZTE-made entertainment and gaming box can be purchased from AliExpress.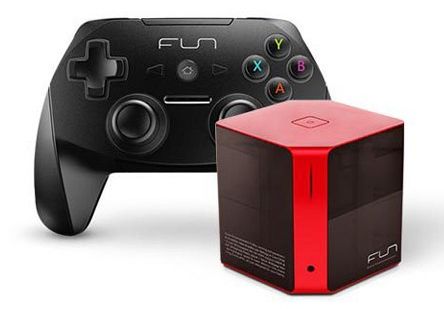 Source: Liliputing.com
Huawei, another mega-cap OEM company is also using the Nvidia Tegra 4 SoC to power its upcoming Android gaming console. The Huawei Tron got its debut during the CES 2014 show last January. Huawei officials boasted that the Tron, aside from playing Android games, will also be able to play some PC, PlayStation 3 and Nintendo 2DS games.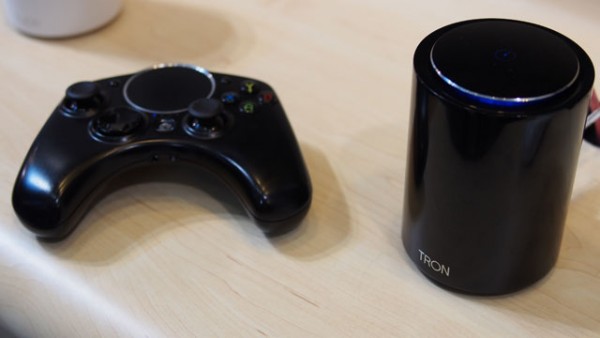 Source: TrustedReviews.com
The Huawei Tron is again intended for the China market only but I hope AliExpress will also market it online for international customers when it becomes available. ZTE and Huawei are two potential big buyers of Tegra 4 chips which should help Nvidia improve its Tegra revenue stream this year.
The Mad Catz M.O.J.O. is another $200 Android games box which uses a 1.8 GHz quad-core Tegra 4. Unlike the Chinese-made boxes, The M.O.J.O. comes with Google Play pre-installed. Newegg is selling this Tegra gaming box for $180 which you can connect to your HDTV for serious 1080p gaming fun.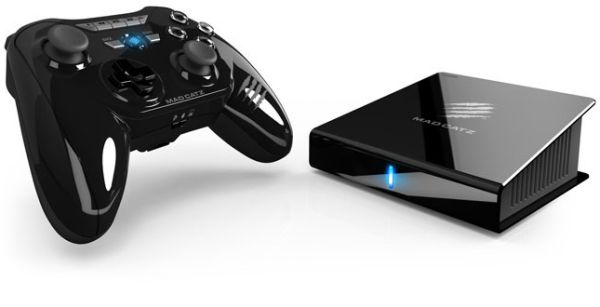 Source: Liliputing.com
The Nvidia Shield 2 Will Come With Tegra K1
Nvidia is also not relying on other companies to initiate the commercial launch of its 192-core Tegra K1 SoC. The upcoming Nvidia Shield 2 is being reported as Tegra K1-equipped. A prototype Shield 2 unit got tested by AnTuTu. We all know that Nvidia did not sell a lot of the original Shield handheld console.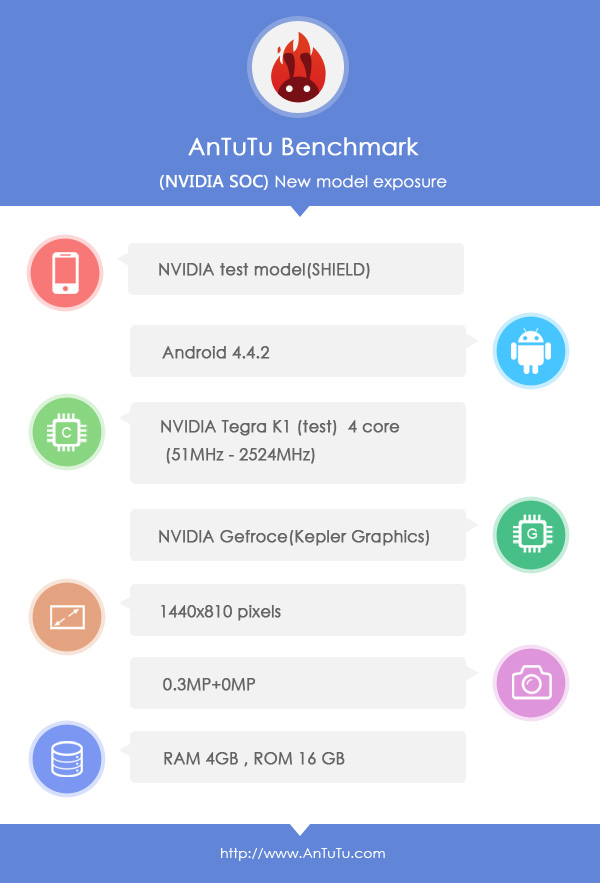 However, the Shield is a niche device that's ideal for testing the true power and energy efficiency of the Tegra K1. Like its predecessor, Shield 2 will again inspire hardcore gamers to upgrade their desktop GPUs so they can take advantage of the Shield's GameStream technology.
I only hope that Nvidia Shield 2 will still have the $199 price tag of the original Shield. The GamePad Mapper is truly excellent for playing Android games. I still wish for the Shield 2's controller to be detachable. Some gamers complain that the old Shield with its attached keyboard is cumbersome. A number of people want a modular Shield with detachable controller. Touch-only gaming on Shield 2's 5-inch display is a good selling point.
Conclusion
Nvidia's Tegra revenue for this year may greatly improve due to sales of Android gaming consoles. It would be nice if a Tegra is inside the next Amazon Fire TV. Amazon knows how to sell gadgets in large volumes.
NVDA is still a good long-term investment. The company's Tegra business is struggling but it is not a reason to abandon this great company.
Lenovo's ThinkVision 28 is a 28-inch LCD monitor with a full onboard computer system. It is powered by the Tegra K1. If Lenovo pushes through with this Android OS desktop computer, it may inspire other manufacturers to use the Tegra K1 in home entertainment computer systems. The Tegra K1 is powerful enough to be used beyond Android gaming consoles.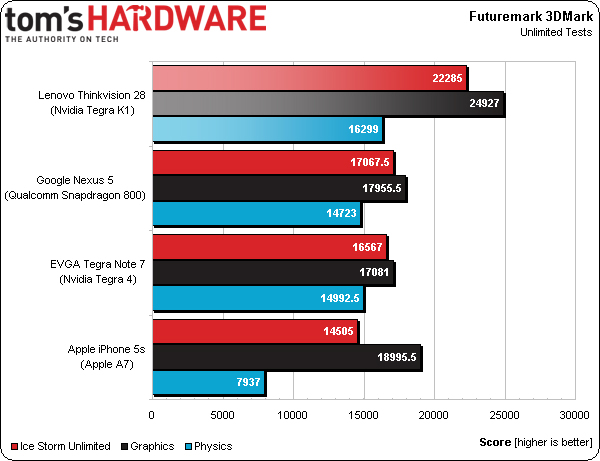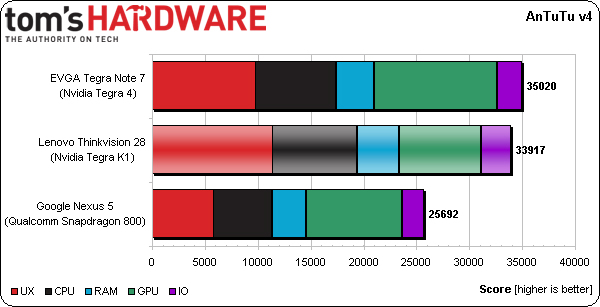 Benchmark Charts by Tom's Hardware
Disclosure: I have no positions in any stocks mentioned, and no plans to initiate any positions within the next 72 hours. I wrote this article myself, and it expresses my own opinions. I am not receiving compensation for it (other than from Seeking Alpha). I have no business relationship with any company whose stock is mentioned in this article.