As a part of ranking BDCs 'Profit' is a key category because it indicates dividend sustainability and the potential for dividend growth or reductions. In my latest "BDC Rankings: April 2014" I include profitability, risk, return, analyst opinions and valuation. Keep in mind that the rankings are from 1 to 10 (10 being the most favorable) on a relative basis to each other. Profitability takes into account many things but the four key categories are historical and projected dividend coverage, EPS growth and operating expense efficiency. Within each of these categories there are various timeframes and methods used but I will keep it basic for this article. Whenever possible I use 'core net investment income' that excludes capital gains and associated expenses such as onetime incentive fees on gains and when projecting core NII I use conservative estimates for 'recurring/non-recurring' income and expenses. This core NII is more representative of recurring income available to cover dividends.
The following table breaks out the four profit categories along with my current profit rank and the debt-to-equity ratio excluding cash for each BDC. The table does not contain whole numbers and the overall rank is weighted more toward sustainability than the other measures.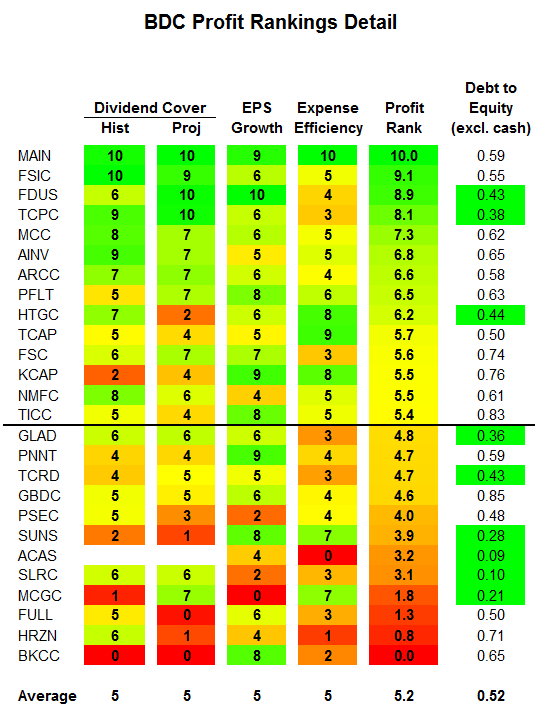 These rankings will be changing to take into account reported financial results over the next three weeks as well as the research that goes into my premium reports for each BDC. These reports provide 'base case' core NII projections along with best and worst case scenarios. More importantly, I look at historical use of capital to project optimal leverage levels and dividend growth potential as well as interest rate sensitivity and how operational expense efficiency will benefit shareholders. Most of these analyses are included in each of the categories used for the profit rank.
Obviously Main Street Capital (NYSE:MAIN) continues to have the highest rank for many reasons including the ones discussed in "MAIN: The Best BDC?" and having the lowest cost structure and conservative approach to increasing monthly dividends to 90% to 95% of expected core NII giving it excellent coverage and room for continued growth and semiannual special dividends. Over the last 12 to 16 months only three BDCs have increased dividends by 10% or more: MAIN, Hercules Technology Growth Capital (NASDAQ:HTGC) and FS Investment Corp. (NYSE:FSIC).
Prospect Capital (NASDAQ:PSEC) is one of the favorites among BDC investors mostly due to its 'reliable' monthly dividend of 1% but there is no chance of growth beyond the turtle pace they have set of raising it $0.000025 per month or a 1% increase every 44 months that could be seen as a decrease after adjusting for inflation. The bad news is that in a recent SEC document, the company disclosed:
"During the period from January 1, 2014 to April 8, 2014 (with settlement through April 9, 2014), we sold 32,140,686 shares of our common stock at an average price of $11.11 per share, and raised $357.1 million gross proceeds, under our at-the-market offering program, or the "ATM Program." Net proceeds were $353.7 million after commissions to the broker-dealer on shares sold and offering costs. In addition, we issued 2,306,294 shares in connection with the acquisition of a portfolio company."
However, from a net asset value ("NAV") standpoint, this would actually be a positive because it could support any realized or unrealized losses and if there were none I would estimate the new NAV per share to be $10.77 compared to $10.72 last quarter. Basically PSEC added almost 35 million shares (including the DRIP) or 12% and more than other quarters. I will update my projections to take this into account. My continued concern for PSEC (as a shareholder myself) is the potential for slight under coverage of dividends that would chip away at the cushion of undistributed NII as shown in my "PSEC Undistributed NII Chart".
As we begin earnings season this coming week with 7 of the 26 companies that I cover reporting including MCG Capital (NASDAQ:MCGC) first on Monday that has already given us the bad news as predicted months ago by my continued poor profit rankings and "Hercules Technology Vs. MCG Capital". I have already projected and included another quarterly dividend cut this coming quarter for MCGC from $0.125 to $0.07 which actually has a positive impact on its rankings because the lower dividend is more sustainable. As you can see it goes from a historical coverage of 1 up to projected 7 and it is a lower cost internally managed BDC with low use of leverage that could potentially grow its core NII once the company is finished rearranging management. The recent announcement discussed some of these changes and preliminary results with, "For the three months ended March 31, 2014, the Company expects to generate between $4.1 and 4.3 million of net operating income, $23.0 and $24.0 million of net investment losses and $18.9 and $19.5 million of net losses. Per weighted average share for the quarter, the Company expects to generate between $0.05 and 0.06 per share of net operating income, $0.33 and $0.35 per share of net investment losses and $0.27 and $0.29 per share of net losses."
Next to report will be American Capital (NASDAQ:ACAS) and Gladstone Capital (NASDAQ:GLAD). I do not follow ACAS as closely as the other BDCs because it is not an RIC obligated to distribute at least 90% of ordinary income and realized net short-term capital gains. ACAS had falling EPS for a few years as it shifted capital away from income producing assets. I have recently finished my "GLAD March 2014 Report" with a core EPS range of $0.20 to $0.23 but the base case of $0.218 and slightly above analyst estimates of $0.21. Keep in mind that my core EPS does not take into account incentive expenses associated with capital gains that are sometimes included in reported EPS.
Also reporting later in the week is HTGC, Medley Capital (NYSE:MCC) and BlackRock Kelso Capital (NASDAQ:BKCC) on Thursday. I have recently finished a report on HTGC as well with a projected core NII between $0.24 and $0.28 with a base case of $0.259. As discussed in my "HTGC March 2014 Report" I have upgraded its risk profile due to management making long-term decisions in the best interest of the shareholders instead of trying to temporarily cover dividends by quickly growing the portfolio and potentially sacrificing credit quality and/or portfolio yields. This means that over the next two quarters I anticipate a lack of dividend coverage from NII. Management has stated this is not the immediate concern and will continue to selectively grow the portfolio as well as sell marginalized assets in this 'frothy' lending environment in an effort to improve credit quality and maintain higher than average yields. As you can see I have a 2 out of 10 rank for HTGC's projected dividend coverage but will revise as needed. Analysts have a different view with projected EPS of $0.28 and $0.29 over the coming quarters.
My next report will be on MCC and will be done before it releases results, so I will adjust the profit rank as needed in the following articles. I do not actively cover BKCC for many reasons including its lack of dividend coverage with projected and recent actual annual EPS of between $0.64 and $0.91 compared to its dividend run rate of $1.04.
Fidus Investment (NASDAQ:FDUS) is expected to report this coming week as well but has not announced exact timing. I consider FDUS to be a higher quality BDC but recently sold my personal position due to pricing concerns.
Investors should only use this information as a starting point for due diligence.
Disclosure: I am long HTGC, MAIN, TCPC, FSC, FSIC, ARCC, TCRD, PSEC, NMFC. I wrote this article myself, and it expresses my own opinions. I am not receiving compensation for it (other than from Seeking Alpha). I have no business relationship with any company whose stock is mentioned in this article.