The Alerian MLP index retreated by 0.90% for the week with YTD total return performance at +4.74%. The S&P 500 finished the week very close to where it finished the previous one, down about 1/10th of a percent, with YTD performance at +1.43%. In spite of the down week for the AMZ, 27 of the companies tracked by MLPData set new 52-week highs against just 2 new lows. One interesting observation for the week is the forecast that Texas will produce more oil than each of the countries of Kuwait, Qatar and likely Iraq by the end of 2014.
Unit Value Winners and Losers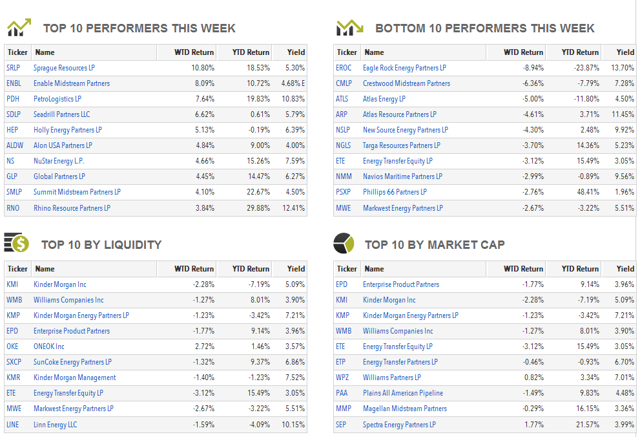 The big news for winners and losers was the announced suspension of distribution payments by Eagle Rock Energy Partners LP (NASDAQ:EROC). The cash strapped partnership will not pay distributions until its deal to unload the midstream part of the business has been completed and the debt load is reduced. Crestwood Midstream Partners LP (NYSE:CMLP) dropped on a distribution announcement that stayed level instead of increasing. The Atlas complex is in play this week with Hedgeye pre-announcing their negative research findings only to be countered by APL's announcement of a new cryogenic processing facility in the Permian and long term customer contract.
On the winner's side, Sprague Resources LP (NYSE:SRLP) announced an agreement to lease a million barrel petroleum storage facility in Rhode Island. As we have seen with other new units, Enable Midstream, a $10B unit with a low float of 25MM, is moving higher as the market takes notice of their organic growth potential.
Distribution Rate Changes
There were 51 distribution announcements this week, with 31 increases over the previous quarter and no decreases - excluding the EROC suspension.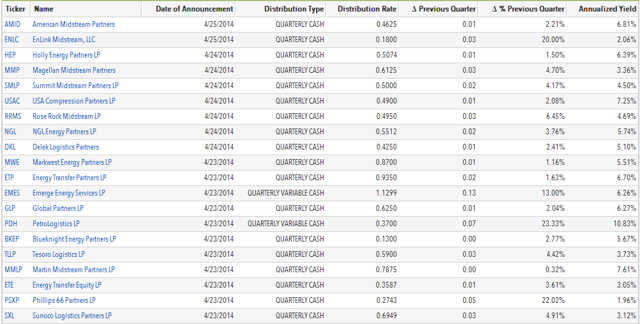 Insider Trading
Leon Cooperman and his investment firm own about 7 million units of Atlas Resource Partners LP (NYSE:ARP) adding to their position to offset the Hedgeye report. John Sherman, the former CEO of Inergy which merged with Crestwood Midstream Partners, continues to unload shares now that he no longer runs the company.

Equity Issuance News
SunCoke Energy Partners issues equity to fund further planned drop downs and New Source Energy Partners, a high yield low coverage unit, raises $70MM.
Get the details of any offer of interest by clicking on the specific issue on the Issuance page of the MLPData Dashboard.


ETF, CEF and Mutual Fund Money Flows
MLP focused funds gained $394 million in assets over the last week. Mutual funds added $242 million and ETFs $152 million. Since tracking began in 2013, we have yet to see a net month of outflows. New Fund products are increasingly including MLPs in their strategies, which further diversifies the ownership base, a very healthy sign for long-term investors.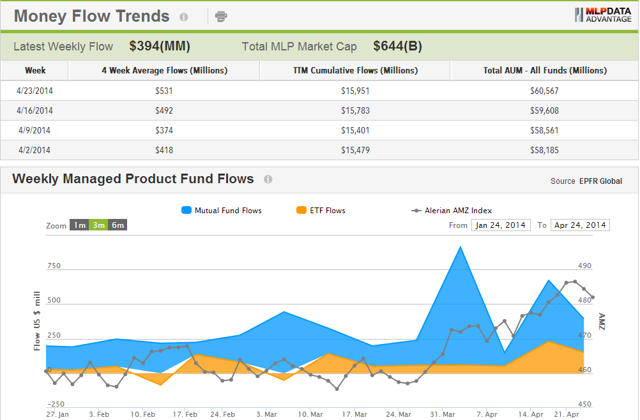 Next Week's Earnings Calendar
After five earnings releases this week, the pace speeds up next week with 36 companies scheduled to report Q1 results next week.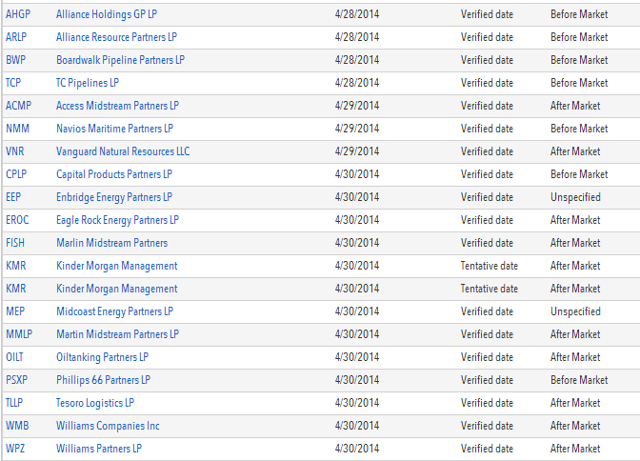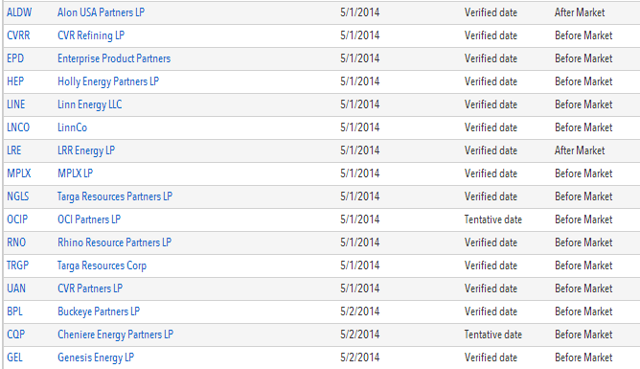 To make sure you get this round-up each week, make sure you are Following MLPData here on Seeking Alpha.
All charts and tables provided by MLPData.com
Disclosure: I have no positions in any stocks mentioned, and no plans to initiate any positions within the next 72 hours. I wrote this article myself, and it expresses my own opinions. I am not receiving compensation for it (other than from Seeking Alpha). I have no business relationship with any company whose stock is mentioned in this article.