Twitter (NYSE:TWTR) to report 1Q14 financial results on April 29th. Heading into the print, investors will place a greater focus on user growth and engagement metrics as monetization is expected to meet estimates. While the company introduced several features with the aim to improve engagements, I expect those features are unlikely to deliver a quick turnaround in engagement. If the market is looking for a rebound in engagement, it could be disappointed. Finally, valuation is a stretch when compared with both social internet comps. That, coupled with lack of visibility on engagement, will keep me on the sideline for now.
Both consensus revenue of $241m and EBITDA of $19m are above management guidance of $230m-$240m in revenue and $10-$16m in EBITDA. I believe the street is clearly overly optimistic over a quick turnaround in user growth profile. Consensus is likely to be at risk going into the quarter and downward revision is a distinct possibility.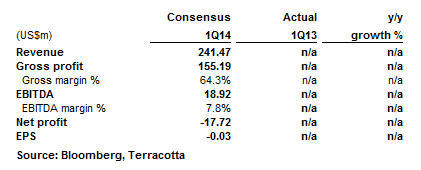 It is all about the engagement
Engagement/time-spent is the key metric of every social media/networking company. The more time the users spend on a certain platform, monetization will naturally follow. Financially, Twitter has done well in terms of abridging its gap with Facebook (NASDAQ:FB) in revenue per MAU. I note in 2010, Twitter's revenue/MAU was ~15% that of FB, but it has grown it three times in three years.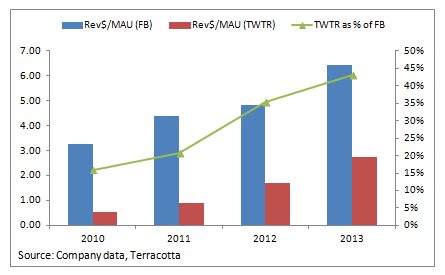 MAU growth in both the US and international has been steady, with the strongest growth coming from outside of the US.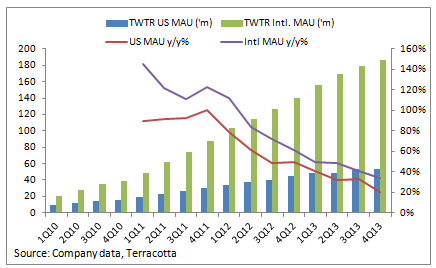 However, Twitter's timeline view/MAU has fallen sharply over the past two quarters with the US metric showing a 5% y/y decline and international metric declining 2% y/y in Q4.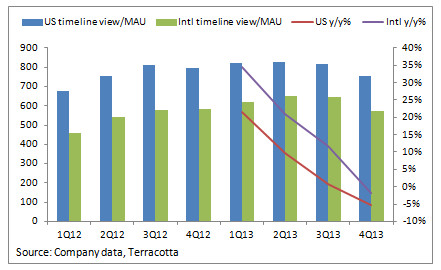 I believe the decline in engagement could be due to a shift in social networking behavior among the population amid the rise of messaging apps, such as WhatsApp and WeChat, and to emerging social media platforms such as SnapChat. Moreover, the enhanced functions and features of Facebook could also draw engagements away from Twitter.
That said, improving user engagement should be Twitter's top priority this year. Several initiatives worth mentioning: 1) Twitter has tried to improve mobile experience with easier import function for friends and contacts, 2) better media functions with the aim of enlarging audience and increase engagement, and 3) improved communication tools for public and private. I believe these functions could retain user-engagement in the near term but long-term visibility is still not there yet. Any missteps in execution could result in downward earnings revision and downward re-rating by the street.
Valuation is a stretch by any standard
Despite a 43% decline in stock price since its high in December, Twitter still trades at 183x FY15E consensus earnings, compared with Facebook that trades at 32x FY15E and LinkedIn (NYSE:LNKD) that trades at 62x FY15E consensus. Twitter's valuation is high by its social media/networking standard, and by any internet standard. I note that companies with indirect exposure to social media such as Google (NASDAQ:GOOG) and Sina (NASDAQ:SINA) trade between 17x-20x FY15E. Moreover, unless Twitter has a better visibility on user growth/engagement profile and mass adoption of its social networking platform, then valuation would be at risk and multiple contraction could materialize.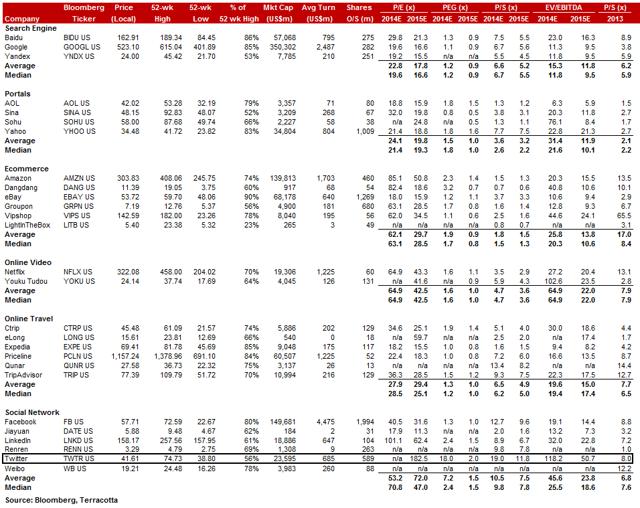 Disclosure: I have no positions in any stocks mentioned, and no plans to initiate any positions within the next 72 hours. I wrote this article myself, and it expresses my own opinions. I am not receiving compensation for it (other than from Seeking Alpha). I have no business relationship with any company whose stock is mentioned in this article.