"When something itches my dear sir, the natural tendency is to scratch."
-The Seven Year Itch
It is a happening that has taken place every seven years since the start of the new millennium. After enjoying a steady and stimulus fueled climb higher lasting roughly five years, the stock market suddenly gets an itch to start off a new calendar year. And when investors give in to the natural tendency to finally scratch the stock market itch as the year progresses, the subsequent downside turns out to be far longer and more painful than most anticipate. When examining how the stock market has performed year-to-date, one may be given to wonder whether the latest seven year itch for stock investors is spreading once again in 2014.
A look back at stock market history over the last twenty years reveals the seven year itch pattern.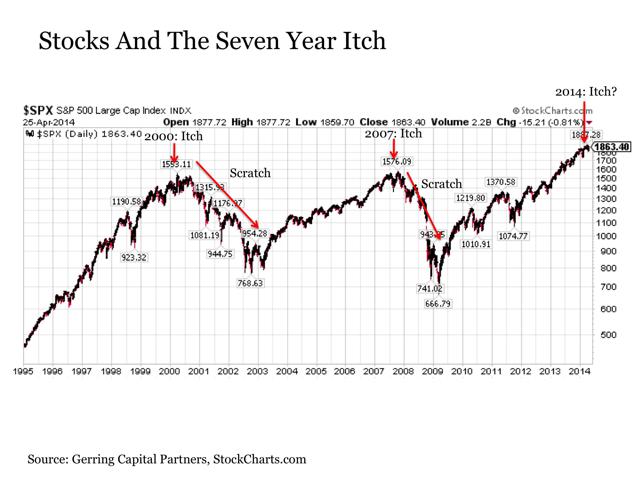 Click to enlarge
From 1995 to 1999, the stock as measured by the S&P 500 Index (NYSEARCA:SPY) more than tripled in price over this five-year period. By late 1999, markets are running hot, the Fed is tightening monetary policy and the market gets an itch with a swift correction to start off the New Year in 2000. Stocks go on to reach new highs by March 2000 and effectively match these highs by early September 2000. But once restless investors finally start to scratch, the subsequent downside over the next two years is long and painful.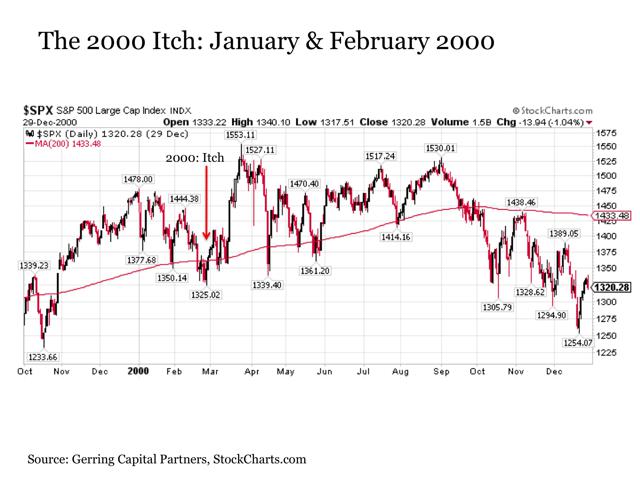 Click to enlarge
After bottoming in late 2002 and early 2003, the stock market enters into another sustained move higher from 2003 to 2006. Over this four-year period, the stock market essentially regains all of the ground lost during the 2000 to 2002 correction in the process. By late 2006, markets are running strong, the Fed is tightening monetary policy and the market gets an itch with a swift correction to start off the New Year in 2007. Stocks once again regain their footing and advance to reach new highs in July and October 2007. But just as they did in 2000, investors finally gave in to the temptation to scratch, and the subsequent downside was just as severe and even more swift than what took place with the bursting of the tech bubble seven years earlier.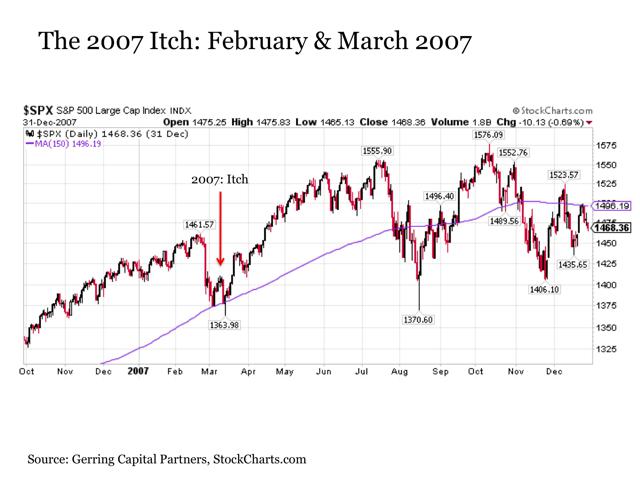 Click to enlarge
So here we find ourselves again today in 2014. After bottoming in early 2009, stocks entered into yet another sustained advance from 2009 to 2013. Over this five-year period, stocks not only regained all of the ground first lost in the 2000 and 2002 correction and again in the 2007 to 2009 correction, but also broke out even further to reach new all-time highs. By the end of 2013, markets are steaming higher, the Fed has begun tightening from extremely loose policy levels by tapering its QE3 stimulus program, and the market seemingly gets another itch with a swift correction to start the New Year in 2014. Since that time, just as it did with past episodes in 2000 and 2007, stocks quickly recovered to reach new highs. But whether this recent itch is foreshadowing yet another major scratch in the months ahead remains to be seen.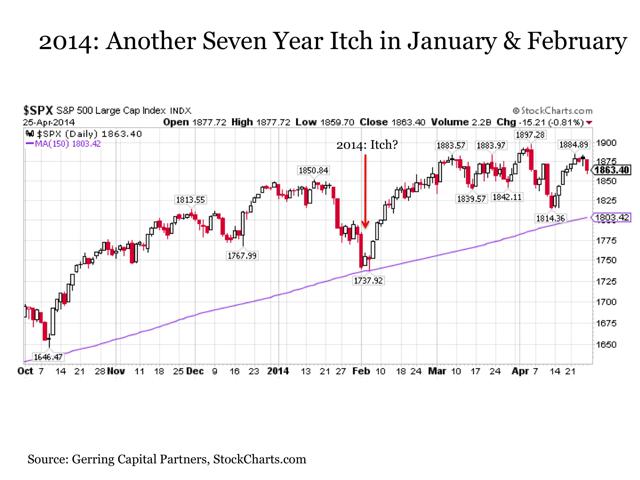 Click to enlarge
"When it gets hot like this, you know what I do? I keep my undies in the icebox!"
-The Seven Year Itch
Perhaps this recent seven year itch pattern is all just a coincidence. After all, it has not taken place with sufficient historical frequency to confirm any meaningful pattern is repeating itself. But given that the current bull market is already running long from a historical perspective with stock valuations already at premium levels and an economy that remains sluggish with generally lackluster corporate revenue and earnings growth, paying increasing attention to potential risks that may be developing is if nothing else prudent.
So what if anything supports the notion that the recent seven year itch pattern might repeat in 2014?
First, the price performance of stocks in the current cyclical bull market cycle bears a striking resemblance to that of the previous two episodes. In each case, stocks were pushing higher for 1,000 trading days or more and the upside move seemed like it would never end. In the past, the market hesitated to start 2000 and 2007, which foreshadowed the more meaningful corrections that came later in each of these years. The market hesitated once again to start 2014. This does not at all mean that another correction is destined to take place starting later this year just because they corrected modestly at the start of the year. But investors would likely be far more comforted if the stock market rally over the last five years had not been so heavily built on the sand of Fed stimulus and instead was built on the rock of actual sustainable fundamental improvement in the economy and markets.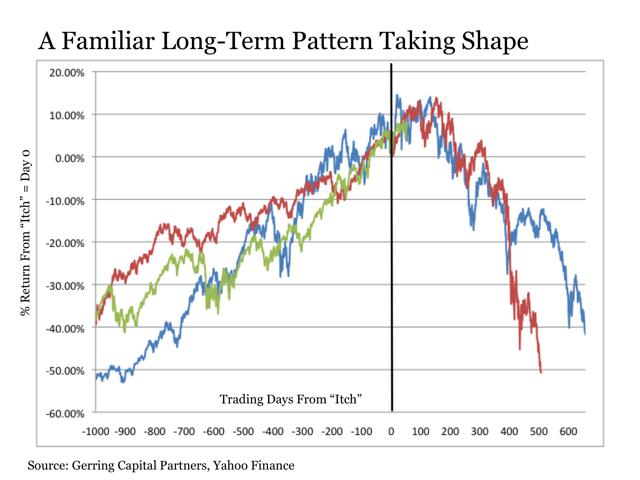 Click to enlarge
Second and perhaps more importantly, those segments of the stock market that led the breakdowns in 2000 and 2007 are once again showing signs of leading deterioration this time around. In 2000, it was small caps (NYSEARCA:IWM) and consumer discretionary (NYSEARCA:XLY) stocks that made the first definitive move to the downside through their inability to reclaim previous highs as the year progressed. In 2007, it was small caps and consumer discretionary stocks once again that first succumbed to the downside. And as we progress through the early parts of 2014, it is if nothing else notable that since early March, the broader market has held its ground near new highs while both small caps and consumer discretionary stocks have departed definitively lower.
Only time will tell whether any seven year itch that might have taken place in 2014 escalates into a full blown scratching attack later in the year. But for those investors that may be feeling more risk averse in the current environment, placing a few unmentionables in the icebox and adding some carefully placed portfolio hedges may be prudent in the coming days, weeks and months to protect against a hot market suddenly breaking out in hives and shifting lower.
Disclosure: This article is for information purposes only. There are risks involved with investing including loss of principal. Gerring Capital Partners makes no explicit or implicit guarantee with respect to performance or the outcome of any investment or projections made. There is no guarantee that the goals of the strategies discussed by Gerring Capital Partners will be met.
Disclosure: I have no positions in any stocks mentioned, and no plans to initiate any positions within the next 72 hours. I wrote this article myself, and it expresses my own opinions. I am not receiving compensation for it (other than from Seeking Alpha). I have no business relationship with any company whose stock is mentioned in this article.
Additional disclosure: I am long stocks via the SPLV and XLU as well as selected individual names. I also hold a meaningful allocation to cash at the present time.