Ford Motor (NYSE:F) released first quarter results Friday which largely disappointed investors (specifically: the short-term minded segment of investors). Ford Motor reported Q1 2014 revenues of $35.9 billion while analysts expected revenues of $34.2 billion -- a handsome beat of 5%. First quarter net income, however, was down 39% y-o-y from $1.6 billion ($0.41 per share) in last year's first quarter to $989 million ($0.24 per share) in the most recent quarter. On an adjusted basis, Ford Motor delivered an EPS of $0.25 trailing analyst consensus estimates of $0.31. As usual on Wall Street, missing EPS estimates is almost considered a capital crime and Ford Motor's shares were punished as a result: The stock fell 3.31% on Friday and closed on $15.78. Shares are now quoting approximately 12% below their 52-week High of $18.02.
Technical picture
After Friday's ill-advised sell-off, Ford Motor is now in short-term oversold territory. Quick, forceful declines in share prices always offer long-term minded investors the chance to buy a quality business at a discount. Since Ford Motor lost more than 3% in yesterday's trading session after the company presented disappointing first quarter results, I think opportunistic investors could now consider initiating a Long position or dollar cost average.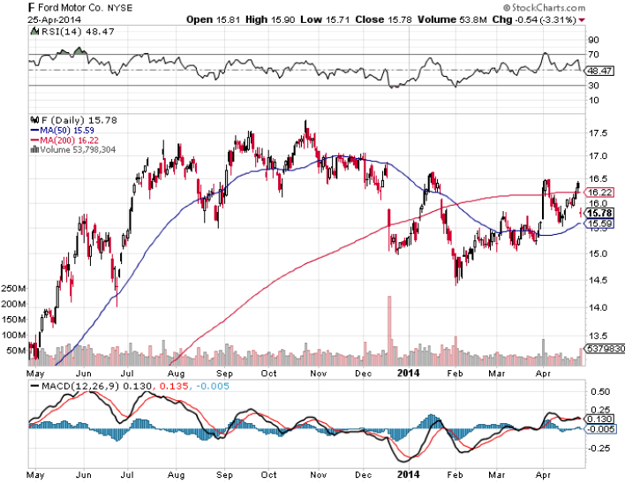 (Source: StockCharts.com)
First quarter results
Ford Motor achieved pre-tax profits of $1,381 million in the first quarter of which $919 million relate to its Automotive unit (y-o-y pre-tax profits are down $765 million and $724 million respectively). Reported special items include a $122 million settlement-related charge with respect to plant closings in Europe and negatively affected Ford Motor's results by about $0.01 per share. While the market predominantly focuses on Ford's weaker y-o-y profitability, it is important to notice that Ford Motor reconfirmed its full-year pretax profit guidance despite the drop in first quarter profitability: The company still expects $7-8 billion in pre-tax profits for the current fiscal year which compares favorably against the $8.6 billion in pre-tax profits in fiscal 2013 -- notably a very successful year for Ford Motor.
Responsible for Ford Motor's lower earnings was a weaker North American market which has largely been anticipated. Europe continues to see losses even though they are lower than a year ago: A clear sign that restructuring efforts are paying off.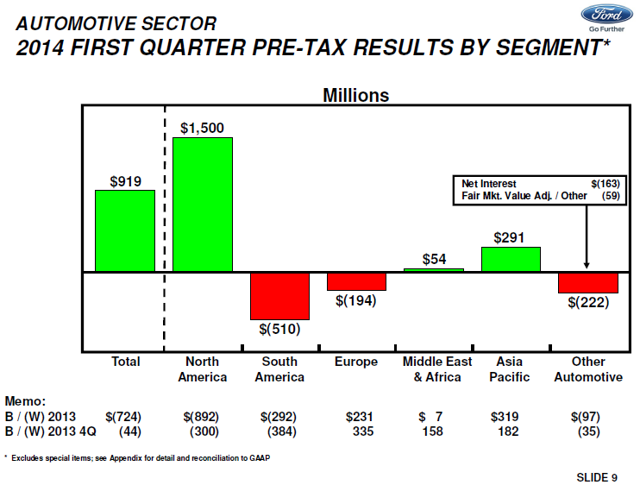 (Source: Ford Motor 2014 First Quarter Earnings Review Presentation)
Ford's U.S. market share remains high at 15.3% and the company posted a slight improvement in its European market share of 0.3 percentage points to 8.0%.
Ford also disclosed a strong cash position: Ford's automotive unit holds a whopping $25.2 billion in gross cash/$9.5 billion in net cash on its balance sheets giving Ford the necessary resources to fund expensive product launches in 2014.
Putting things into context
In my last article about Ford Motor I have already indicated that lower first quarter earnings were likely but also largely expected. As such, the surprise factor is really not that large and investors might find the recent pullback in Ford's share price an attractive buying opportunity. I wrote:
Don't make the mistake of extrapolating

Many investors feel tempted to extrapolate any current results a company presents. Good results mean good results forever, disappointing results are harshly punished. I believe investors looking for bargains in the stock market should adopt a different mindset: Bad/disappointing results are often a great contrarian investment opportunity while rosy expectations are likely to be disappointed.
Ford Motor remains an extremely undervalued blue chip bet and first quarter results didn't change that. I stand by my valuation model indicating an intrinsic value of $36 per share for Ford Motor. Ford Motor's value proposition is so attractive (in terms of discount to intrinsic value), that I believe Ford Motor is much more likely to hit $20 than to drop back to the $10 level.
Conclusion
Ford Motor's decline in share price is the result of Ford's announced y-o-y profit decline of 39%. In Wall Street world, this is sufficient reason to immediately sell the stock and embark on new investing adventures somewhere else where the grass seems to be greener. While that, of course, is an illusion, investors taking a long-term investment horizon will realize that Ford Motor has a lot to offer. Ford's valuation, by any measure, is low, Ford reaffirms its 2014 profit goals, makes progress in its restructuring efforts in Europe and produces record monthly sales results for a variety of car models in a variety of geographies. In addition, Ford's 3% dividend yield should comfort investors while they are waiting for higher share prices. Long-term BUY, Strong BUY on pullbacks.
Disclosure: I am long F. I wrote this article myself, and it expresses my own opinions. I am not receiving compensation for it (other than from Seeking Alpha). I have no business relationship with any company whose stock is mentioned in this article.