Who does not love Costco (NASDAQ:COST)? When compared to its larger competitor, Walmart (NYSE:WMT), Costco comes out smelling of roses. It has been in the headlines for its employee-friendly policies, while WMT gets derided for paying minimum wage and killing local business. Costco's customers are extremely loyal to its paid membership model, with retention rates of over 90%. These subscriptions drive the bulk of its profits - Costco is justly famous for squeezing margins from its suppliers and passing them on to the consumer. The maximum markup for any item at Costco is 14%, which accounts for its low average gross margin of around 10.5%. By clearly stating this low-markup policy, Costco drives home its value message to its customers.
Below, I analyze how all these positives have been priced into the stock, and if Costco, besides being a great place to shop, is suitable for your investment dollars.
Store Growth
At the close of its FY13, Costco had 634 warehouses, and is on track to open 29 net new warehouses by the end of FY14. Costco's model is not one of rapid expansion - on average, it opens between 20 and 25 new warehouses every year. In FY14, it will open its first warehouse in Spain. Since FY09, Costco has grown its footprint from 527 stores to 634. Going forward, I expect Costco to maintain its current pace of growth, at around 25 net new stores per year.
Same store sales growth
Since FY09, COST has shown impressive same store sales growth. Same store comps have grown 28% cumulatively since FY09. In my model I assume steady yearly comp growth of 4% on top of a roughly similar rate of store expansion. This leads to a revenue growth of 7-8% annually through 2020. The following chart shows the assumptions around store and comp growth: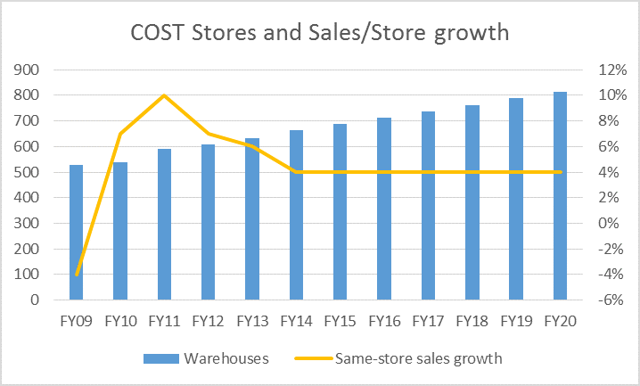 Membership fees, margins and expenses
Membership fees are the major driver of Costco's profits, and have shown a slight uptick with the increase in prices, but have also ranged between 2.1% and 2.2% of sales. I assume 2.2% in my analysis.
The interesting pattern in Costco's financials is how stable its key operating metrics are on a year-on-year basis. Gross margins have remained between 10.8% and 10.6% since FY09. I am assuming a margin of 10.5% going forward. Similarly, SG&A expenses have ranged between 10.0% and 9.8%, with a slight downward trend. Hence, I am assuming 9.8% for my analysis.
Pre-opening expenses are around $2M/store, and have been modeled in line with the net store openings.
Costco had a one-time tax benefit in FY13 which resulted in an artificially lower tax rate. Going forward, I have modeled a tax rate of 35% which is consistent with management expectations and recent results.
Valuation
I believe Costco has fairly low business risk due to the maturity of its business model and the conservative way it is run. This is evident in the stability of its key metrics across a number of years - management knows how to dial back and invest as needed. Hence, I am assuming a low discount rate of 8% for Costco. For the terminal value calculation, I assume a terminal growth rate of 2%. This is arguably on the conservative side, but long-term I am expecting Costco to grow essentially in line with GDP.
Using these assumptions, I get to a fair market value of $102/share for Costco, which is 12% below the share price. This indicates that Costco is somewhat overvalued at the moment. To test my assumptions, I tweaked the comp growth, as I believe the other assumptions around margins, SG&A and membership fees are pretty reasonable and borne out by history. However, if Costco can increase its comps by 5% year-on-year through 2020, it is still 7% overvalued. At 6%, its FMV would approach the current share price of $115. The valuation model is below: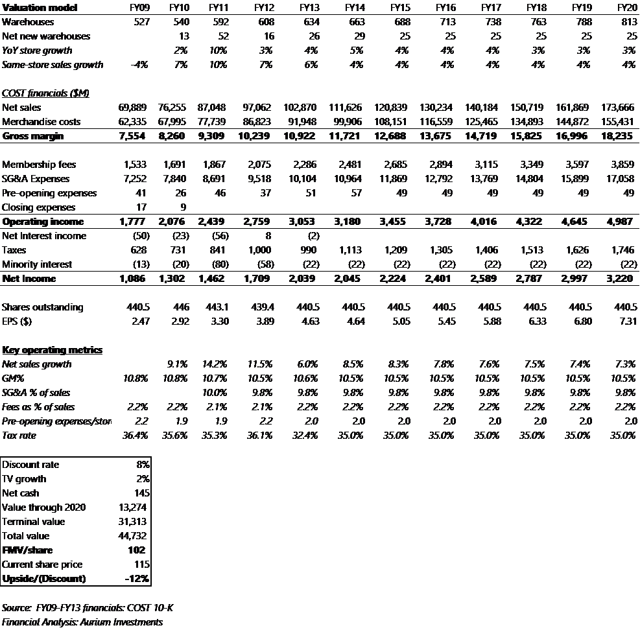 Summary
In the past few weeks, I have written about CMG and ARCO, which are in my opinion excellent companies that happen to be overvalued. Based on my analysis, COST appears to belong to that category. I am a loyal customer and will have no hesitation renewing my membership when I have to. Costco offers thousands of products at attractive discounts. Unfortunately, its shares are not among them.
Disclosure: I have no positions in any stocks mentioned, and no plans to initiate any positions within the next 72 hours. I wrote this article myself, and it expresses my own opinions. I am not receiving compensation for it (other than from Seeking Alpha). I have no business relationship with any company whose stock is mentioned in this article.
Additional disclosure: I am short COST puts.