Chipotle Mexican Grill (NYSE:CMG) has been a standout performer in the restaurant industry for several years now. As illustrated in the chart below, the stock has returned over 500% in the last 5 years.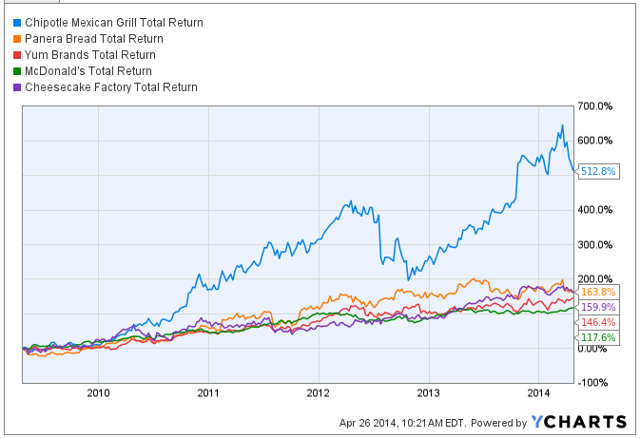 However, its shares fell by nearly 6% in a single session after investors weren't too pleased with its recent earnings report. Altogether, the stock has corrected nearly 20% since its March high of $622.90. Can the stock bounce back from here? Or will it continue its slide? Let's take a look at the pros and cons.
Pros
1. Quality food
The company is driven by a strong set of values, even if some of those decisions have increased its costs internally. This is especially the case with sourcing of its ingredients and meats. The high-quality ingredients and advanced cooking methods used by Chipotle are second to no other fast-food chain. Among recent developments, the leader in fast-casual dining concepts plans to become absolutely GMO-free by the end of 2014. Although the aim is not new, it shows Chipotle's commitment to bring fresh ingredients to the table. Besides offering high-quality meals to its customers, the portions are generously sized and the value is unmatched. There are very few places that can fill you up for less that $10 with quality food, and not junk. The combination of fresh, pure ingredients, cutting-edge cooking methods, and tremendous portions gives Chipotle a mouthwatering appeal.
2. Expansion
New restaurant openings and comparable restaurant sales increases are important factors contributing to Chipotle's increase in revenues in recent years.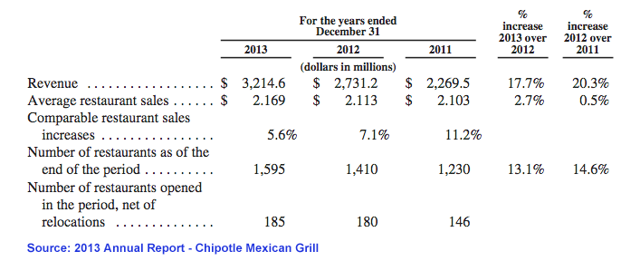 As illustrated in the table above, the company has increased its restaurant-count by nearly 14% over the last three years. The management expects to open around 180-195 new restaurants this year. With that aim, Chipotle has already unveiled 44 new locations in the first quarter of 2014. Sales from not-yet-comparable restaurants contributed $333.9 million of the increase in sales in 2013, of which $156.6 million was attributable to restaurants opened during the year. That compares to $304.7 million of sales from restaurants not yet in the comparable base in 2012, of which $134 million was attributable to restaurants opened during the year.
From only 481 stores nationwide in 2006, it has more than tripled its store count to 1639 in eight years, mostly in the United States. To put that into perspective, McDonald's (NYSE:MCD) has over 14,000 locations in the US and about 7,300 in Europe. This indicates the enormous growth potential that the company has domestically as well as internationally. If Chipotle can continue to find good locations to open new restaurants, it should be able to sustain its double-digit store-count growth well into the future.
But that's not all, the company is also venturing into other food types. Last December, Chipotle announced it had bought a controlling stake in Pizzeria Locale, a Denver-based pizza chain. Furthermore, the company is also slowly positioning into the Asian cuisine market through its ShopHouse Southeast Asian Kitchen restaurant. Chipotle's plans to leverage its platform into other categories by incorporating new concept restaurants could significantly help its worldwide growth.
3. Efficient and innovating operating model
Chipotle's concise menu and swift assembly-line process for preparation makes it one of the most efficient restaurants in the industry. This maximizes its throughput (customers served per hour), a notable factor in its growing comparable-restaurant sales. During the first quarter of 2014, the company served as many as seven extra customers during peak hours as compared to the same period last year. This augurs well for Q2 and Q3, which normally tend to be busier periods of the year.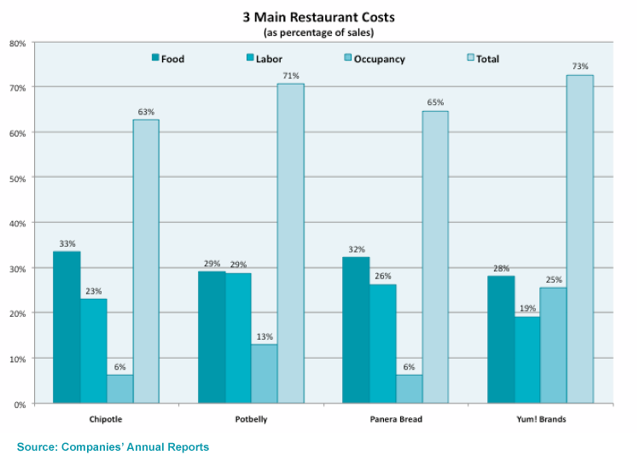 The efficient operation allows to make the most of its resources that, in turn, helps it to keep its costs low. There are three main costs in the restaurant business, viz. food, labor, and occupancy. Comparing these three costs as a percent of sales, Chipotle's total restaurant-level costs are among the lowest in the industry, despite spending more on food, thereby enabling it to generate more profits.
4. Recent insider activity
Chipotle has a history of stock compensation and yet many of its key officers and directors purchase more of its shares. On April 22, Jeffrey Kindler, a member of the board of directors, bought 1,000 shares of the company's common stock at prices between $509.50 and $510.00. Undoubtedly, insiders are the most knowledgeable about the company's overall position and their buying is typically suggestive of their confidence in firm's future growth.
Cons
1. Valuations
Chipotle currently sports a market value of a little over $15.55 billion. In the last five years, its shares have surged 510.6%, compared with 164.7%, 145.1% and 117.2%, respectively, of growths in Panera Bread (NASDAQ:PNRA), Yum! Brands (NYSE:YUM) and McDonald's.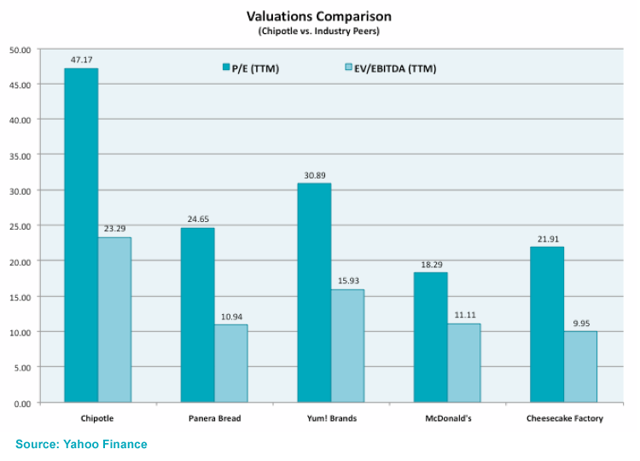 Despite the recent 20% pullback, Chipotle trades about 47 times its past earnings and about 31 times its future earnings. These are hefty valuations considering most of its industry peers sell for less than half these multiples.
2. Sourcing quality ingredients
It goes without saying that investors would like Chipotle to grow its presence manyfold, domestically and internationally. A McDonald's-like presence would be great, but almost unattainable in Chipotle's case.
Although the company has plenty of room to grow, it will face enormous challenges as it becomes bigger, especially considering its values on quality. As Chipotle grows larger it will become significantly harder to source high-quality ingredients and responsibly raised meat. In fact, there have been instances in the past when the company had to resort to serving conventionally raised meat to its customers, and the issue will only get worse as it becomes larger. It's possible that Chipotle's key promise of 'quality' may be compromised for rapid growth.
3. Rising costs (margin worries)
Many investors seem to be spooked by Chipotle's margin issues lately, especially due to rising food costs.
The rapid increase in food costs is creating a considerable drag on Chipotle's profit margins. In fact, the company's food costs were 34.5% of revenues in the first quarter of 2014, up 150 basis points versus the same period in 2013. Increases in beef and dairy prices were the main culprit.
Avocado production is expected to slowdown this year, which would translate into higher prices in the near term, not to mention cheese prices, are expected to increase by 10% in 2014.
During the recent earnings call, the management hinted cost pressures, indicating food costs in April were already over 36% of revenues and rising. In order to offset rising costs and somewhat compensate for fall margins, the company is planning to marginally increase prices in the coming months. Nevertheless, price-hikes have their own risks, especially in the extremely competitive restaurant industry.
4. Gaining international recognition
Sure enough, Chipotle has enjoyed a lot of success in the United States, but whether or not its concepts, including Pizzeria Locale and ShopHouse, translate well to international markets remains to be seen. Currently, there are only a handful of restaurants outside the US, which suggests the company is an unproven brand in overseas markets. Therefore, it would be premature to assume that it could replicate the success abroad. Moreover, sourcing quality ingredients in markets like China and India would be an arduous task. In fact, the commitment of quality may not be viable in most developing nations at present, which could keep Chipotle from entering or meaningfully expanding in these fast-growing markets. Ultimately, it would be a trade-off between growth and quality until such ingredients become widely available.
Conclusion
Unequivocally, Chipotle is a wonderful company with a proven track record as well as a significant brand presence in the US. There's a lot to like about the company and it has great long-term prospects. However, the stock seems overvalued at current levels. There is no doubt that the company has a lot of room for growth, even within the US, but it is likely to face considerable headwinds as it grows larger and larger. In view of such factors, the cons outweigh the pros of the stock.
Disclosure: I have no positions in any stocks mentioned, and no plans to initiate any positions within the next 72 hours. I wrote this article myself, and it expresses my own opinions. I am not receiving compensation for it (other than from Seeking Alpha). I have no business relationship with any company whose stock is mentioned in this article.