On Friday, Visa (NYSE:V) and MasterCard (NYSE:MA) each declined by 5%, largely in light of commentary by analysts that events in Russia will likely impact the companies' earnings over the next few quarters. For investors with a long-term focus, this provides an opportunity to pick up two of the world's strongest franchises at fair valuations.
Visa and MasterCard are known worldwide as the two dominant companies in the global payments industry. According to Visa's most recent annual report, Visa's market share is more than 50% globally, while MasterCard captures 33% of the market. Visa processes more than 58 billion credit and debit transactions annually; MasterCard processes more than 34 billion. Their brands are ubiquitous, and they're largely trusted by both businesses and consumers for the processing of payments.
Each of these companies has rebounded well from the financial crises of 2008, with strong and consistent growth in revenue, earnings per share and dividends paid: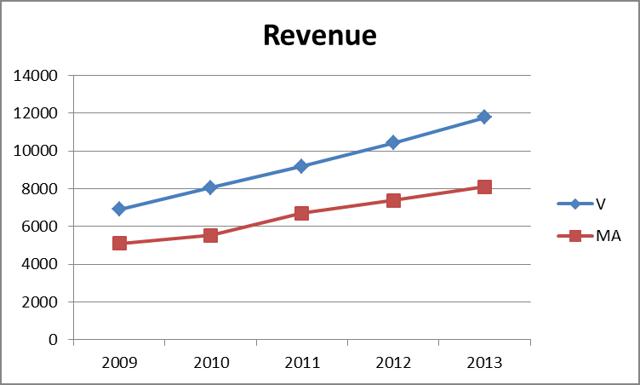 Click to enlarge
Source: Morningstar.
Since 2009, Visa has grown its revenue at a compound annual growth rate of 11.3%. MasterCard is close behind at 9.7%.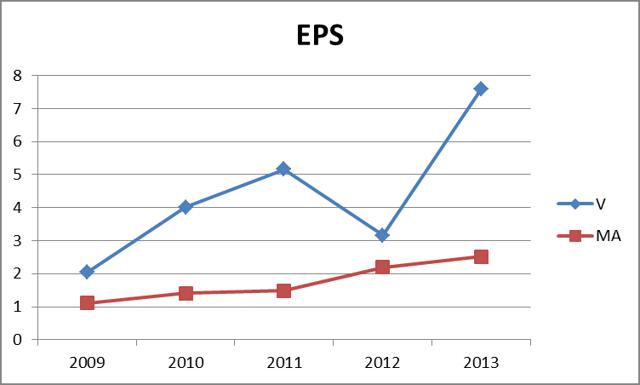 Click to enlarge
Source: Morningstar.
Visa has grown earnings per share at an annual rate of 30% since 2009; MasterCard at nearly 18%. While in the long term one would expect the growth in earnings per share to get closer to the growth in overall revenue, the outsized EPS growth since 2009 represents a strong comeback from the financial crisis.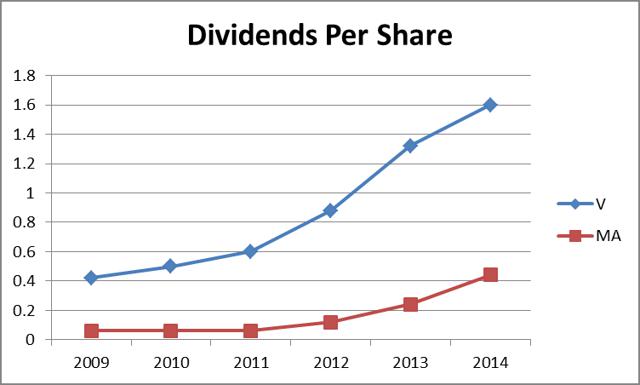 Click to enlarge
Source: Morningstar.
The yields on both V and MA are pathetically low, with each yielding under 1%. V and MA can rightly be criticized for not sharing more of their earnings growth with their investors. Still, since 2009, V has grown its dividend at an annual rate of 25%, and MA by 39% on average each year (after nearly doubling its dividend last year).
These are two companies with strong business models and globally recognized brands. Due to the reliability of their healthy earnings stream, these companies have generally traded at a premium to other stocks. But recently the stocks have each slipped more than 15% from their 52-week highs, and on Friday each stock declined 5% on news that economic sanctions on Russia could impact the companies' earnings in the short term. The sanctions imposed on Russia caused Visa and MasterCard to stop processing payments for some Russian banks. In response, Russia's president has called for Russia to establish its own payments system in place of Visa and MasterCard. Visa's CFO estimates that the events in Russia could reduce Visa's 2014 earnings by "several pennies" off of their expected earnings of more than $8 per share.
In my view, the market's response to the events in Russia with respect to Visa and MasterCard is an overreaction. For investors with a longer range view than the next few quarters, this temporary weakness in V and MA shares provides an opportunity to own two of the dominant franchises in the global payments marketplace at fair prices. Certainly, even after the 5% declines on Friday, these stocks are not cheap: V still trades at a P/E of 25, MA at a P/E of 27. These shares would become even more attractive if they decline further based on short term geopolitical events.
Disclosure: I have no positions in any stocks mentioned, and no plans to initiate any positions within the next 72 hours. I wrote this article myself, and it expresses my own opinions. I am not receiving compensation for it (other than from Seeking Alpha). I have no business relationship with any company whose stock is mentioned in this article.