I've been bullish on Ford (NYSE:F) for most of the last year. Fueled by new designs, growing domestic sales, and a renewed successful push to sell in Europe and Asia, I've jumped on the Ford bull bandwagon.
But, amidst Ukraine tensions in the market on Friday, Ford's earnings failed to please the market, and Ford pulled back from its $16+ levels to finish the day at $15.78 on Friday. All things considered, it wasn't a crushing blow to the company's stock - the stock took a 3.3% hit in Friday's trading.
In this investor's opinion, it's likely that Ford remains an attractive buy, even if it does begin to regress towards $15 or under.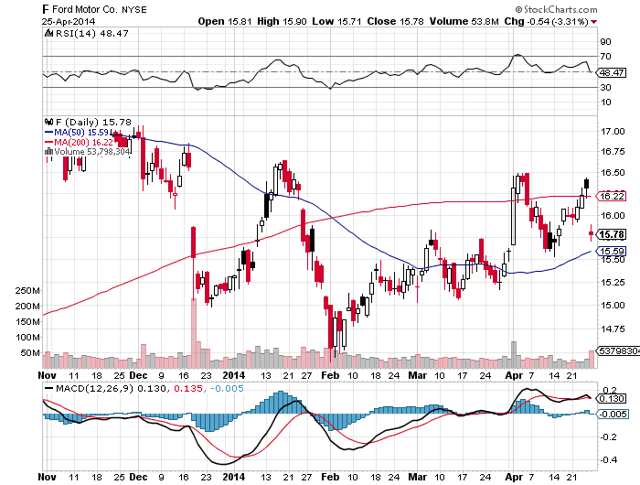 Click to enlarge
Put simply, I don't think Ford's earnings were as bad as the market thought.
The company came out Friday morning and reported that profits had plunged 39% from the same quarter of last year. It blamed the decrease on higher warranty costs, South American currency losses, and the North American deep freeze that occurred throughout the first three months of this year.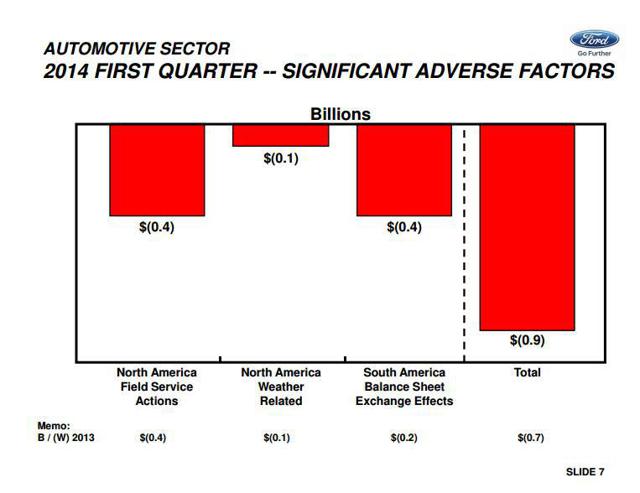 Click to enlarge
Ex-items, the company posted EPS of $0.25/share, off of the consensus estimates by $0.06. The top line did grow, however, as revenues were $35.9 billion, an increase from the $33.86 billion it posted a year prior in the same quarter.
Ford, like lots of companies, is dealing with the devaluation of Venezuela's Bolivar. MarketWatch reported:
While Ford benefited from currency exchange rates in several regions, Venezuela's devaluation of its bolivar blew a $350 million hole in Ford's bottom line, accounting for most of Ford's $510 million first-quarter loss in South America. The devaluation meant Venezuelans have access to less hard currency, which hits car sales especially hard.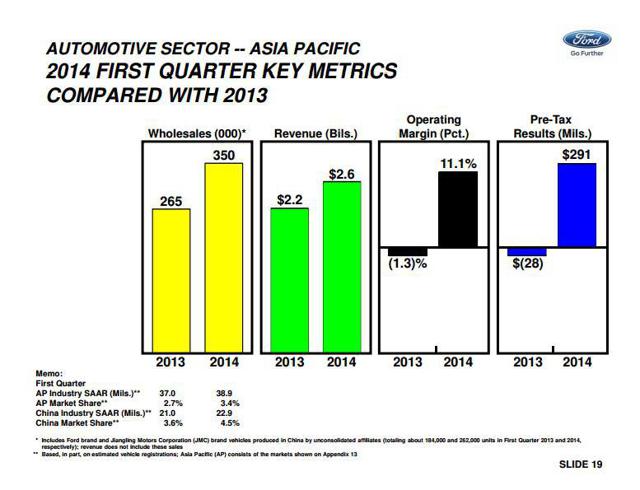 Click to enlarge
The major thesis behind getting on board with Ford, for me, has had to do with the company's growth in Europe and China. Ford is slated to exceed 1 million sales in China for the first time ever. China is the world's largest auto market, and Ford has recently invested in property, plants, and equipment in China.
In Europe, things look promising as well. The company narrowed its loss to $194 million from $425 million and reaffirmed that it should be profitable by 2015. I expect European sales and Chinese sales to combine with a domestic second quarter turnaround, to continue to push Ford in the right direction.
Additionally, Ford reaffirmed its full year guidance of a profit between $7 billion and $8 billion. So, the company is likely thinking it's going to be able to bounce back without issue. It's already likely in the middle of a second quarter that is going well for the company to be able to reaffirm its previous guidance.
The company finished its quarter with $9.5 billion in cash on hand, up from $8.2 billion a year ago.
Fundamentally, the company remains in a good, poised position to grow overseas. With the company reaffirming its full year guidance, I'm confident. I'm writing this quarter off as an aberration due to one-time effects, and will continue to add Ford as it dips.
Best of luck to all investors.
Disclosure: I am long F, GM. I wrote this article myself, and it expresses my own opinions. I am not receiving compensation for it (other than from Seeking Alpha). I have no business relationship with any company whose stock is mentioned in this article.