Year-to-date, Twitter (NYSE:TWTR) has had its bell rung. The company has traded down 34.6% since the start of 2014, as high momentum stocks continue to be roped in.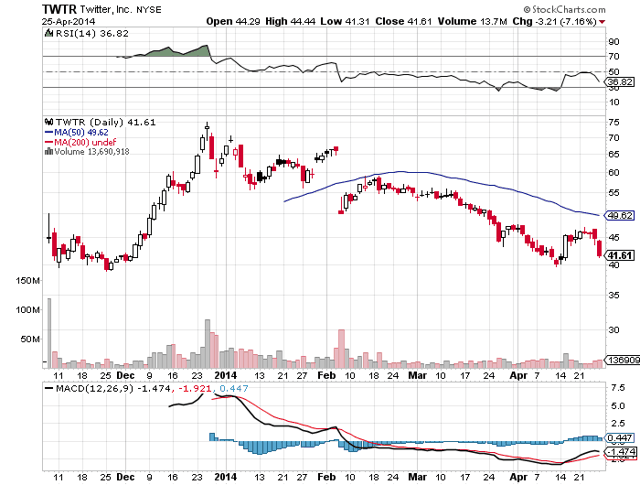 Twitter is set to report earnings on this coming Tuesday, after the market closes. Consensus estimates call for EPS of ($0.03)/share on revenue of $241.47 million.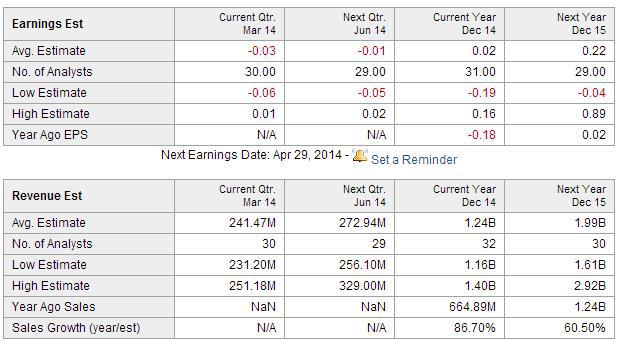 The date of earnings is interesting, as they report before an employee lockup expires on May 5th. This can be looked as a bullish move - employees who think the company is poised for more growth could take advantage of a price increase before selling, or could even hold on, catalyzing a Yelp-like short squeeze. Yelp, if you remember, ran 20% on its lockup expiration date.
TechCrunch sees this as a bullish move:
This makes the timing of Twitter's decision to release its earnings pre-lockup interesting. It's a power play of sorts. If Twitter were expecting a poor earnings report, it would want to release it post-lockup, thereby lessening the incentive for employees to cash out on the first day possible. The company wants to avoid its employees selling shares en masse, as that would provide a very negative signal to the investing public.

So Twitter is publicly betting that, by releasing earnings ahead of the lock-up expiration, employee interest in selling their shares will decrease. And you don't negatively incentivize your denizens against harming your firm.
The stock had been knocked around due to confidence in the user base growth waning. As you recall from last quarter, Twitter did well to monetize its base, but the growth wasn't what the market wanted. Twitter's revenues will likely see growth here - the question is "how much?" and "how much is a product of growth in the company's user base?"
Trefis notes that there is a "Big Question Mark on User Growth" that's helping fuel the skepticism behind Twitter currently:
Given Twitter's performance in the last quarter, we will be keenly watching how its user growth trends this time. The company hit a bump in Q4 2013 as its monthly active user base in the U.S. grew by just 1 million sequentially and the year-over-year growth stood notably below that for its overall user base. This has made investors wary of Twitter's long term prospects, and is one of the reasons why the stock pulled back significantly in the last few months.
I do like the recent news, reported by Seeking Alpha that Twitter's co-founders and CEO plan on keeping their shares through the May 5th lockup expiration:
CEO Dick Costolo, chairman/co-founder Jack Dorsey, and co-founder Evan Williams "have no current plans to sell any of their shares" ahead of Twitter's ( +2.6%) May 5 lockup expiration. (8-K)
Williams owned 10.4% of Twitter following its IPO, Dorsey 4.3%, and Costolo 1.4%. Shares are down 45% from a post-IPO high of $74.73, but still up 58% from their $26 IPO price.
Additionally, Twitter recently unveiled their new profile looks for their pages, which are starting to look suspiciously like Facebook (NASDAQ:FB) pages.
optionMONSTER noted that the bulls were making their presence felt in the options market while betting on Twitter's earnings. The purchase of 10,200 July $50 calls for $2.35 and call selling at $60 set off some alarms off that big money had come in to make a bullish bet on Twitter.
I'm going to be playing a long straddle into Twitter's earnings on Tuesday. So far, with earnings plays this quarter, I've fared alright. I went long Microsoft and Apple prior to earnings, played a straddle on Netflix for a small loss, broke even on an Amazon strangle, and closed a botched straddle in Facebook that has now led to me taking a long position in the company.
"Quoth, you're always advocating these long straddles heading into earnings - do they actually work?"

The answer is "no, they don't always work - nothing in the markets always works" - but what we try and do here in the Margaritaville brand blender that is Quoth's head is identify stocks that are so volatile and so momentum-laden - so in the public spotlight - that there's more than a normal number of catalysts to have them move beyond the realm of the IV that's already priced in on the options. Notice I'm not advocating these trades for stocks like Intel (NASDAQ:INTC) or 3M (NYSE:MMM)?
Twitter is a company with a history of volatility post-earnings, making it a perfect candidate for a long straddle. A straddle can be used as a sole instrument to play earnings - or even as a hedge to those who already have positions in the company - whether they are long or short.

For this trade, I like the May 9th $42 options. They're going to cost us $7.10 to buy, putting our breakevens at $49.10 and $34.90.
Bullish price targets on Twitter are well above $50 - while bearish targets from analysts like Trefis, put Twitter as low as $28. This earnings event should tell us a significant amount.
For the long term, I'm bearish to neutral on Twitter, simply because of the valuation the company carries in a time where the money seems to be shifting to safer alternatives.
Best of luck to all investors.
Disclosure: I am long AAPL, MSFT, FB, NFLX. I wrote this article myself, and it expresses my own opinions. I am not receiving compensation for it (other than from Seeking Alpha). I have no business relationship with any company whose stock is mentioned in this article.
Additional disclosure: I have AAPL calls, MSFT calls, FB calls, NFLX calls, AMZN puts, and will be likely opening a long straddle in TWTR this Monday.