(This article serves as a respectful rebuttal to two articles published on Friday - "Why Herbalife is Heading to $65" and "Despite FTC Investigation, Double-Digit Sales Growth Expected From Herbalife.")
It's no secret that I'm bearish on Herbalife (NYSE:HLF) and have a short position that will benefit accordingly should the company be found a pyramid scheme by regulators.
To me, the evidence is overwhelming that the company is in fact a pyramid scheme. Additionally, I don't find the humiliation of "distributors" who are too blind to see they're being separated from their money under false pretenses amusing. I doubt the FTC, DOJ, SEC, or FBI will either.
In addition, I'd like to add to my disclaimer (prompted by a request on Twitter) that I've never received any compensation or money in any way from Pershing Square. I'm simply an individual investor that subscribes to the evidence uncovered by Mr. Ackman and his team. I have had no communication with Pershing Square throughout this ordeal, and again, am in no way being compensated by them. Nor, do I work for them.
With that now out of the way, I read a couple of interesting pieces on Herbalife on Friday, and while I disagree with the fundamental premise of the bullish argument fueling these pieces, I respect the contributors for their work and enjoy looking at the other side of the equation. I'm always open to considering both sides of a trade, and I discovered some new bullish arguments for Herbalife. Unfortunately, none of them hold fundamental water with me.
So, in an effort to try and prevent people from potentially investing in Herbalife under false pretenses (or worse, getting fleeced as a distributor), I wanted to identify some of the bullish claims made by both articles on Friday, and then show why they're fundamentally flawed.
Bullish argument #1: "Consider, Herbalife is now trading at 11-times trailing earnings. This means the company is being valued on an assumption of very little growth."
Reality of the situation: This is like finding a cashmere sweater on the discount rack for 85% off the original price. Surely it's a great deal, but your first question is always going to be "what's wrong with it?"
The reality of the situation is that BP (NYSE:BP) also trades at an enormously low P/E ratio. What's the common link between BP and Herbalife? They both have enormous regulatory risks hanging over their heads. For BP, it's potential billions in lawsuit settlements. For Herbalife, it's the legitimate chances of regulators shutting the company down. A better way to look at this would have been to pose the question, "Why has the market priced Herbalife so cheaply?"
If it's being valued on the assumption of very little growth, it's because the market knows it's tough to grow when the FTC either shuts you down entirely or imposes sanctions that eventually cause a slow bleed to growth regression.
Bullish argument #2: "Herbalife's price-to-earnings ratio of 11.67 is 7 points and 10 points below GNC (NYSE:GNC) and Vitamin Shoppe (NYSE:VSI), respectively and suggests considerable underperformance."
Reality of the situation: You're comparing apples to oranges here. GNC and Vitamin Shoppe are legitimate, brick and mortar retail stores. Their product is going to end users who pay prices much lower than those offered by Herbalife for their products. The reason, again, that Herbalife's P/E is low in comparison, is because these aren't true comps to make right now.
A true comp could be done with Usana (NYSE:USNA), Nu Skin (NYSE:NUS), or Tupperware (NYSE:TUP), which trade at trailing twelve month P/Es of 14, 14, and 16, respectively. Herbalife isn't that much cheaper than all of these other MLM companies, and neither of the other three companies are dealing with an enormous regulatory investigation like Herbalife is.
Further, companies like Tupperware have plans in place that track their sales in-network vs. out-of-network weekly. Herbalife doesn't have this, and this is the crux of the pyramid scheme argument. Ergo, Herbalife is priced slightly cheaper.
Bullish argument #3: "Although there has been plenty of worrisome press about Herbalife in early 2014, the company's fundamentals are still growing like a weed, and expectations are high again this quarter."
Reality of the situation: The first reality of this situation is that we don't know that the company's fundamentals have been growing this quarter. We will get a look at that on the upcoming earnings release this Monday.
The second reality of this argument is that there has been plenty of worrisome press - for a damn good reason.
This is the same argument that we went through when PwC signed off on Herbalife's books. Longs claimed that it offered legitimacy to the company's business model, when in fact, all it did was ensure that GAAP was being adhered to throughout the filings.
The reality of this situation is that the question was never about whether or not the company had great fundamentals. Bill Ackman himself said he would have invested in this company based on its numbers - if it wasn't a pyramid scheme. Everything on the P/L and balance sheet is usurped by the fact that the means by which the company used to make this money are fraudulent.
Bullish argument #4: "In terms of risk, there are very little." [sic]
Reality of the situation: This is just a good old-fashioned case of being dead wrong. With regulatory agencies crawling all over the company, networks like ABC starting to do investigative journalism on the company, and the public starting to learn more and more about how the company operates, you could argue that there's never been more risk for Herbalife than there is now. Sunshine is the best disinfectant in this case, and Herbalife is really starting to find itself in the limelight nowadays.
Bullish argument #5: "The company has paid $123.1 million in dividends and repurchased $297.4 million in common shares, which was outstanding under our previous share repurchase program."
Reality of the situation: The reality here is that the company has taken on $1 billion in debt to fund its shareholder payouts - leveraging its balance sheet in a manner where negative events on the company could take a significantly higher toll than they would have before the buyback.
Additionally, this puts into play the question of "how much of the current buyback is keeping Herbalife's share price afloat over the past month?" Interesting question.
I hope that these fundamental flaws in the above bullish arguments can help you add perspective to potential reasoning to put a bid under Herbalife's stock right now.
The stock's performance over the last few weeks has been downright perplexing. It's moved almost only upwards, after a criminal probe was announced into the company and ABC news uncovered some dirty details about how Herbalife distributors do their business. Even in the midst of macro market tensions on Friday, Herbalife's stock held its own. Longs will tell you that its because Herbalife is a strong company. Skeptics will tell you that something's starting to smell funny.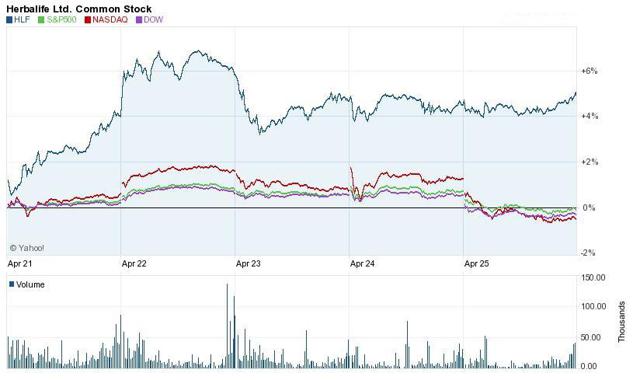 This could be a product of legitimate bids being put under the stock - it could also be that Herbalife has buoyed its stock price to its recent buyback.
At this point, the only thing I'm concerned with is what the regulators uncover and find actionable at Herbalife. I continue to contend that a long position in the company is a massive risk, and that Herbalife remains a global confidence scheme that dupes low income individuals from their money.
Regulators, in the interest of preventing others from getting fleeced, I believe are working briskly towards uncovering the truth about Herbalife.
Best of luck to all investors.
Disclosure: I am short HLF. I wrote this article myself, and it expresses my own opinions. I am not receiving compensation for it (other than from Seeking Alpha). I have no business relationship with any company whose stock is mentioned in this article.