Precious metals rebounded late in the week after hitting their lowest levels in two-and-a-half months. This change in direction was the result of renewed safe haven demand following another outbreak of violence in the Ukraine. A slightly weaker U.S. dollar over the course of the week and tumbling equity markets on Friday also provided support to metal prices as investors moved money out of risk assets and into defensive positions. This fresh buying led to key technical support levels being successfully tested for gold and silver, causing many short sellers to close out their positions.
In the wake of controversial reports earlier in the month about gold being used for collateral in China's shadow banking system, gold demand in China continued to be a hot topic for precious metals markets. Meanwhile, gold ETF outflows continued for the fourth straight week, an indication of ongoing sour sentiment toward the metal by investors in the West. Markets are now braced for a full slate of economic data in the days ahead that could move metal prices, and another Federal Reserve policy meeting is likely to see the central bank further curtail its money printing effort.
For the week, the gold price rose 0.7 percent, from $1,294.60 an ounce to $1,303.80, and silver edged up 8 cents, from $19.65 an ounce to $19.73. The gold price is now up 8.2 percent so far in 2014, some 32 percent below its record high of over $1,920 an ounce in late 2011, and silver is 1.5 percent higher so far this year, still 60 percent below its all-time high near $50 an ounce reached almost exactly three years ago.
Safe haven demand for gold was once again instrumental in the remarkable rebound staged on Thursday morning, as shown below via Kitco.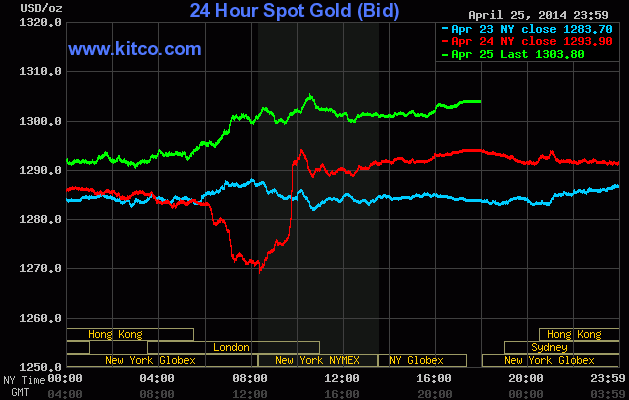 The move was spurred by news that Ukrainian forces killed five pro-Russia rebels near the separatist-controlled city of Slaviansk in Eastern Ukraine. When combined with news that Russia had started military exercises near the border in response, futures traders quickly changed from sellers to buyers.
After the gold price dropped below the psychologically important level of $1,300 an ounce the week before, technical support at around $1,280 was tested on Tuesday and then breached on Thursday. Gold briefly fell below $1,270 an ounce just prior to the news from the Ukraine, and then staged an impressive rally that continued on Friday.
Weakness in global equity markets and the trade-weighted dollar also helped precious metals, but developments in Eastern Ukraine were key as futures traders appear to be paying close attention to this situation once again.
Less than a week ago, many gold traders were reportedly "bored" with the situation in Eastern Europe, but that has clearly changed in recent days. In the absence of other catalysts for gold and silver, this "boredom" played a big role in driving metal prices lower over the last few weeks, but an equally important factor has been ongoing coverage and commentary in the mainstream financial media about gold demand in Asia.
As noted here last week, this coverage was misleading (if not inaccurate) and, more than anything else, it once again laid bare the disdain that many in the Western financial media have for precious metals. A good example of this in recent days was the Marketwatch commentary Will China drop gold next? that, like many others, claimed much of last year's record gold demand was tied to dodgy bank loans.
Ironically, the same Reuters author who played a key role in the recent China gold demand controversy - A. Ananthalakshmi - came out with another story on China gold demand last week in China allows gold imports via Beijing, sources say, amid reserves buying talk, and this one was wildly bullish. It seems policymakers in China don't like all the attention that last year's record gold imports from Hong Kong received and have opened up another import route via Beijing where the number of gold bars being brought into the country will be kept confidential.
This serves as more confirmation that China's central bank continues to accumulate gold in huge amounts, almost certainly dwarfing how much gold is being used as collateral in the shadow banking system, though no one really knows. Recall that China last updated its official gold reserves in 2009 when it told the world it had almost doubled its gold holdings over the prior six years.
While some expect a similar announcement as soon as this year, I wouldn't be surprised if we don't hear any official word on this subject for years to come, that is, until after they're done buying all the gold they intend to buy, which is surely some multiple of their current "official" gold reserves that have been stuck at 1,054 tonnes for the last five years.
Reuters reported that the Shanghai Gold Exchange discounts of as much as $6 an ounce to the London spot gold price early in the week turned into premiums of a dollar or more by the end of the week, so, recently soft China demand may already be returning. Also from Reuters came this story about CME Group's plans to open a physically settled gold futures trading platform in either Hong Kong or Singapore, a move that would not likely be contemplated if there was merit to the many stories of "artificial" China gold demand stemming from shadow banking collateral needs.
Here in the U.S., hedge funds reportedly lightened up on long gold positions and added to their short positions, however, that could change once again after last week's rebound in the gold price. ETF investors also might reverse course after the fourth straight week of outflows from the SPDR Gold Shares ETF (NYSEARCA:GLD) as shown below.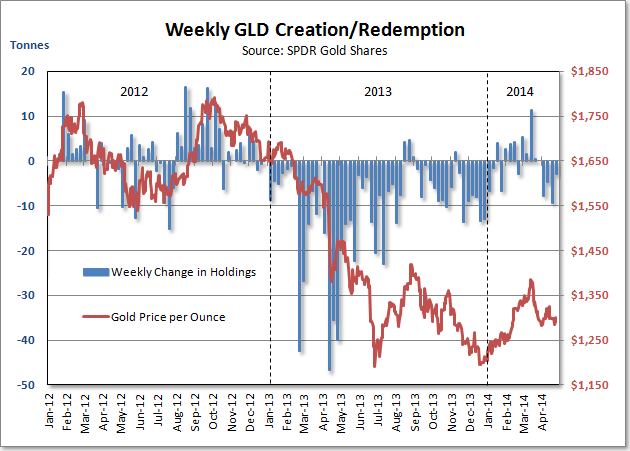 After rising eight times in ten weeks for total net inflows of 24 tonnes earlier in the year, GLD has shed 25 tonnes over the last month, putting its holdings down 6 tonnes for the year. Recall that GLD holdings are considered a good gauge of sentiment toward precious metals in the West and, obviously, sentiment has not been good lately.
The iShares Silver Trust ETF (NYSEARCA:SLV) holdings were once again unchanged last week at 10,282 tonnes. These holdings are remarkable in that they've changed remarkably little in recent months, despite some wild price swings for the metal.
As compared to GLD, owners of the SLV ETF certainly appear to be the proverbial "strong hands" in the market, holding the metal in ETF form for the long-term.
Investment banks remain bearish on precious metals, as Barclays said the next move for the gold price will be lower. Deutsche Bank warned against thinking the crisis in the Ukraine will provide any long-term support for gold, largely due to the risk that related liquidity needs in Russia could prompt large scale selling of gold holdings. The Federal Reserve policy committee meets this week, and it could move metal prices, while major U.S. economic reports could do the same if there are new indications about the health of the economy.
All told, it was a surprisingly good week for precious metals; the only question now is whether that will continue. Absent even more geopolitical turmoil in the Ukraine or some other positive catalyst, perhaps from the Fed or from U.S. economic data, it probably won't.
Disclosure: I have no positions in any stocks mentioned, and no plans to initiate any positions within the next 72 hours. I wrote this article myself, and it expresses my own opinions. I am not receiving compensation for it (other than from Seeking Alpha). I have no business relationship with any company whose stock is mentioned in this article.
Additional disclosure: I also own gold and silver coins and bars along with metal ETFs other than GLD and SLV