Of the many high yield stocks available today, here are those that have paid dividends since at least 2003, yield at least 2.5% as of July 26, and are rated 4 or 5 (of 5) each for twelve month expected market performance and current price fair value. This list of 20 stocks is from the total universe of 1040 stocks that S&P rates for both expected market performance and fair value. (Click to enlarge)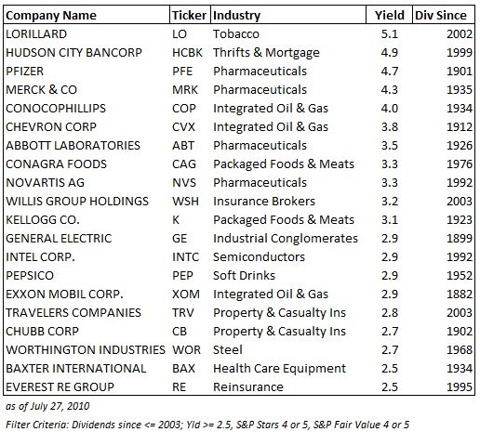 There are many other stocks available in the US (including ADRs) that are not rated by S&P, but that may fit the general profile of a consistent dividend history, threshold or greater yield, fair value and expected market performance. This list is a good place to start looking, however.
Not all of these companies have pretty charts, or even blemish-free stories, but they are worth evaluation by investors seeking equity income.
Securities Cited: Lorillard (LO), Hudson City Bancorp (HCBK), Pfizer (PFE), Merck (MRK), ConocoPhillips (COP), Chevron (CVX), Abbott Laboratories (ABT), ConAgra (CAG), Novartis (NVS), Willis Group (WSH), Kellogg (K), GE (GE), Intel (INTC), Pepsico (PEP), Exxon Mobil (XOM), Travelers (TRV), Chubb (CB), Worthington Industries (WOR), Baxter International (BAX), Everest Re Group (RE).
Disclosure: As of July 27, 2010, we own PEP in some, but not all managed accounts, we do not own any other securities mentioned in this article in any managed accounts.
Disclaimer: Opinions expressed in this material and our disclosed positions are as of July 27, 2010. Our opinions and positions may change as subsequent conditions vary. We are a fee-only investment advisor, and are compensated only by our clients. We do not sell securities, and do not receive any form of revenue or incentive from any source other than directly from clients. We are not affiliated with any securities dealer, any fund, any fund sponsor or any company issuer of any security. All of our published material is for informational purposes only, and is not personal investment advice to any specific person for any particular purpose. We utilize information sources that we believe to be reliable, but do not warrant the accuracy of those sources or our analysis. Past performance is no guarantee of future performance, and there is no guarantee that any forecast will come to pass. Do not rely solely on this material when making an investment decision. Other factors may be important too. Investment involves risks of loss of capital. Consider seeking professional advice before implementing your portfolio ideas.