Over the past four months, Baker Hughes (NYSE:BHI) has been on a very extensive run. Since the recent low in mid-January, the price has increased ~34%. So, this poses the question, at this point in the market is Baker Hughes still a buy?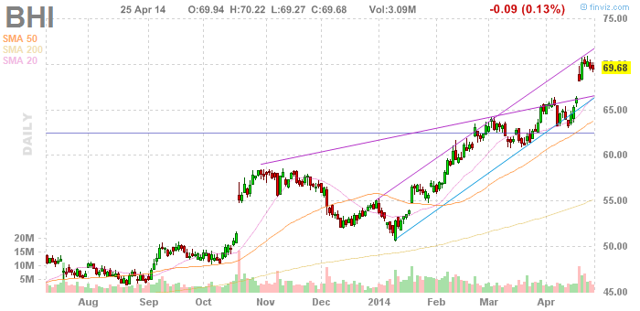 Over the next couple of years, natural gas prices within North America are expected to increase. The increase in price is in turn expected to increase E&P onshore capex spending. As onshore capex spending within North America is expected to increase in 2014 and through 2015, I believe Baker Hughes is a company that is expected to outperform.
North American Demand and Well Count
Driven by the potential for an increase in natural gas prices and energy demand, the amount of oil and gas wells are expected to increase significantly over the next couple of years. Recently, RBC Capital stated that it predicts the 2014 horizontal well counts within the United States to increase to 20,061.
This is a significant increase over 2013's well count. Total well count during 2013 in the United States was estimated at ~18,580. Looking forward, 2015 looks to be a stronger year for well counts. Within the United States, well counts are expected to reach 21,551.
If these estimates come to fruition, well counts within the United States will increase by ~15.99% over 2013 numbers. Well counts within the Permian, Eagle Ford, Bakken and Marcellus are expected be the dominant plays, as analysts expect an increase of ~25.57% over 2013's numbers.
As expectations are that well counts within in the United States are on a significant upward trend, this bodes well for oil and gas service companies that create a bulk of their revenue within the U.S.
As the chart below indicates, Baker Hughes received ~48% of their revenue from sources within North America.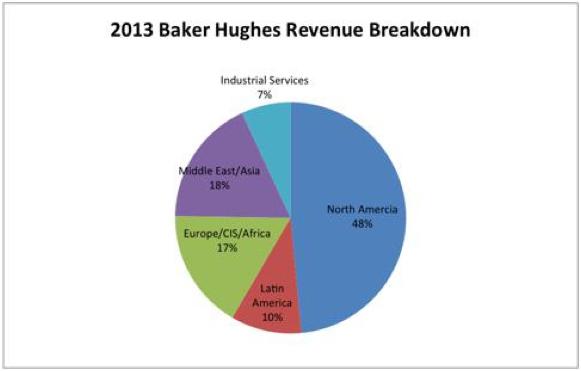 Sourced from (Stockresearching)
As Baker Hughes receives ~half of their revenue from within North America, they also have decent exposure to the global demand for onshore activity.
Global Growth
The expected increase in global onshore spending is not limited to the U.S. or North America. In 2014, E&P spending is expected to increase by 14% in the Middle East, 13% in Latin and South America and 11% in Russia. So, looking forward, Baker Hughes has a strong reason to be very optimistic.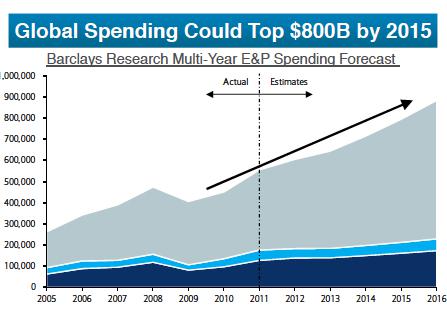 Source: (Barclays)
Why does Baker Hughes have more upside?
In an article published on the Wall Street Journal, author Barbara Kollmeyer cited four reasons why to remain bullish on oil service companies:
1) The world is increasingly short of energy
2) Hydrocarbon prices are at attractive levels for investment and set to rise further
3) Capital expenditure on energy investments is growing, and
4) As the bottleneck, the oil services group is expected to "capture the lion's share of the economic benefit of this unfolding trend."
So, as the macro picture for horizontal drilling continues to look positive globally, which companies will be able to capitalize from this increased demand?
It is expected that some of the best companies positioned to capitalize on this trend are major integrated service companies, such as Halliburton (NYSE:HAL), Baker Hughes and Schlumberger (NYSE:SLB), as well as smaller companies that have a specific niche.
Valuations
After a very strong run since the beginning of the year, where, on a valuation basis, does Baker Hughes stand right now? In the section below, I will use the EV/EBITDA to estimate where Baker Hughes is regarding valuation.
EV/EBITDA = Enterprise Value / Earnings before interest, taxes, depreciation and amortization
The EV/EBITDA ratio is one of the most commonly used valuation metrics, as EBITDA is commonly used as a proxy for cash flow available to the firm.
Enterprise Value or EV = Market Capitalization + Total Debt - Cash and Cash Equivalents
EV - 30.38 billion + $4.388 billion - $1.399 billion = $33.369 billion
EV = $33.369 billion
EBITDA = $3.766 billion
EV/EBITDA = 8.86
As the oil and gas service stocks trade in the 8.63x trading range, an EV/EBITDA ratio of 8.86 states at current levels, the stock is trading at fair value.
A Comparison to Halliburton and Schlumberger
When comparing the EV/EBITDA ratio results to competitors Halliburton and Schlumberger, Baker Hughes EV/EBITDA ratio indicates that currently it is the best value.
Currently, Halliburton has a EV/EBITDA of 14.14. This indicates that at current levels the company is overvalued.
Schlumberger currently has a EV/EBITDA of 11.23. This also indicates that at current levels the company is overvalued.
Based on an EV/EBITDA valuation, Baker Hughes currently has the most attractive valuation.
Stock Price Performance
Since the July 2012 low in the oil services sector, Halliburton has significantly outperformed Baker Hughes, Schlumberger and the Market Vector Oil Services ETF (NYSEARCA:OIH).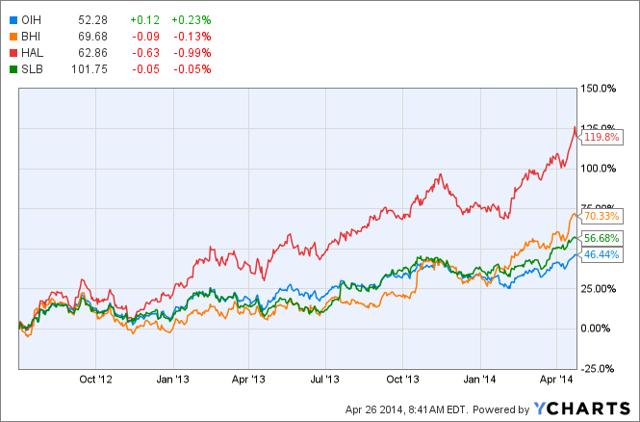 I believe that one of the reasons that Halliburton has outperformed, is that the majority of their revenue is generated within the "Hot" North American market. Having said that, as Baker Hughes was the laggard of the three in 2013, things are changing. Driven by their North American revenue base, 2014 and 2015 look to be a strong years for the company.
What's Next
So, after an excellent run, I believe we will be entering a period of consolidation for the stock. Even though the EV/EBITDA ratio states that the company is now trading at fair value, the price has increased by ~34% in a short time period. As the price has increased significantly over a short period of time, a consolidation is not out of the question at this point.
Strategy
At this point in the market, I would not be surprised if there was a 5-10% correction over the next few months. If such a correction were to occur, this could present an excellent opportunity to add positions in a company with excellent growth prospects. Currently, I believe there is further upside to equity markets, as major world economies are either recovering or on the verge of recovering. As interest rates continue to remain near zero, this should favor equities.
Conclusion
As Baker Hughes's stock price has had a solid increase thus far in 2014, I believe I am going against many analysts and think we will be entering a period of consolidation. Having said that, I also think any pullback in the market would provide an excellent opportunity to add a position or add to your position, so look for an opportunity over the next couple of months.
When comparing Baker Hughes with Halliburton and Schlumberger, the EV/EBITDA ratio indicates that at current levels Baker Hughes is the "best bang for your buck," as it is currently trading at a significantly lower valuation.
Driven by the increase in global onshore spending, Baker Hughes has had an extensive price run thus far in 2014. As global onshore capex spending is expected to continue for the foreseeable future, I believe Baker Hughes is a strong long-term candidate for your portfolio.
Disclosure: I am long HAL, SLB. I wrote this article myself, and it expresses my own opinions. I am not receiving compensation for it (other than from Seeking Alpha). I have no business relationship with any company whose stock is mentioned in this article.