Take Heed and Hedge: The Gold and Precious Metals [PM] Price Action
Gold's macro long-term value can be debated ad nauseam, but for now, it looks like the safe haven that may actually make sense in the near to intermediate term. I for one am not a gold bug, but I do like to buy assets after a dip or downturn, and with gold down substantially lower from its long-term highs, and now recently finding some support on some intermediate charts due to war fears, it may be an effective hedge.
Reason number One: Captain Obvious - Geopolitical
Gold as a traditional safe haven now looks intriguing considering Russia's leader Vladimir Putin's' newfound fondness for adventurism. Anyone who thinks he stops at the Ukraine's former Crimea region is fooling themselves. He knows the risks, but he wishes to unite at least eastern Ukraine's Russian-speaking regions (and possibly beyond) to perhaps those adjacent and prone to any influence from Europe. The market sent a firm and fearful reminder of this in Friday's action, in spite of the threats for harsher U.S. sanctions and handwringing from Germany's Angela Merkel with U.S Vice President Joseph Biden leading the charge. Gold futures responded by rising over 10 dollars - as well as gains of $14 in palladium and $8.90 in platinum, as Russia is a key producer of those metals.
Reason number Two: the Technical Picture
Gold recently made a higher low and is catching a bid due primarily to these rising tensions in geopolitics. The failed agreement that Biden worked on fell apart and is reflected in the recent weakness, but has now caught another bid. Another rise to at least the 50 day moving average and beyond looks imminent. The gold price action is reflecting the fears closely in a tight price range. Gold and other precious metal prices could break out if things really heat up with an outright invasion by Russia into Ukraine. The resulting mess would be severe for Europe's energy flows from Russia as well as potential PM supply disruptions.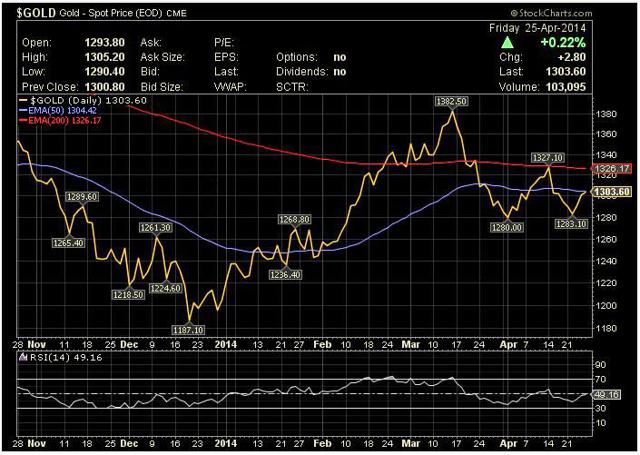 Reason number Three: Continued Easy Money Policies
The Fed chair Janet Yellen's tapering schedule could be threatened or suspended if continued weak jobs numbers, low economic growth (as defined by GDP numbers), and very weak housing picture persist. Tightening will not entice growth and will damage a very weak recovery. The potential for a pause in the taper can only help gold. Yellen also is very worried about the economy not meeting inflation targets. Deflation is not an option. She told the Economic Club of New York on April 16. - Bloomberg News:
The slower the projected progress" toward the Fed's 2 percent inflation goal, "the longer the current target range for the federal funds rate is likely to be maintained.
The Plays: For the Intermediate-Term Gold Trade
Investors looking to hedge Putin's actions, as well as Yellen's and other central banks easy money policies, could buy the popular SPDR (NYSEARCA:GLD), the iShares Gold Trust (NYSEARCA:IAU) or even better ETFS Precious Metal Basket Trust (NYSEARCA:GLTR) which not only holds gold, but other precious metals as well - such as platinum and palladium. The gold loose money trade is nothing new of course, but coupled now with the tense geopolitical picture and gold's recent firming price action, it now looks to be a prudent intermediate-term hedge for a turbulent stock market.
Disclosure: I have no positions in any stocks mentioned, and no plans to initiate any positions within the next 72 hours. I wrote this article myself, and it expresses my own opinions. I am not receiving compensation for it (other than from Seeking Alpha). I have no business relationship with any company whose stock is mentioned in this article.