Seadrill (NYSE:SDRL) remains an attractive income play for investors seeking exposure to the offshore drilling industry, but also for investors who like to benefit from meaningful capital appreciation. Seadrill's stock price has been in reverse gear over the last six month as the market shifted its focus from dividend payments to Seadrill's debt situation and the sustainability of its dividend. Seadrill currently pays investors a dividend of $0.98 per quarter which translates into a forward dividend yield of 11.27%.
I still believe that Seadrill's consolidation offers long-term oriented, opportunistic income investors a chance to benefit from a low share price and, correspondingly, a respectable dividend yield.
Why am I confident about an investment in Seadrill?
Over the years I have invested in a variety of companies in different industries. Most of the target companies I invest in are going through some form of transformation such as a restructuring, recapitalization etc. which more often than not offer very attractive capital returns. In its most simple form, my investing style can be characterized as contrarian. I want to buy Low and sell High -- and if I sell I will do so only many years down the road with little portfolio turnover in the meantime and a low tax bill at the end. While every industry is of course different and has distinguishing growth and return characteristics, I like to compare Seadrill to my Telefonica (NYSE:TEF) investment in 2011-2012. Now, I know what you are asking: How can I compare a cyclical, high-growth investment such as Seadrill to a South European, heavyweight telecommunication company?
The answer is simple: Telefonica is just another example in a whole series of restructuring cases, that demonstrated how leveraging- and deleveraging cycles work. Telefonica also had a substantial dividend yield of approximately 10% in 2011. However, the company also sustained a massive debt load. Ultimately, as Spain plunged into recession, investors got the anxiety fever pushing the company to suspend its dividend payments and to tackle its debt load instead.
Another example of the effects of leveraging-up and leveraging-down has been provided by the U.S. housing market as debt-fuelled speculation ran into constraints in 2007 and the asset bubble in real estate finally burst.
Followed by a period of restructuring, one in which debtholders take precedence over shareholders, companies again embrace a shareholder-oriented remuneration policy.
Debt situation
As many other SA contributors have said, I believe Seadrill will focus more on debt reduction in the future than on dividend growth. SA contributor Balanced Investing for instance, wrote:
The majority of the company's debt facilities require it to pay an annual interest rate of 3% plus LIBOR which is around 0.55%. So if the interest rate rises, the company would have to pay more interest. The company has around $13.5 billion in interest-bearing debt, meaning that the company paid an annual interest rate of 3.3% to sustain the debt. The problem of huge debt is what is hurting the company. Having realized the problem, management has indicated that the future cash flows are to be utilized in paying off the debt rather than increasing dividend payments.
I have previously endorsed Seadrill's debt strategy and believe the company did the right thing by acting opportunistically and taking advantage of low interest rates. Decreases in Seadrill's debt load, however, will certainly help alleviate investor concerns about the sustainability of its distributions. I also believe management will tackle its debt load without decreasing or suspending distributions to shareholders.
Strong quarterly results
Seadrill presented solid y-o-y improvements in underlying profitability even though some analysts were increasingly endorsing a negative attitude with respect to the near-term prospects of the offshore drilling market. Seadrill reported a fourth quarter 2013 EBITDA of $768 million (up 27% y-o-y from $604 million in Q4 2012 and up 16% sequentially). Operating revenues also increased every quarter in 2013 from $807 million in Q1 to $1,069 million in Q4. Overall, Seadrill's performance was more than solid and found reflection in an increased quarterly distribution. Seadrill is also a top candidate to beat earnings in Q1 2014.
Attractive growth prospects in ultra-deepwater drilling
I am generally bullish on offshore drilling companies, but that probably depends on me embracing a really long-term time horizon. I don't mind holding stocks for a decade or longer, especially if their dividend yields continue to shine. I also think the energy sector is one of the few sectors that will be able to deliver distribution growth over the next couple of years driven by onshore shale- and gas and offshore ultra-deepwater exploration. Ultra-deepwater production is one of the fastest growing segments in the energy business and, in my opinion, offers the best risk/reward trade-off for stockholders: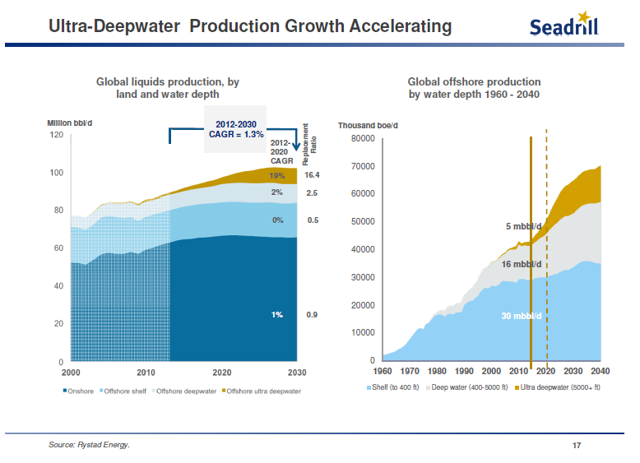 (Source: Seadrill - Howard Weil 42nd Annual Energy Conference Presentation, March 2014)
Technical picture
Seadrill has consolidated over much of the last six month and shares are now quoting at $34.77 and approximately 28% below their 52-week High at $48.02. A series of downgrades have also hurt the stock lately. On April 17, 2014 Merrill Lynch downgraded the stock from BUY to Neutral and revised its target price to $36.00 per share.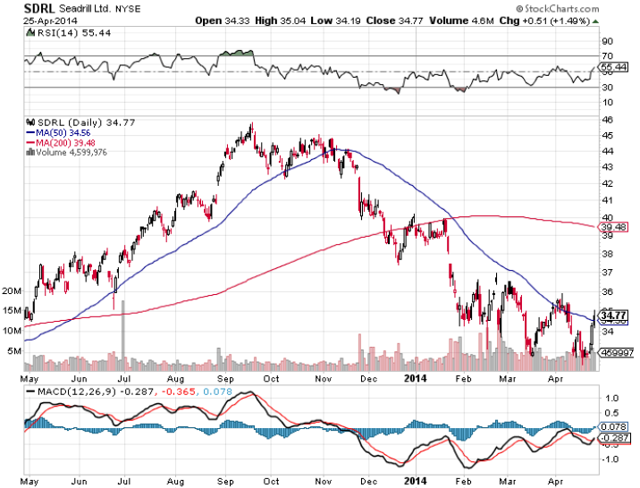 (Source: StockCharts.com)
Final thoughts
Investors seeking exposure to an offshore drilling company with the second largest number of ultra-deepwater units after Transocean (NYSE:RIG), could consider Seadrill. I think investor worries about Seadrill's high debt load are now more than priced into the stock and there is a good chance that Seadrill's stock price has found its bottom now after an extended phase of consolidation. I believe the right thing to do now is for Seadrill to keep its payout steady while focusing on bringing debt levels down and alleviate investor concerns. If Seadrill's position is anything similar to Telefonica, a rebound in share price is almost sure to follow its deleveraging efforts. Long-term BUY, Strong BUY on pullbacks.
Disclosure: I am long SDRL, TEF. I wrote this article myself, and it expresses my own opinions. I am not receiving compensation for it (other than from Seeking Alpha). I have no business relationship with any company whose stock is mentioned in this article.