I believe that it is important to take a long-term view when investing in emerging markets like China, which has an evolving consumer class. I recently read Clint Laurent's "Tomorrow's World: A Look at the Demographic and Socio-economic Structure of the World in 2032." It is an interesting in-depth study on population trends, which provides food for thought. A few key points stand out to me. First, the growth rate of the child population (aged 14 and under) is expected to be low, but stable, in the next decade. Second, the youth and middle age population (aged 15-39) is expected to shrink slowly. Third, the mature population (aged 40-64) is expected to grow slowly, and their disposable income growth will outpace their population growth.
At this stage, I think it is too early to judge whether the recent relaxation of the one-child policy will lead to a baby boom, given the rising financial burden of young couples (rising living costs, soaring property prices, etc). But I believe that parents always want to provide their children with the best of everything, be it education, food, or any discretionary item. I think this is especially true among urban dwellers.
I believe that the travel and services industries will benefit from higher spending by consumers in the mature population group, as they have accumulated wealth and are therefore able to spend on discretionary items. These companies include those in the auto, healthcare, insurance and wealth management, real estate and tourism industries. While majority of these stocks are listed either in mainland China or Hong Kong, U.S. investors can invest via U.S.-listed companies that have exposure to China. I like Priceline (NASDAQ:PCLN), as I think it will benefit from rising outbound travel of Chinese tourists. I also like Tesla Motors (NASDAQ:TSLA). I think that rising disposable income will lead to higher demand for vehicles that encompass both luxury and efficiency.
Priceline - Delivering value to China's outbound tourists. Even though China's OTA market is dominated by Ctrip (NASDAQ:CTRP) in the airlines and eLong (NASDAQ:LONG) in the hotels, these two players lack comprehensive overseas inventory, in my view. According to the National Bureau of Statistics, China's outbound overseas tourism reached 98 million trips in 2013, compared with 20 million in 2003, representing a 17% CAGR.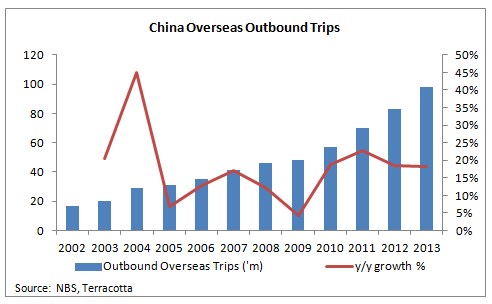 I expect Priceline to benefit from rising popularity of overseas vacations. It is well-positioned to capture tourists' dollars, given its superior overseas hotel and air ticketing inventories and price competitiveness.
Priceline's Bookings.com has a Chinese website. I did a search for New York Langham Place's room rates. I found that Bookings.com's price was US$515/night while Ctrip's was US$619/night. The price gap is due to Ctrip's higher cost of inventory acquisition. Over time, as Priceline expands its brand awareness in China, I expect outbound tourists to pick Bookings.com over Ctrip and eLong, given its better value proposition.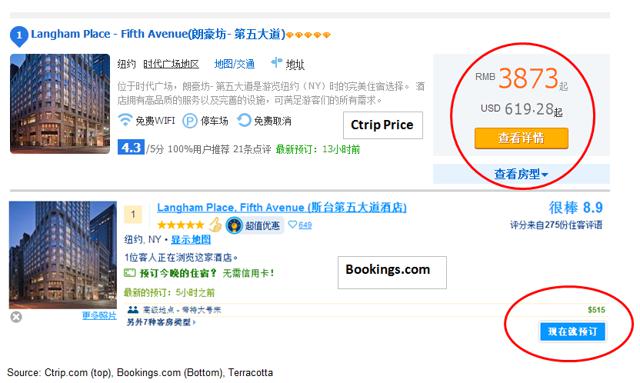 Tesla - Delivering luxury and efficiency. Consumers in the mature age group have accumulated sufficient wealth to pursue aspirational products, in my view. I think Tesla is one good example of how a consumer company can offer affordable luxury to these aspirational consumers.
In terms of price, Tesla is comparable to high-end luxury vehicles sold in China. But its vehicles are more fuel-efficient and reliable. A classic example of a functional luxury product is the Model S.
| | | | | |
| --- | --- | --- | --- | --- |
| | Tesla Model S | Mercedes E400L | BMW 535i | Audi A5 S5 |
| Price (RMB'000) | 734 | 779 | 703 | 728 |
I am an owner of Mercedes E300L in China. I can attest that maintaining a luxury vehicle is expensive due to low fuel efficiency and worsening traffic conditions. The acceleration/deceleration on the urban roads requires a higher level of maintenance, which is costly.
The current challenge for Tesla is to expand its network of charging stations, and I expect the company to reach an agreement with Sinopec, as both sides have strong interest in this venture. For Tesla, it resolves the problem of limited charging stations. For Sinopec, the state-owned enterprise can gain valuable insight on the construction, maintenance and the management of a nationwide EV charging network. For more details on my view on Tesla, please see: "Tesla In China: Cleaning Up The Smoggy Skies."
I think that companies serving the youth and middle age population will face headwinds in the long run. This is because a shrinking population may offset the rising disposable income. Hence, I would be cautious on the longer-term prospects of Weibo (NASDAQ:WB) and New Oriental Education (NYSE:EDU).
Weibo - A declining social media platform. Not all social media platforms are created equal, and it is important for investors, in particular those who live outside of China, to understand that most Chinese use WeChat, rather than Weibo, as the primary social media/networking/messaging tool. It is also important for investors to understand that in any social app, time-spend is a key indicator of popularity and future monetization potential. Unfortunately for Weibo, it is falling behind WeChat in time-spent/user. According to iResearch, WeChat time spent/user has increased from 1.5x over Weibo to 2.5x over the past 8 months.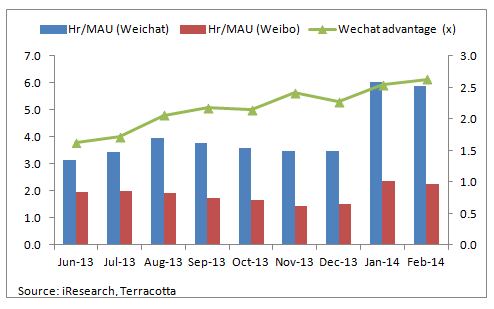 I expect the youth and middle age population to be the most heavily engaged group in the social app space, as they are tech-savvy. If people spend more time on WeChat to interact with their friends, they may spend less time on Weibo, which is negative for Weibo's ad revenue. I also expect WeChat's lead over Weibo to continue, as WeChat offers additional functions to increase user engagement. The mobile payment, taxi calling and movie tickets booking functions have proven to be very popular with the locals, based on my observation.
New Oriental Education - Too Cool For School. My long-term bearish view is based on the declining demand for overseas education and continuous learning among young professionals. According to a UN estimate, China's youth population (15-24 age group) peaked at 242m in 2010 and is expected to decline to 190m in 2015. This echoes the data from China's National Bureau of Statistics, which shows that the primary school and middle/high school populations have declined in the last decade.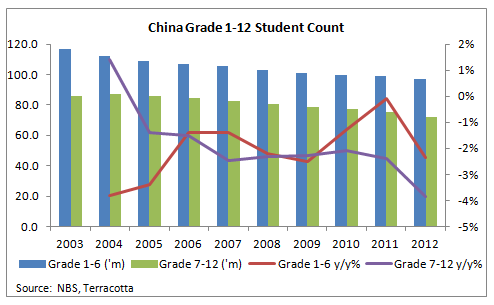 Declining school population will negatively impact the demand for after-school enrichment classes and exam prep classes, in my view. One may contend that penetration into lower-tier cities will be a new revenue growth driver, but I would keep my expectations low as new class formats/new markets entail execution risk.
Companies targeting the child population are likely to benefit from rising parental spending on children's/teenagers' products. In this space, I prefer YUM (NYSE:YUM) and Baidu (NASDAQ:BIDU).
YUM Brands - Key beneficiary of China's young appetite for fast food. In the quick-service restaurants space, I expect YUM Brands to be the main beneficiary of China's youth appetite for fast food with over 6000 stores. In 1Q 2014, the China division showed a strong rebound in sales growth. System sales were up 17% y/y, driven by 7% unit growth and 9% same-store sales growth. There was healthy margin expansion from lower costs and less promotion. I expect 2014 to be a turnaround year for YUM in China, as sentiment over avian flu improves and the company executes over menu innovation. While KFC will likely remain the key driver for YUM's China's growth in the near-term, Pizza Hut will be the next growth driver, in my view, as local diets shift towards more protein and dairy due to increasing income.
Baidu - Mobile app delivers games to the masses. I like Baidu's strong presence in mobile internet and app distribution via 91Wireless. Based on my observation from traveling across China, I find that Chinese teenagers are becoming more and more sophisticated with hardware, as ownership of tablets and handheld entertainment devices [i.e. Sony (NYSE:SNE) PS Vita] increases. Most of the tablets run on Android, which have been pre-installed with 91Wireless, Baidu's app distribution unit. I expect increasing penetration of 91 Wireless in the consumer tablet space to be a long-term positive for Baidu. In this way, Baidu can ramp up on its mobile ads and services from other verticals (i.e. education, books) to build user base, accumulate brand equity and increase the switching cost for consumers, so that consumers are less likely to move to another app distributor [i.e. Qihoo (NYSE:QIHU) 360 and Wandoujia].
Disclosure: I have no positions in any stocks mentioned, and no plans to initiate any positions within the next 72 hours. I wrote this article myself, and it expresses my own opinions. I am not receiving compensation for it (other than from Seeking Alpha). I have no business relationship with any company whose stock is mentioned in this article.