As a retiree I have a significant allocation to bond funds and I have been drawn to Closed End Funds (CEFs) due to their above average returns. PIMCO has an excellent reputation for as one of the leading bond management firms but many of their bond CEFs sell at substantial premiums. Since risk is as important to me as return, I wanted to assess the reward versus risk for these funds, where I define risk as price volatility. I understand that not everyone defines risk the same way but this is the definition that works best for me.
Pacific Investment Management Company, LLC, better known as PIMCO, was founded in 1971 and currently has almost $2 trillion under management. The company is one of the world's largest bond investors and is known for its innovative investment strategies, especially the use of derivatives. PIMCO is headed by Bill Gross, who was one of the co-founders and is now the Chief Investment Officer (CIO). Mr. Gross is an award winning manager and is known colloquially as the "bond king". In 2000, PIMCO was acquired by Allianz, a large global investment firm headquartered in Munich, Germany. However, PIMCO continues to operate as an autonomous subsidiary of Allianz.
There are 11 PIMCO Managed CEFs (not counting municipal bond funds) and among these, nine have a history greater than 5 years. These 9 funds are summarized below.
To assess these PIMCO funds against the total stock market and high yield bonds, I used the following Exchange Traded Funds (ETF) as references.
SPDR S&P 500 (NYSEARCA:SPY). This ETF tracks the S&P 500 index, has an expense ratio of 0.09%, and yields 1.9%.
SPDR Barclays High Yield Bond (NYSEARCA:JNK). This EFT tracks an index of high yield bonds, has an expense ratio of 0.4%, and has a yield of 5.9%.
To analyze these CEFs, I used the Smartfolio 3 program (www.smartfolio.com) with a 5 year look-back period. Figure 1 provides the rate of return in excess of the risk-free rate of return (called Excess Mu on the charts) plotted against the historical volatility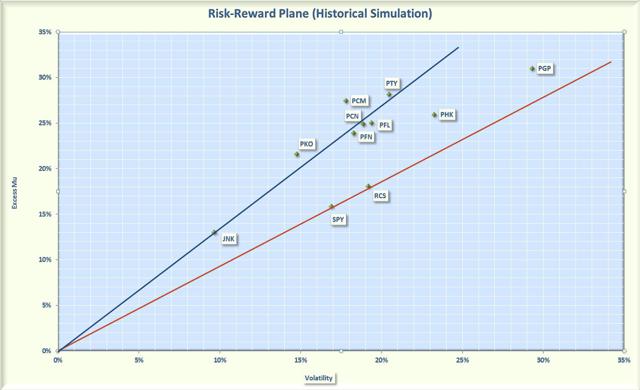 Figure 1: Risk versus reward PIMCO CEFs 5 years.
Figure 1 indicates that there has been a wide range of returns and volatilities associated with the PIMCO funds. For example, PGP had the highest return but also had the largest volatility. Was the increased return worth the increased risk? To answer this question, I calculated the Sharpe Ratio for each fund.
The Sharpe Ratio is a metric, developed by Nobel laureate William Sharpe that measures risk-adjusted performance. It is calculated as the ratio of the excess return over the volatility. This reward-to-risk ratio (assuming that risk is measured by volatility) is a good way to compare peers to assess if higher returns are due to superior investment performance or from taking additional risk. On the figure, I also plotted a red line that represents the Sharpe Ratio of SPY. If an asset is above the line, it has a higher Sharpe Ratio than SPY, which means it has a higher risk-adjusted return than the S&P 500 index fund. Conversely, if an asset is below the line, the reward-to-risk is worse than IEF. Similarly, the blue line represents the Sharpe Ratio associated with high yield bonds.
Some interesting observations are apparent from the plot. Even though PIMCO CEFs are bond funds, they have risk and reward characteristic similar to investing in equities. In fact, with the exception of PKO, the PIMCO CEFs are more risky than the stock market but on the plus side, these funds also generated more returns than stocks. This is pretty amazing considering that stocks have been in a strong bull market over the past 5 years. In terms of risk-adjusted return, all the PIMCO CEFs handily beat the S&P 500 index.
The hybrid Global StockPLUS and Income fund has a volatility almost twice that of SPY but the return was also significantly higher. Since PGP is above the "red line", it can be concluded that the return has more than compensated for the increased risk. However, PGP did not have the best risk-adjusted return over the period. That honor goes to PCM, with PKO being close behind. Both of these highest performing funds were managed by Ivascyn and it is interesting to note that neither of these funds sported extremely high premiums.
Usually, junk bonds, as personified by JNK, are considered to be the highest yielding and most volatile bond class. However, as illustrated by the figure, the risks associated with JNK were mild when compared to the PIMCO CEFs. On a risk-adjusted basis, JNK had excellent performance and actually exceeded the Sharpe Ratio of most PIMCO CEFs. The only CEFs that performed better than JNK were PKO, PCM, and PTY. The performance of PFN and PFL were also similar to JNK.
On a risk adjusted basis, the performance of the high premium PHK came in better than SPY but less than JNK. In fact, the risk-adjusted returns associated with PHK and PGP lagged all the other PIMCO CEFs (except for RCS). Thus, performance of the CEFs does not appear to be highly correlated with the premium being paid.
Since all the CEFs being analyzed are from PIMCO, I wanted to see if you received any diversification by investing in multiple offerings. To be "diversified," you want to choose assets such that when some assets are down, others are up. In mathematical terms, you want to select assets that are uncorrelated (or at least not highly correlated) with each other. I calculated the pair-wise correlations associated with the CEFs. The results are provided in the 5 year correlation matrix shown in Figure 2. I was somewhat surprised that, with the exception of the two sister funds PFL and PFN, these CEFs were only moderately correlated. Most of the correlations were in the 30% to 50% range, indicating that you would receive the benefits of diversification if you invest in multiple PIMCO CEF funds.
Figure 2. Correlation matrix over past 5 years
Next I wanted to assess if the outperformance continued into more recent times. I re-ran the analysis over the 3 years from April, 2011 to April, 2014. The results are shown in Figure 3 and what a difference a couple of years makes! The performances of the PIMCO CEFs were still very good but they could not keep up with the rip-roaring bull market in the S&P 500. Only PCM was able to outperform the SPY on a risk-adjusted basis. Note that I only drew the "red line" on this chart since the risk-adjusted performance of JNK was nearly identical with that of SPY.
The CEFs still had performances more aligned with SPY than JNK. Note also that PGP still had one of the best absolute returns among the CEFs but it did so with very high relative volatility, resulting in a relatively poor risk-adjusted performance. As with the 5 year period, PGP and PHK lagged most of the other CEFs on a risk-adjusted basis, illustrating again that risk-adjusted performances were not correlated with the amount of premiums.
Figure 3: Risk versus reward PIMCO CEFs 3 years
The investment landscape became even murkier in the more recent past. Since early last year, the fear of rising rates took its toll on bond funds and the PIMCO CEFs were not immune. To see how these interest rate jitters affected reward versus risk, I re-ran the analysis with a 12 month look-back period. The results are shown in Figure 4. During that period, PIMCO added two new CEFs so I have added the following funds to the mix.
PIMCO Dynamic Income (NYSE:PDI). This CEF was launched in May, 2012 and currently sells at a 1.3% discount, which is low compared to its 52 week average discount of 5%. The fund is managed by a team that includes Ivascyn. This is a "go-anywhere" fund that invests in global bonds. The fund is large with over $2 billion in assets, spread over 398 securities. The majority of the fund is invested in asset backed bonds (73%) and corporate bonds (20%). About 84% of the portfolio is invested in below investment grade assets and 79% of the holdings are domiciled in the United States. The fund utilizes 45% leverage and has an expense ratio of 2.9%. The distribution is 7.1%, with no return of capital.
PIMCO Dynamic Credit Income (NYSE:PCI). The CEF was launched in January, 2013 and currently sells at a 5.6% discount, which is slightly above the 52 week average discount of 7%. The fund is managed by a team that includes Ivascyn. This is another "go-anywhere" fund that can invest in a wide range of global fixed income securities. This is a large fund, holding over $4 billion in assets, spread over 514 securities. Most of the assets are corporate bonds (41%), assets backed bonds (27%), and loans (24%). About 59% of the holdings are domiciled in the United States. The fund utilizes 28% leverage and has an expense ratio of 1.4%. The distribution is 8.1%, with no return of capital.
Figure 4: Risk versus reward PIMCO CEFs 12 months
Figure 4 illustrates that, over the past 12 months, the stock market has been king and none of the PIMCO CEFs could keep pace. High yield bonds also performed well and only PDI, PHK, and PGP were able to perform better than JNK on a risk-adjusted basis. Of the CEFs, the new fund, PDI, booked the best performance.
The last year was definitely a tumultuous period for PIMCO, with many funds losing their luster and invincible status. The worst of the selloff appears to have run its course and many of the CEFs are beginning to recover, but some are still below their levels 12 months ago. Could this be a buying opportunity for some of the beaten down PIMCO funds? These funds have typically rebounded from adversity but only time will tell if PIMCO can continue it outperformance. In my opinion, PIMCO is still one of the premier investment houses and their CEFs deserve serious consideration for inclusion in your portfolio.
Bottom Line
The PIMCO CEFs are certainly unique in terms of their large distributions and high premiums. The price of a CEF is determined by supply and demand and high premiums are a result of large demand. The PIMCO management team has a strategy that few can duplicate; only a few bond funds can consistently generate such high distributions without resorting to substantial return of capital. Therefore, yield-hungry investors have bid against each other for the opportunity to employ this team and that bidding war has driven up premiums to lofty amounts. Are the PIMCO strategies so unusual that they justify these premiums? Each investor must assess their own risk tolerance to see if PIMCO CEFs fit into their investment plans. Remember that there are no free lunches on Wall Street. High premium CEFs can be good buys for the short term but you should watch them carefully because you will need to exit quickly if the premiums begin to erode. Since performance does not appear to be highly correlated with the amount of premium, my tendency would be to choose CEFs that have relatively small premiums (or even sell at a discount). Among the CEFs, my favorites are PKO and PCM. I also like PDI even though it does not have a long history.
Disclosure: I am long PKO, PDI, PCM, PFL. I wrote this article myself, and it expresses my own opinions. I am not receiving compensation for it. I have no business relationship with any company whose stock is mentioned in this article.