Last Wednesday afternoon, social media giant Facebook (NASDAQ:FB) reported its fiscal first-quarter results. It was another strong report from the name, which has a recent history of earnings blowouts. The Facebook story continues to be one of strong growth, and today, I'll explain why the bull case remains.
First quarter results:
In one of my more recent Facebook articles, I discussed the series of large beats Facebook had in its most recent three quarters. Facebook has been handily beating both revenue and earnings estimates, and that continued with Q1. Facebook reported Q1 revenues of $2.50 billion, an increase of nearly 72%. This number handily beat analyst estimates for $2.36 billion, or about 62% growth. On the bottom line, Facebook reported non-GAAP earnings of $0.34, which beat by a dime. Facebook's bottom line was so strong that GAAP earnings of $0.25 still beat analyst estimates (which of course were for non-GAAP EPS).
This was the fourth straight large beat, and Facebook's margins also improved nicely. GAAP operating margins jumped from 26% to 43%, and non-GAAP operating margins rose from 39% to 55%. GAAP net income was up 193% in the period, with non-GAAP net income up 184%. These growth numbers are quite impressive.
Facebook reported the following numbers for its user base, taken directly from the press release linked in my opening:
Daily active users ("DAUs") were 802 million on average for March 2014, an increase of 21% year-over-year.
Mobile DAUs were 609 million on average for March 2014, an increase of 43% year-over-year.
Monthly active users ("MAUs") were 1.28 billion as of March 31, 2014, an increase of 15% year-over-year.
Mobile MAUs were 1.01 billion as of March 31, 2014, an increase of 34% year-over-year.
Estimates on the rise:
One thing investors like to see is rising analyst estimates. This shows that a company is performing better than expected. If the process continues over a long period of time, it shows that the company's growth story is concrete. That is certainly what we have with Facebook, especially after another beat. The table below shows a history of Facebook's 2014 estimates. EPS are non-GAAP.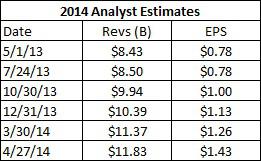 In about a year, Facebook's 2014 revenue estimate average has jumped by nearly $3.5 billion, or more than 40%. The EPS average is up over 80%, showing the progress Facebook has made monetizing mobile. While the social media space doesn't appear very profitable to many, Facebook could top $3 billion in GAAP profits this year if the company continues to beat big. Additionally, Facebook's 2015 estimates are on the rise, as you can see below.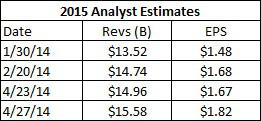 In just about three months, the 2015 revenue average is up by more than $2 billion, with EPS up even more on a percentage basis. We are only about a third of the way through 2014 at this point. If this trajectory continues, Facebook could approach $20 billion in revenues next year. The highest estimate on the street currently calls for $18.75 billion, so $20 billion isn't that outrageous.
Balance sheet strength:
One of the best things about Facebook is the company's balance sheet, which is in great condition. During the first quarter of 2014, the company produced free cash flow of $922 million. Cash and marketable securities totaled $12.63 billion, up from $11.45 billion at the end of 2013.
Facebook has no outstanding debt right now, and a current ratio that is over 13.50. The liabilities to assets ratio is around 12% right now. Facebook has a lot of financial flexibility, and we know that it is in the process of using some of it. The company will use a bit of cash for the WhatsApp and Oculus purchases, as well as a large chunk of stock. When you have a strong balance sheet, it helps you to grow, and Facebook is doing just that.
How does the valuation feel?
When it comes to the peer comparison group, Twitter (NYSE:TWTR) and LinkedIn (NYSE:LNKD) are the two names most discussed. These two names will report their earnings this week. I want to also throw Google, Class C (NASDAQ:GOOG) and Class A (NASDAQ:GOOGL) into the comparison group to show what a more established name looks like, in terms of growth and valuation. In the first table, I've compared these four names in terms of 2014 and 2015 growth estimates, which can be accessed from the analyst estimate link earlier in this article. Remember, all of the EPS and P/E numbers in this section will be based on non-GAAP earnings. Twitter is expected to swing to a non-GAAP profit this year, which is why there is no true EPS growth rate for 2014. Here's the growth table.

Facebook offers the second best growth package for this year and next, especially when you consider the decline in LinkedIn's EPS for 2014. Twitter is just becoming profitable, so Twitter's EPS growth numbers are a bit wacky for now. Even though growth is expected to slow down in 2015 for the three main social media names, there is still a ton of expected growth. Don't forget, as I showed above, analyst estimates are continually on the rise, so growth percentages could rise even further. In the next table, I'll look at price to sales and price to earnings numbers for the two years. The Facebook P/S numbers do not include the two pending purchases, which would add about 10% to the P/S numbers at current prices. Google's P/S value is based off the Class A market cap.

In terms of P/E, Facebook is the cheapest of the three social media names, and trades for about twice that of Google. Considering how Facebook has a lot more growth potential going forward than Google, that would seem to make sense. In terms of P/S, Facebook trades in between LinkedIn and Twitter. You can understand why Twitter gets such a high P/S, because it has the most expected revenue growth this year and next. It also seems logical that Facebook would trade at a premium to LinkedIn, given Facebook has more expected growth over the two-year period.
So what's a fair valuation for Facebook? Well, the median price target on the street now is $80. I think that price is a little lofty at the moment, but I still think Facebook is undervalued a bit. Right now, I think Facebook should be worth about 30 times 2015 non-GAAP EPS. At the moment, the current analyst average is $1.82, which implies a price of $54.60. However, estimates continue to rise as Facebook continues to beat, so I would not be surprised if Facebook ends up with somewhere between $2.00 and $2.50 next year. Taking the midpoint of that, I get $2.25 times 30, or $67.50 for Facebook, with shares currently about $10 below that, so that is about 17% upside.
Technical support coming:
For those wanting to buy Facebook on a pullback, one has certainly come. Facebook shares are about $15 off their 52-week high, and are about $2 above their early-April low. Technical support is building at current levels. As you can see in the chart below, the stock is close to its lower bollinger band, which has been a level of support in the past. Additionally, the 200-day moving average is currently around $52 and rising. Yes, there could be a few more dollars of short-term downside, but the technicals show a few items of support that could be positive for the stock. I referenced the 200-day in my most recent article, at which point the moving average was around $50. It has risen about $2 since then.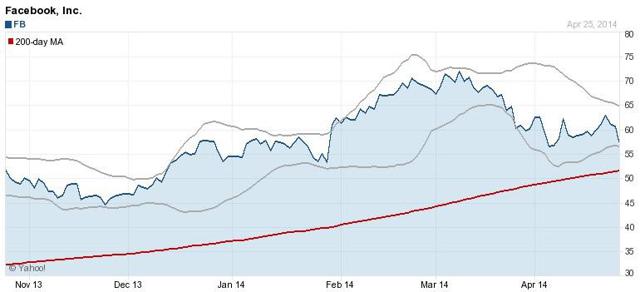 Click to enlarge
(Source: Yahoo! Finance)
Final thoughts:
Facebook announced another strong quarter, but the stock hasn't reaped the rewards yet thanks to the market selloff last Friday. Facebook continues to beat analyst estimates, sending future estimates higher and higher. The monetization process of mobile continues, and Facebook has proven it is the number one social media name for profitability. Technical indicators show the stock is close to bottoming in the low to mid $50s, and I think that a continued pullback represents an opportunity for investors. While I'm not calling for Facebook to be an $80 stock just yet like most analysts, I do think the name can approach $70 again. Investors should look to accumulate on these pullbacks.
Disclosure: I have no positions in any stocks mentioned, but may initiate a long position in FB over the next 72 hours. I wrote this article myself, and it expresses my own opinions. I am not receiving compensation for it (other than from Seeking Alpha). I have no business relationship with any company whose stock is mentioned in this article.
Additional disclosure: Investors are always reminded that before making any investment, you should do your own proper due diligence on any name directly or indirectly mentioned in this article. Investors should also consider seeking advice from a broker or financial adviser before making any investment decisions. Any material in this article should be considered general information, and not relied on as a formal investment recommendation.