Peter Schiff has once again asserted that the reckless actions of the Fed could drive gold prices to $5,000 an ounce. Schiff is an outspoken economic commentator with a pedigree and his own radio show as well as an SA contributor. He correctly predicted the collapse in housing prices that gave rise to the massive recession of 2008 and 2009.
What if Schiff is right? Prudent investors might have paid heed to Schiff when he forecast the housing bubble to burst in an interview on Fox News on December 31, 2006, but most did not. A lot of fortunes were lost in the aftermath.
I don't see gold going to $5,000 or anything close to that. But, I do agree with Schiff that the massive Quantitative Easing program by the Fed has been and is reckless and that sooner or later its ramifications will be felt with unpleasant consequences. That is not the subject of this article so I will not digress into a discussion of the Fed.
Let's just stick close to the issue of the gold price. Gold stocks are at rock bottom prices since the gold price at $1,300 has fallen pretty close to the cost of mining gold for many companies. What do some of those companies look like at $5,000 gold?
IAMGOLD
One of my favorite gold stocks is IAMGOLD (NYSE:IAG) with its colorful CEO Steve Litwin. It is not everyone's cup of tea and the stock price has fallen dramatically in the past few years to its current price of about $3.50 from a high north of $16.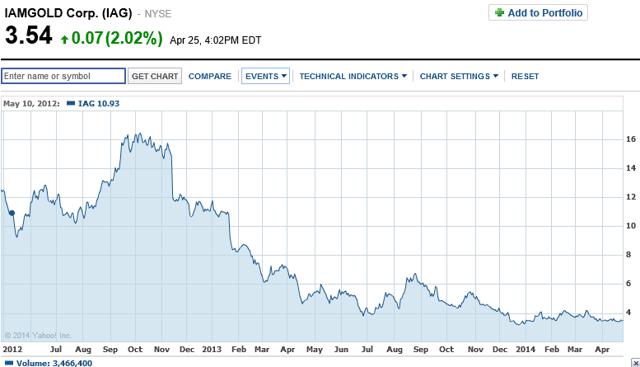 Source: Yahoo.com Finance
IAMGOLD forecasts 2014 production of 835,000 to 900,000 ounces of gold at an all-in sustaining cost of $1,080 to $1,185 per ounce. Call that $1,200 for simplicity. At $5,000 per ounce gold, IAMGOLD would have revenues of about $4.3 billion and generate cash flow of over $3 billion. With a market capitalization today of about $1.3 billion, IAMGOLD would very like rise tenfold in a sustained $5,000 gold environment.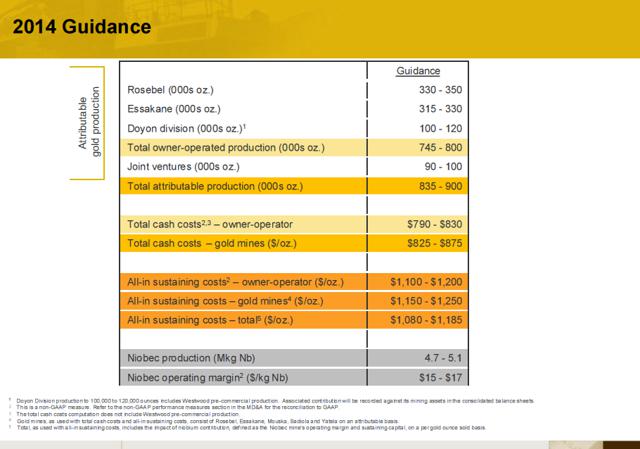 Source: IAMGOLD corporate presentation
Of course, gold prices could also fall, and IAMGOLD has a reasonable balance sheet and could withstand that fall for quite a while. Nonetheless, it is speculative and not for the faint of heart.
BARRICK GOLD
Barrick Gold (NYSE:ABX) has been another casualty of the gold price decline, with the stock falling from over $40 to less than $20 today.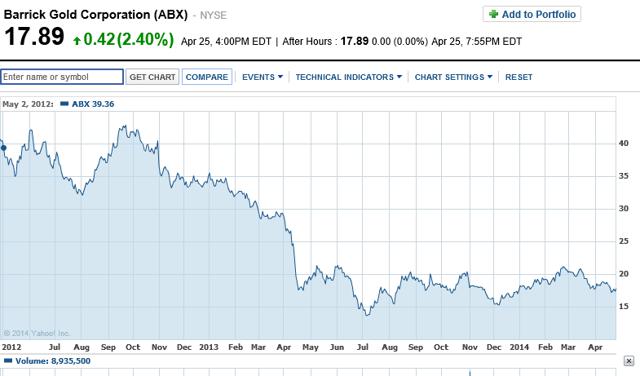 Source: Yahoo.com Finance
According to its most recent presentation, Barrick produces 3 million ounces of gold a year from 6 core mines at an all-in sustaining cost it claims is below $700 and produces a total of more than 5 million ounces of gold annually. At $5,000 an ounce Barrick revenues from gold would total some $25 billion of which about $20 billion would fall through to the income line. If that happened, Barrick would likely trade at a market value of $100 billion more or less, about 5 times its current market value.
Summary
I was deliberately "back of the envelope" in my estimates for these two gold producers and for good reason. At $5,000 an ounce for gold, every other factor in their success is swamped by the favorable price.
I don't know if Peter Schiff is right or not. But he might be. Prudent investors will have some gold in their portfolio and the back of the envelope analysis of all the major gold producers is sure to produce the same result - gold stocks will fly while other investments might just tank.
I am long IAMGOLD. I have traded in and out of ABX and may take a long position at any time.
Disclosure: I am long IAG. I wrote this article myself, and it expresses my own opinions. I am not receiving compensation for it (other than from Seeking Alpha). I have no business relationship with any company whose stock is mentioned in this article.