On July 18, 2013 Physicians Realty (NYSE:DOC) completed a $135 million IPO and listed on the New York Stock Exchange. The Milwaukee-based REIT listed 10.4 million shares with an initial price of $11.50. Then in December (2013) DOC completed a $110 million secondary offering by issuing an additional 8.3 million shares at $11.50.
Since that period DOC has initiated several strategic initiatives including (1) $280 million of acquisitions at an average unlevered cash yield of approximately 8% - 8.5% (with 2-3% annual rent increases), (2) payout of the company's first dividend (on November 1, 2013) at an annualized rate of $.90/share fully covered by AFFO (3) growing company's substantial pipeline of investment opportunities through physician, hospital and other provider relationships across the US.
Today DOC has grown from 19 properties (at IPO) to 40 and the company's square footage has almost tripled from 528 million square feet to over 1.45 million square feet. The company's occupancy has also increased considerably from 84.5% (at IPO) to over 93.4%. DOC's average lease term has increased from 7 years to over 10 years.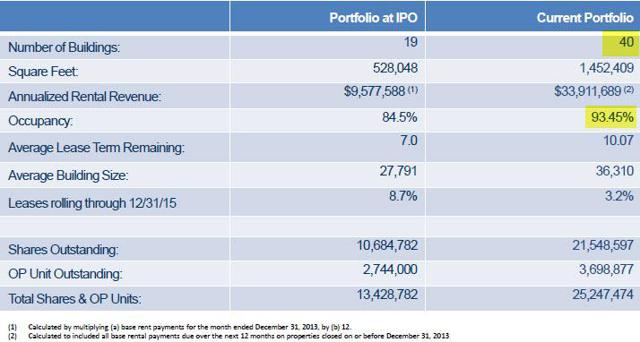 Click to enlarge
The company's portfolio of properties are subject to long-term triple-net leases and the portfolio is concentrated in markets such as Atlanta, El Paso, and Chicago. As evidenced by the snapshot below, DOC has gained broader tenant exposure as a result of tripling its revenue base by investing over $280 million since the IPO.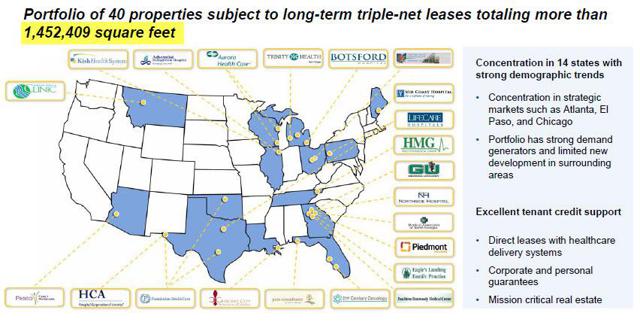 Click to enlarge
Over 75% of DOC's properties are medical office buildings affiliated with a healthcare delivery system or located within ¼ mile of the campus. DOC prides itself on its network of relationships with physicians, hospitals and national healthcare management companies that have led to the successful completion of a number of private transactions completed in a few short months since our offering.
Most of DOC's investments to date have evolved from strategic physician and hospital provider relationships. Almost all investments have resulted from off-market discussions with physicians and providers who own their buildings, or professional advisors representing those tenant owners. Here is a snapshot of some of DOC's health system relationships: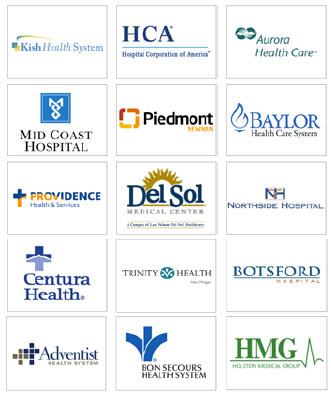 DOC expects to continue growing its portfolio. It's likely that over time the REIT will expand into other health care real estate "asset classes," including life science and senior housing with a component of care. However, currently DOC has focused on MOB/Specialized Hospital "ranch" properties. Here is a snapshot of the Top 10 Tenants: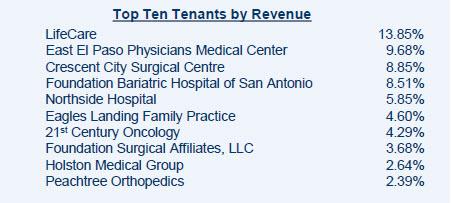 DOC has a weighted average lease term of 10.7 years (as of March 31, 2014) and only 3.2% of leases rolling through December 31, 2015. In addition, there are no material lease expirations prior to 2016.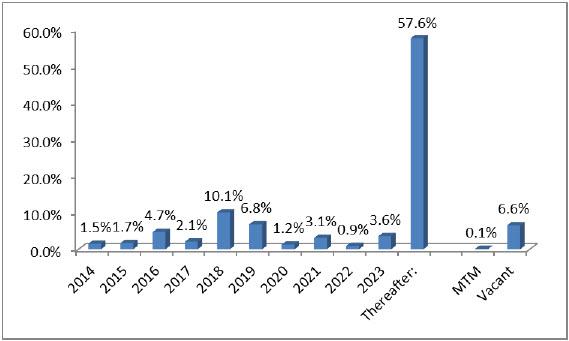 DOC Is A Like a Kid In a Candy Shop
When it comes to health care investing, DOC is a like a "kid in a candy shop." The REIT has a market capitalization of around $289 million and accordingly the company can pursue single asset transactions that may be operationally inefficient for the larger healthcare REITs. DOC's average transaction size is around 36,310 square feet, a size that many of the bigger REITs are not pursuing.

Click to enlarge
DOC targets unleveraged investment returns between 7% and 10% and the company has in excess of $300 million of investment properties under review. Because of the company's agnostic view regarding location, DOC has been rather flexible with its off-market acquisition model.
As long as the hospital or physician group anchoring a DOC property is a market leader and the market is both strong, the company will not shy away from a good deal. Essentially DOC will look at any market where the credit is strong and the likelihood that the facility and the health care tenants will remain relevant to healthcare delivery for years to come.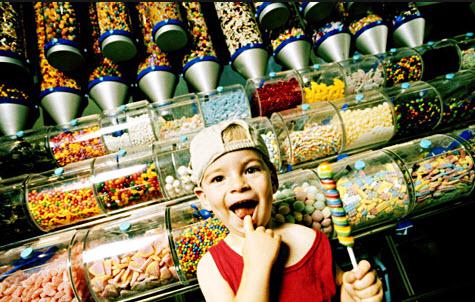 Can the Kid Compete?
DOC's main leverage is from its Senior Secured Line of Credit, led by Regions Bank and Key Bank, along with Comerica and Mid-First Bank. The facility currently commits $90 million with accordion features up to $250 million. DOC maintains prudent use of leverage and seeks to limit leverage to now more than 50% of capital and declining to 40% over time. DOC plans to limit its long-term asset level secured debt, so as to provide flexibility to achieve an Investment Grade rating.

Click to enlarge
DOC recently announced that it declared a quarterly cash dividend of $0.225 per common share for the quarter ending March 31, 2014. Governor Tommy G. Thompson, Chairman of the Board of Trustees, stated,
Given the stable revenue we have continued to generate and the portfolio growth we have achieved, we declared a dividend of $0.225 per share for the first quarter of 2014. In a relatively short time, the Company has done an excellent job of sourcing high quality investment opportunities from our strong relationships and I look forward to our continued success.
This is DOC's second quarterly dividend (as a public company) and the current yield is 6.72% - the highest dividend yield in the Health Care sector.

Click to enlarge
In terms of pricing, DOC shares are trading at $13.40 with a Price to Funds from Operations (P/FFO) multiple of 14.6x. That compares favorably to the peer group with an average multiple if 14.3x.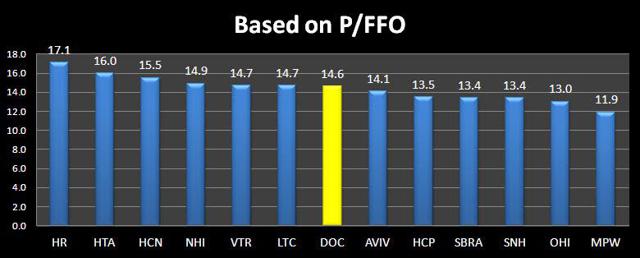 Click to enlarge
Since going public DOC shares have increased by over 16.5%.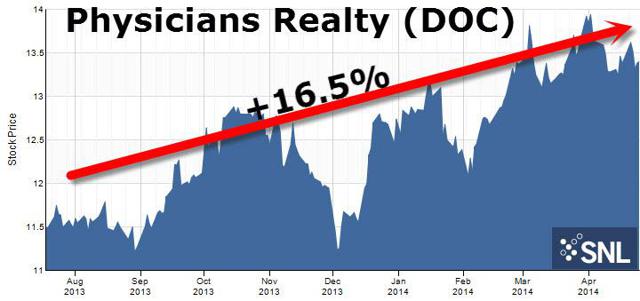 Click to enlarge
Investors who would have gotten in on the day of the IPO would have seen a total return of over 22%.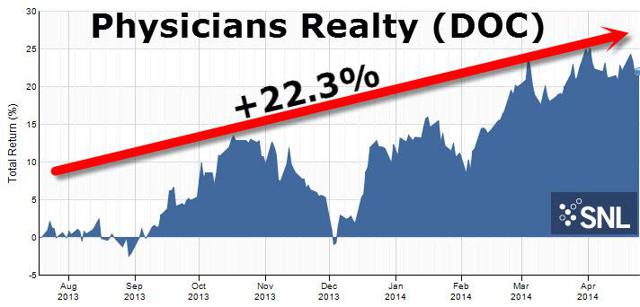 Click to enlarge
Both DOC's IPO and secondary offering (in December) were oversubscribed by a significant amount and over 60% of the company's shareholders are Institutional Investors. Clearly DOC is keenly focused on taking care of ALL of shareholders - the big and the small.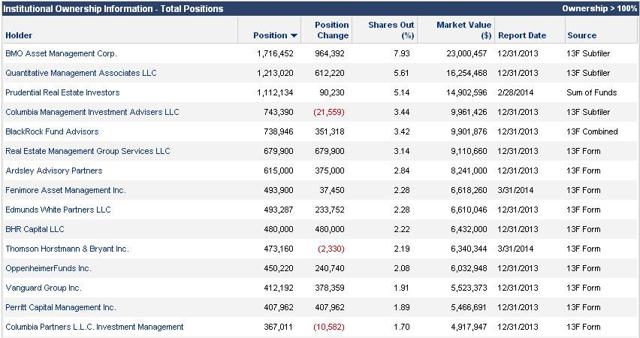 Click to enlarge
DOC plans to release Q1-14 earnings on May 7th.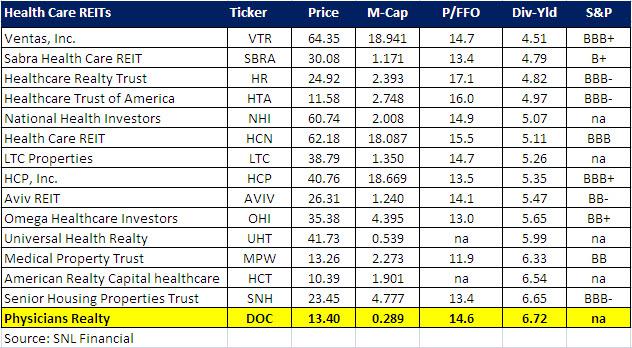 For more information on REITs, check out my monthly newsletter HERE.
Source: SNL Financial, Yahoo Finance, and Physicians Realty Investor Presentation.
REITs mentioned:(NYSE:VTR), (NYSE:NHI), (NASDAQ:SBRA), (NYSE:HR), (NYSE:HTA), (NYSE:HCP), (NYSE:LTC), (NYSE:HCN), (NYSE:UHT), (NYSE:AVIV), (NYSE:OHI), (NYSE:MPW), (NYSE:SNH), and (NASDAQ:HCT).
Disclaimer: This article is intended to provide information to interested parties. As I have no knowledge of individual investor circumstances, goals, and/or portfolio concentration or diversification, readers are expected to complete their own due diligence before purchasing any stocks mentioned or recommended.
Disclosure: I am long O, DLR, VTR, HTA, STAG, UMH, CSG, GPT, ARCP, ROIC, MPW, HCN, OHI, LXP, KIM, WPC. I wrote this article myself, and it expresses my own opinions. I am not receiving compensation for it (other than from Seeking Alpha). I have no business relationship with any company whose stock is mentioned in this article.