With its Q1 2014 earnings, Facebook (NASDAQ:FB) demonstrated its continued structural shift to a mobile company. The company's mobile monthly active users for the first time crossed the 1B mark. Mobile active users are also growing faster than any other user base segment. This user base shift is reflected in Facebook's changing revenue composition, bearing out the company's past commitment to transition to a mobile-first company. It also explains Facebook's push to disaggregate its platform.
Facebook's user base now sits just below 1.28B MAUs (monthly active users). When we visualize Facebook's usage composition we can see that its mobile user base is on track to reach or exceed its current total user base. We can also see that mobile-only usage is growing quickly, increasing 15% sequentially. We can conclude that Facebook is increasingly hired as a mobile platform. It is unsurprising, then, that Facebook's revenue composition reflects this shift.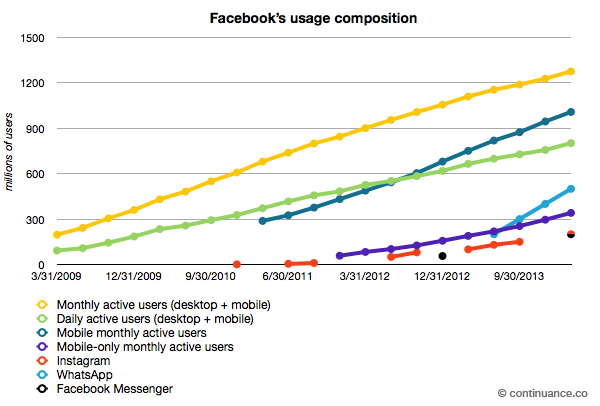 Facebook saw $2.5B in revenue in the first quarter, a 72% year-over-year increase. The company's payments business saw only a modest year-over-year increase. The bulk of its revenue growth accrued to its advertising business. And it is here that we see the consequence of the shift in Facebook's user base composition. In the first quarter, Facebook's mobile ad revenue was 59% of its total ad revenue, up from 30% over the year-ago quarter.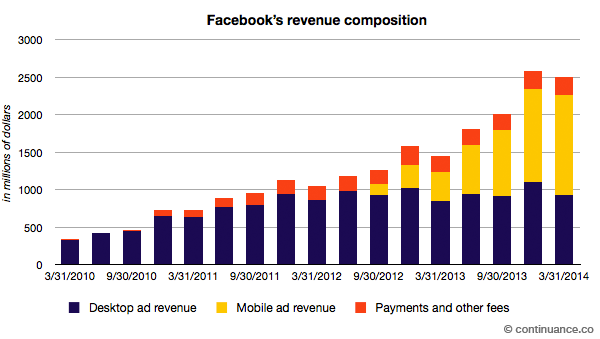 More telling than the extent to which Facebook's mobile advertising revenue has eclipsed its desktop ad revenue growth, is the speed with which this has occurred. On a sequential basis the ratio of mobile-to-desktop ad revenue has increased marginally; however, compared to the year-ago quarter mobile advertising revenue increased by a staggering 258%. By comparison, its desktop advertising revenue increased only 6.6% over Q1 2013.
Facebook's payments business still faces a mobile incentives problem due to factors exogenous to the platform. Payments average revenue per user (ARPU) growth is exclusive to developed regions, where desktop usage persists. Unsurprisingly, payments comprises an exiguous segment of Facebook's revenue. Unless Facebook changes its payments strategy, we should not expect long run payments revenue to grow meaningfully.
Despite its payments business, these data reinforce the message by Facebook's executives that the company is continuing to push aggressively toward a mobile-first business. Through this lens, Facebook's decision to separate its Messaging app from its mobile application, and its recent US-only launch of Facebook Paper make more sense: a disaggregated platform better serves its (increasingly regionally diverse) mobile user base.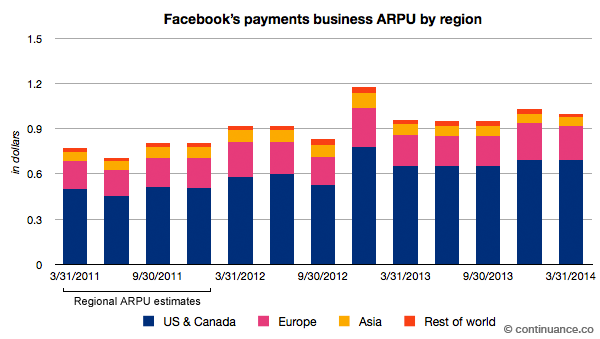 Disaggregating its platform allows Facebook to own an increasing amount of total smartphone usage, replacing core services like SMS. Facebook's now stand-alone Messaging app has 200M monthly active users. When combined with its newly acquired 500M emerging market mobile user base segment in WhatsApp, whose usage is already approaching global SMS volume, the supposition that Facebook is almost exclusively focused on mobile seems valid.
Facebook's earnings are increasingly driven by mobile. However, Facebook has deployed mobile advertising carefully, improving retargeting in order to increase engagement instead of increasing ad supply. It is safe to assume that Facebook has not plucked all of the low hanging fruit in mobile ad revenue growth. We should therefore expect strong quarterly revenue growth, especially as Facebook refines its ad products on its increasingly disaggregated platform.
Disclosure: I am long FB. I wrote this article myself, and it expresses my own opinions. I am not receiving compensation for it. I have no business relationship with any company whose stock is mentioned in this article.