LinkedIn (NYSE:LNKD) to report 1Q14 financial results on May 1st. Despite a solid Q4 in which revenue and EBITDA came in at the high-end of the forecast, guidance was weak. Heading into the print, operating metrics still matters and the market will continue to focus on user engagement. While near-term misses on operating metrics will likely to put pressure on the stock, I am more positive on LNKD's future growth prospect relative to its other social networking comps.
Consensus expects EPS of $0.34 (+10% y/y) on $467m in revenue (+47% y/y) and 112m in EBITDA (+56% y/y), this compared with management guidance of $455-460m in revenue and $106-108m in EBITDA. Gross margin is expected to remain stable while EBITDA margin is expected to improve 143bps y/y.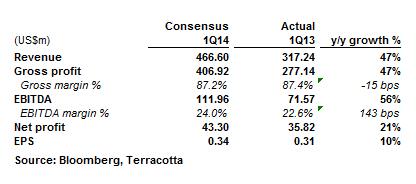 Operating metrics matter, but LNKD is an exception to the rule…
Readers of my research knows that I have many times emphasized the importance of user engagement when analyzing social media and social networking companies. My argument is simple: if a user spends more time on one platform, that user will spend less time on the competing platforms. Advertisers will divert budget only on those platforms that draw the most consistent engagement level. My bearish call on Sina (NASDAQ:SINA), which is down 15% since the Weibo IPO, validates my thesis. (See: Sell Sina Ahead of Weibo IPO). In addition, I am bearish on Twitter (NYSE:TWTR) due to the same reason. (See: Twitter 1Q14 Earnings Preview). Both Weibo and Twitter operates in a highly competitive social networking space and neither caters to a specialized group, hence their only competitive advantage is upgrading content to win user engagement.
LNKD is an exception to the rule because it focused on a niche vertical (ie. Working professionals) that has a specific goal (ie. Business networking), compared with other platforms that are mostly used for friends interaction. LNKD users are engaged to make business contacts and/or check out potential contacts, so engagement is purpose-driven. I cannot say the same about engagement on competing social networking platforms because it is driven by curiosity on what friends are doing, or shear boredom, which I view as lower quality.
In 4Q13, LNKD saw sharp decline in user engagement, as measured by PV per Unique visitor. Management indicated that the decline is due to higher base from last year and the transition to mobile (Link).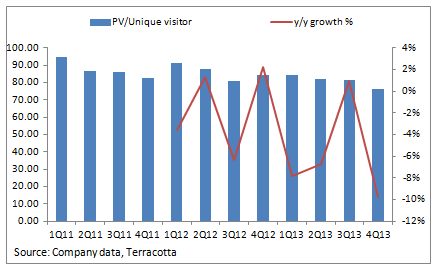 Moreover, unique visits saw second consecutive quarter of deceleration.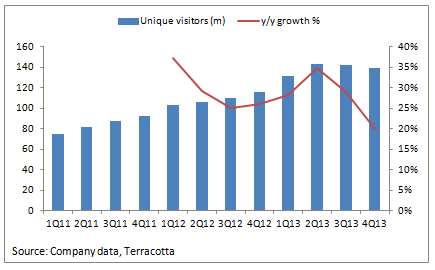 However total member continued to grow at a healthy pace, and I believe that as long as LNKD can maintain its total member growth, unique monthly visits could pick up as new members typically are less engaged due to fewer people within their network. As the new users accumulate more networks within their contact list, I expect engagement to pickup.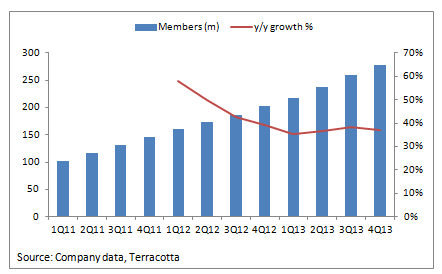 In my view, LNKD has the scale and first mover advantage over the emerging players (ie. Google, Renren) as the only dominant professional social networking platform that operates around the globe. Its presence in China, where it already has over 4m users is a positive sign that engagement will pickup and the platform will unlikely to be scrutinized by the government. Despite competing platforms such as Renren (NYSE:RENN) and Ushi, I believe LNKD has a natural advantage over the local Chinese players given that it is a global platform. As China's young working professionals begin to build a network under a global context, LNKD is the natural choice for professional social networking.
Bottom line, while the engagement metrics is a key focus for social networking platforms, it still depends on the quality of the platform and the users. LNKD differentiates from Weibo and Twitter due to its niche focus and perceived higher quality engagement level. Although near-term engagement could be under pressure due to higher comps and mobile transition, long-term growth remains intact.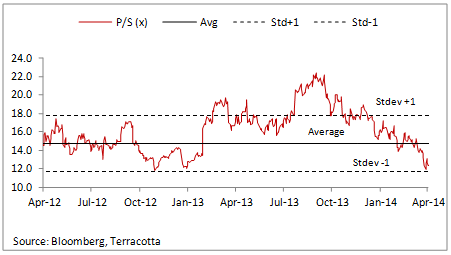 Valuation looks cheap by historical standard at 12x P/S. Looking forward to 2015E, 6.7x P/S is relatively cheaper than the social networking average of 7.5x.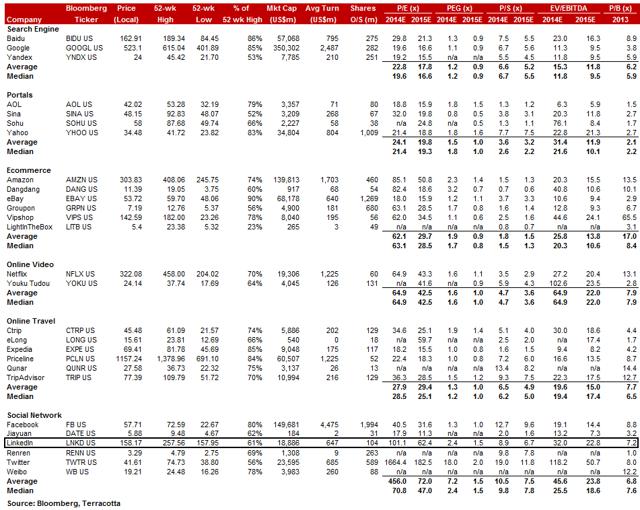 Click to enlarge
Disclosure: I have no positions in any stocks mentioned, and no plans to initiate any positions within the next 72 hours. I wrote this article myself, and it expresses my own opinions. I am not receiving compensation for it (other than from Seeking Alpha). I have no business relationship with any company whose stock is mentioned in this article.