The Opportunity:
All of the recent excitement over Apple's (NASDAQ:AAPL) first quarter earnings inspired me to look into other stocks that could be pulled up as well behind Apple's rising stock price. What I stumbled upon was RF Micro Devices, Inc. (RFMD), a high-performance radio frequency solutions design and manufacturing company. In the past, much of the attention that RFMD has received has been due to the fact that they are an "Apple supplier." This is true, however, the company should be receiving attention for a variety of other important reasons. RFMD's stock will be headed upwards, and I'll show you what will drive this climb.
Business Overview
RFMD's Operating Segments/Industry Outlook
In order to grasp RFMD's potential for growth, a general understanding of the company's operating segments/industry is needed. RFMD has two key operating segments- the Cellular Products Group, and the Multi-Market Products Group.
Cellular Products Group: encompasses the products that are becoming increasingly necessary in 3G and 4G devices. These products are used in a variety of popular devices such as smartphones, handsets, netbooks, notebooks, and tablets.
Multi-Market Products Group: consists of a wide variety of RF components that are used in aerospace, defense (military), and space applications.
The most important of these segments to RFMD's current and future performance is the Cellular Products Group. The cellular products industry is characterized by large unit volumes, high technical barriers to entry, and short product lifecycles. As the capabilities of our mobile devices increase, so does the demand for access to the internet through these devices. An increase in connectivity comes from the use of more RF technology in each device, which is where RFMD comes into play. On the consumer side of things, there is an increased demand for both smartphones and overall connectivity as a whole that is only possible through increased use of RF technology, increasing RFMD's sales.
Smartphones aren't the only devices that are demanding greater connectivity and more RF devices- tablets, notebook computers, and laptops are all expected to have faster and faster connectivity speeds. These devices add even more depth to the Cellular Products Group and increase the demand for RFMD's products even further.
Associated Risks
Even though RFMD is firmly established in its industry, it still has a variety of risks that investors must be wary of. Contrary to popular belief, Apple is not RFMD's largest customer. Instead, Apple's top competitor Samsung Electronics (OTC:SSNLF) is what really drives RFMD's sales at the end of the day- in 2013, Samsung accounted for 22% of RFMD's net revenue. No other customer accounted for more than 10% of revenue. If relations with Samsung ever deteriorate, we could see a big drop in the company's performance.
In addition to the company's high dependence on Samsung, there are a few other risks that come with the RF/semiconductor technology industry. The industry's technology changes rapidly and companies depend on new products to succeed. Should RFMD fall behind in product development, although unlikely, we could see a new competitor take their spot as an industry leader. One other force that poses a risk to the company is the Chinese economy- China drives enough of the demand for the company's products that a slowdown in the economy would be enough to cause some harm.
Source: RFMD 2013 Annual Report
Growth Catalyst
RFMD has been riding the smartphone growth wave for some time now and will continue to do so, but what I believe will be the most influential source of growth will be the company's upcoming merger with TriQuint Semiconductor, Inc. (TQNT). TriQuint is another industry leading company that also happens to be a key Apple supplier. The merger between the two companies is expected to spark growth opportunities in mobile devices, network infrastructure, and aerospace/defense markets while also giving the new, yet to be named company a wide variety of competitive advantages. The two companies expect that their merger will lead to the creation of new, industry changing technologies that will benefit tech producers and consumers alike. The combination is also expected to achieve $150 million in cost synergies, which most likely will give the new company's financials an appealing facelift. The deal is expected to be complete in the second half of 2014, giving investors a good window of opportunity to jump onboard before it becomes priced-in.
Source: Company Press Release
What to Expect Moving Forward
I expect the completion of the TriQuint merger in the second half of this year to draw a substantial amount of attention to the stock and drive the price upwards as a result as investors begin to see the upsides of the new company. Apple's increasing presence in China will also help drive some more growth for the company. A new iPhone is expected sometime in the near future and the expected increase in demand for Apple's products from the company's new deal with China Mobile should give RFMD a nice boost as well.
There's one final trend to look at from a valuation standpoint for RFMD. As the company's stock price has climbed upwards, the EV/EBITDA ratio has been on a downward trend. This is encouraging because it signifies that although the price is rising, the company isn't becoming overvalued. If this trend continues as the company's merger goes through, investors could be receiving a great deal of growth potential for a really attractive price.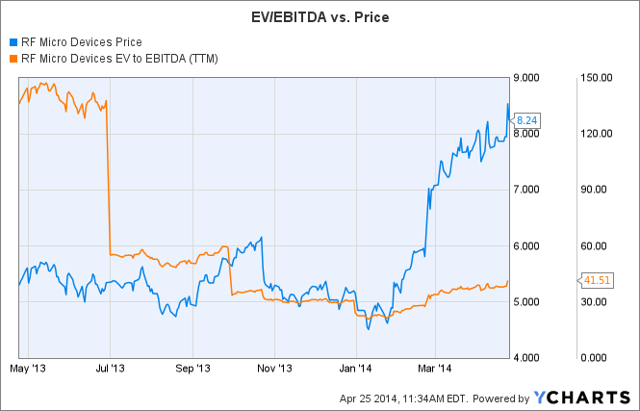 In more of a short-term view, RFMD will release its earnings report on Tuesday, April 29th. Be sure to keep an eye as to where the company is trending in the next couple months- if the stock price drops at all, it could be an even better window to jump in through.
Disclosure: I have no positions in any stocks mentioned, and no plans to initiate any positions within the next 72 hours. I wrote this article myself, and it expresses my own opinions. I am not receiving compensation for it (other than from Seeking Alpha). I have no business relationship with any company whose stock is mentioned in this article.