This article will cover some of the differences between higher- and lower-yield BDCs including pricing, risk and net asset value ("NAV") per share and dividend growth. Obviously BDCs with higher prices have correspondingly lower yields but I believe investors pay these prices for a reason. In my opinion higher quality BDCs underpay dividends to shareholders and consistently (at least two to three quarters a year) build undistributed or 'spillover' income. This accumulated spillover income is then used to pay special dividends and/or grow the portfolio to increase NAV per share and income to eventually grow dividends. Ideally the company would hold this undistributed income for as long as possible without paying the 4% nondeductible federal excise tax. This is a tax on undistributed income unless the BDC distributes 'in a timely manner' an amount at least equal to the sum of 98% of net ordinary income for each calendar year, 98.2% of capital gain net income (both long-term and short-term) and any income realized but not distributed in the preceding year. Some BDCs such as Prospect Capital (NASDAQ:PSEC) would prefer to pay the tax rather than distribute to shareholders because it is considered a cheap source of financing to pay future regular dividends and only recently accounts for around 2% of net investment income ("NII"). Other BDCs such as Ares Capital (NASDAQ:ARCC), Main Street Capital (NYSE:MAIN) and TCP Capital (NASDAQ:TCPC) continually have undistributed NII that is used to pay semiannual special dividends as well as grow the portfolio for future dividend sustainability and/or growth.
The table below breaks out BDCs by yield and highlights some of key differences between BDC with higher and lower NAV multiples.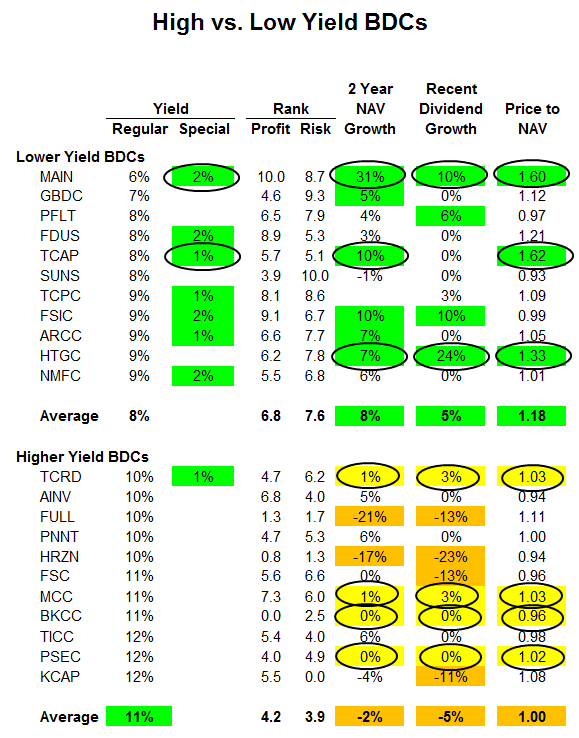 Higher-Yield BDCs:
Many first time investors are drawn to PSEC, TICC Capital (NASDAQ:TICC), BlackRock Kelso Capital (NASDAQ:BKCC), Medley Capital (NYSE:MCC), Fifth Street Finance (NYSE:FSC) and PennantPark Investment (NASDAQ:PNNT) but begin to realize that there is little room for dividend growth or the potential for special dividends. These BDCs have less growth due to already paying out a higher amount of income giving them a lower 'profit' ranking on average. Also there is less capital for NAV growth potential but PNNT, TICC and Apollo Investment (NASDAQ:AINV) have been able to grow NAV per share more than the average company while still paying higher than average dividend yields. I believe all three of these BDCs come with higher risk associated with this higher return. The average multiple paid for higher-yield BDCs is in a tight range between 0.94 and 1.11.
Lower-Yield BDCs:
This group usually pays less than the distributable amount of NII giving them better than average profit rankings and the ability to pay special dividends and/or grow the portfolio organically and without the need for issuing as many shares. Investors pay higher multiples for these companies giving them the added benefit of raising equity capital at a higher premium. Most of these companies have a safer portfolio mix with lower portfolio yields and hopefully lower cost structures to match these lower returns. Internally managed BDCs such as MAIN, Hercules Technology Growth Capital (NASDAQ:HTGC) and Triangle Capital (NYSE:TCAP) have a clear advantage and Solar Senior Capital (NASDAQ:SUNS), Golub Capital BDC (NASDAQ:GBDC) and PennantPark Floating Rate Capital (NASDAQ:PFLT) are externally managed but with the lowest portfolio yields in the industry along with the lowest base management fees at 1% of total assets (GBDC is a little higher at 1.375% but still lower than the others). The average NAV multiple paid for these companies has a much wider range implying that there are other considerations for investors in these BDCs.
Outliers:
FS Investment Corp (NYSE:FSIC) is a newly-listed BDC with over four years of operating history. After some legacy shareholders liquidate their positions and the company finishes its tender offer to purchase shares we will could eventually see increased multiples. THL Credit (NASDAQ:TCRD) had a disappointing quarter recently and is on the line between high- and low-yield BDCs.
Investors should only use this information as a starting point for due diligence. See the following for more information:
Disclosure: I am long HTGC, MAIN, TCPC, FSC, FSIC, ARCC, TCRD, PSEC, NMFC. I wrote this article myself, and it expresses my own opinions. I am not receiving compensation for it (other than from Seeking Alpha). I have no business relationship with any company whose stock is mentioned in this article.