The market generally reacts to negative news too drastically and in many cases value can be found before the dust settles. UPS has been dinged up in the past few months by a combination of mis-estimating holiday traffic and increased costs due to the harsh weather over the first quarter. These events led to United Parcel Service (NYSE:UPS) missing analysts' estimates which has resulted in a buying opportunity.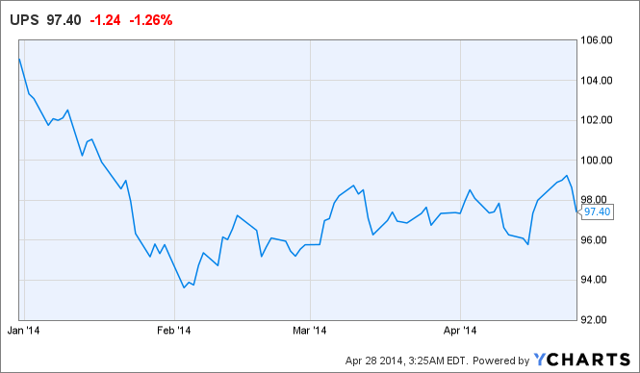 1st Quarter Results
International results were strong, however, the U.S. domestic segment was tempered due to unusually harsh weather during the quarter. Operating profit was $1.5 billion down $106 million with margins contracting 2.20% to 10.9% in the U.S. domestic segment. On the call CFO Kurt Kuehen estimated that profitability was lowered by $200 million due to the weather. The additional weather expense was a function of loss productivity, snow removal, increased utilities, and increased service refunds.
Revenue for the quarter was slightly below analysts' consensus estimate of $13.91 billion coming in at $13.78 billion. Moreover, UPS missed earnings per share estimate with $0.98 compared to the consensus of $1.08.
U.S. domestic daily volume was up 4.2% and as a result revenue increased 2.6% to $8.5 billion. Costs, however, were significant due to overtime wages from incorrect estimates of holiday volume, and poor weather conditions. More than half of operating days during the quarter had a network disruption due to the weather. On a positive note, UPS generated a robust $1.9 billion in free cash flow over the quarter.
Guidance was given at the low end of the EPS range of $5.05 to $5.30 due to the bad weather throughout the first quarter. Further, they guided this year of repurchasing 2.7 billion in stock and increasing the dividend.
Industry & Economic Trends
The proliferation of online retailing greatly benefits UPS. As increasingly more people are accessing the internet, online sales will grow tremendously. Subsequently, there will be a much higher reliance on shipping and this bodes well for UPS. In the U.S. online sales are forecasted to rise at a 10% compounded annual rate through 2017. Internationally, this trend is occurring as well. As a whole, European nations are expected to grow at an 11% annual compounded rate over the same time horizon.
The air delivery & freight services industry is dominated by several large companies. In particular, FedEx (NYSE:FDX), UPS, DHL, and USPS are the major competitors in this space. With such a concentrated industry, UPS stands to gain significant revenue with the burgeoning online trend.


New Technology & Initiatives
Cost savings will soon become apparent with the integration of several new initiatives. The most significant savings will come from the newly introduced software known as On-Road Integrated Optimization and Navigation (ORION). The program is expected to shorten drivers' routes and save millions on fuel. The way it works is by using a combination of connected car-like telematics, package information, user preferences and routes to optimize trucks.
ORION has been implemented with 20% of drivers, and management expects that to be 45% by the end of the year. Savings from the program are expected to be influential. The company estimates that by 2017, it can save $50 million by just taking one mile off each of its driver's daily routes.
An ancillary effect of the implementation is that it will strengthen its competitive advantage with the UPS My Choice program. UPS My Choice which has nearly 7 million members so far will allow for a deluge of delivery options such as being able to set specific delivery times. Customers will gain loyalty to UPS through this program. In an industry that is categorized by extremely competitive pricing, this advantage could prove to be a boon to UPS and may lead to margin expansion.
In February of 2014 UPS announced the acquisition of UK based Polar Speed, a provider of temperature sensitive supply chain solutions. The acquisition of Polar Speed will allow for improved access to the UK market and allow for unique cold chain transportation capabilities. With this purchase, UPS now has 2 healthcare facilities in the Netherlands, 2 in Italy, 3 in Budapest, and 1 in Madrid. These capabilities create a competitive advantage as well. It is much more difficult for competitors to take this type of business as they would have to invest in this type of infrastructure to do so.
In 2013, fuel costs accounted for 8% of operating costs. This substantial amount creates an opportunity to greatly reduce expenses by introducing alternative fuels. In March UPS announced a plan to spend $70 million to buy 1,000 delivery trucks powered by propane gas as well as to build 50 fueling stations. Currently the company has 3150 propane trucks in its fleet so the plan represents a 32% increase.
Propane costs $1.25-$1.50 per gallon less than gasoline or diesel. Assuming these figures, UPS stands to save $4.3 million to $5.25 million with the employment of these new vehicles. Additional expense reductions will come from two other avenues. First, maintenance costs will be reduced as these trucks are cheaper to maintain. Second, these trucks will be deployed in Louisiana and Oklahoma which have a 10% tax credit for alternative fuels. The tax credits will net UPS $2 million.
International Expansion
International operations represented both volume growth and margin expansion with a 7.7% increase in export shipments. Most of the export growth was from Europe with moderate gains also coming from Asia and the Americas. International revenue was up 5% to $3.1 billion and operating profit margin expanded to 14%. The margin expansion was due to adjustments to optimize network efficiencies.
UPS also opened new healthcare distribution facilities in Canada and Mexico and plans to expand facilities in Brazil and Chile to increase capabilities in Latin America. The growth in these emerging markets represents tremendous growth opportunity.
Value Compared to Competitors
Upon reviewing valuation metrics such as the PE ratio, it is evident that FedEx trades at a higher multiple than UPS. It is unfounded that UPS trades at a discount to FedEx. UPS has more European exposure than FedEx which could be partially to blame for the discount. However, the Eurozone is recovering and this exposure should not be a cause for concern. The gross margins for UPS are much better than FedEx's and the company is more efficient with its assets earning a higher return on assets. UPS is the bigger and better company in this industry and should be trading at a higher multiple than FedEx.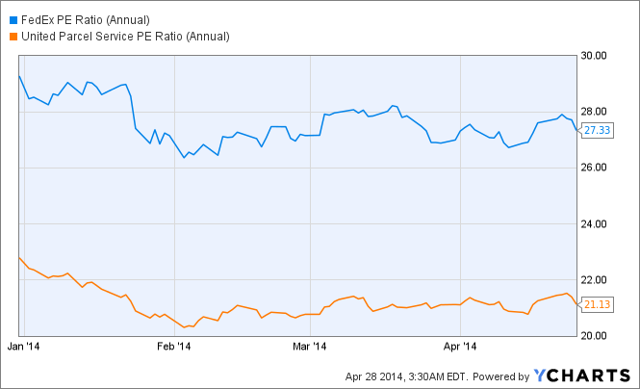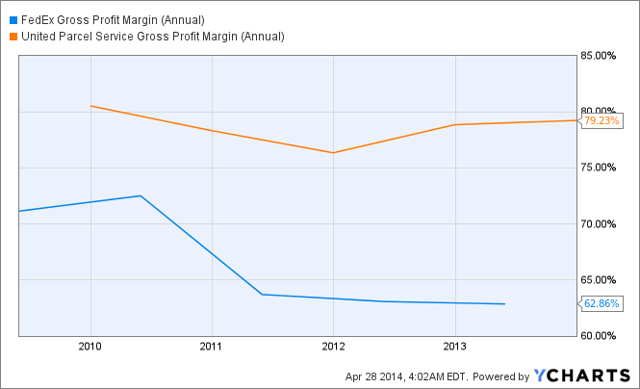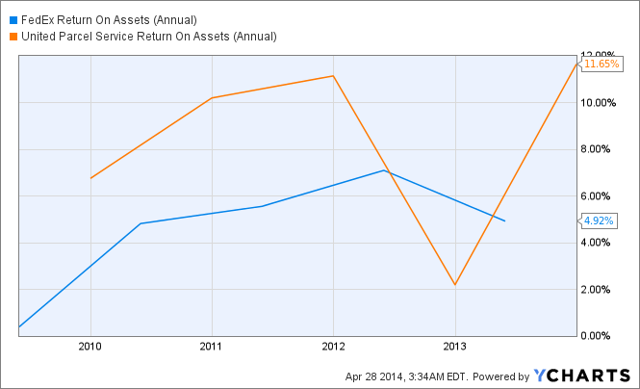 Conclusion
The poor operating results from the quarter were an anomaly and this pullback presents a buying opportunity. Economic trends are favorable for UPS and they are best positioned to capitalize on them. UPS has begun several initiatives to create a competitive advantage in the industry by creating customer loyalty and by providing unique shipping options such as pharmaceutical shipping. Margins will improve with the new initiatives as well. UPS is a great way to enter a strong blue-chip company at cheap levels which provides much upside.
Disclosure: I have no positions in any stocks mentioned, but may initiate a long position in UPS over the next 72 hours. I wrote this article myself, and it expresses my own opinions. I am not receiving compensation for it (other than from Seeking Alpha). I have no business relationship with any company whose stock is mentioned in this article.