The big U.S. banks and brokers haven't had a great year in terms of stock performance, but interestingly, default risk as measured by their credit default swap (CDS) prices has fallen pretty dramatically. Below are price charts for the 5-year CDS on the six largest U.S. banks and brokers. Prices are in basis points, but basically, the numbers shown represent the cost per year ($) to insure $10,000 against default over the next five years.
Credit default swap prices for the major financials typically spike during downturns for the group or any period where there are questions about the financial system. Geopolitical worries can also cause CDS prices to tick higher. Throughout 2014, we have seen share prices for the big banks and brokers trade sharply lower, and we've certainly had our fair share of geopolitical problems. All year, though, we have seen a steady decline in CDS prices for the six firms below.
Through Friday, default risk was down between 15% and 30% year-to-date for the firms shown, taking prices to pre-Financial Crisis levels. Given the declines in default risk this year, you would expect the stock prices for firms like Bank of America (NYSE:BAC), Citigroup (NYSE:C), Goldman Sachs (NYSE:GS) and Morgan Stanley (NYSE:MS) to be up nicely in 2014, but they have actually taken big hits recently.
The credit markets are thought to be "leading indicators" for the stock market, so in this regard, bulls have something to be positive about. Throughout all this recent volatility and global turmoil, credit traders have gotten less and less worried about the stability of our largest financial firms.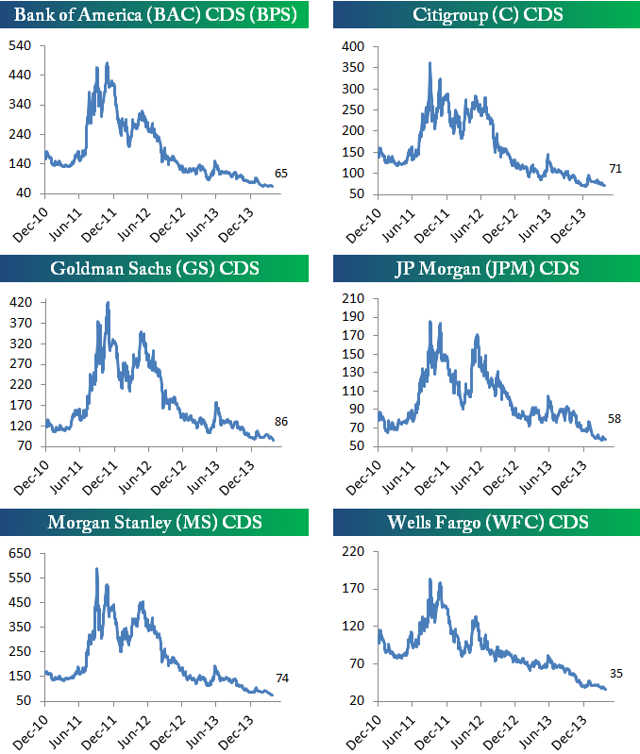 Click to enlarge