Sanmina (NASDAQ:SANM) is an example where watching management guidance and quarterly results paid off. This article outlines how I got into this investment and how a simple analysis can lead to relatively easy returns.
During March 2014, Sanmina appeared as a potential investment when my value model generated a list of stocks that were trading cheaply. I first went to Value Line and noticed that it was rated 1 for timeliness. Furthermore the investment summary made some good points in favor of the company. These included:
"The company's profit performance has been getting a boost from restructuring efforts, an improved sales mix and lower interest expenses..."
"A stronger balance sheet provides more flexibility... Sanmina has paid down more than $600m in long-term debt since fiscal 2011..."
So we have a company that has been restructuring and this has helped the bottom line. In addition, the company is reducing debt. These two points alone are music to an investor's ear. Since there were restructuring charges I decided to put together quarterly income statements based on non-gaap information. Sanmina quarterly presentations were extremely helpful and I quickly put together the below: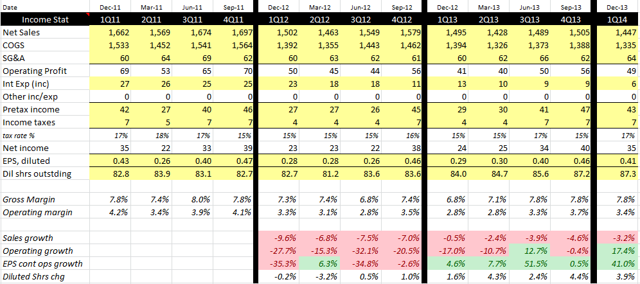 Click to enlarge
I wasn't too happy to see the decline in sales and the low operating margins. However, 2013 appeared much better than 2012 with sales declining in the low single digits and EPS from continuing operations increasing in every quarter. 1Q14 was on the same path as well.
I then took a look at the 1Q14 conference call and the following stood out:
"Our customers are more positive about calendar year 2014, and we do expect to continue to improve our financial results in fiscal year 2014, driven by programs that we won in calendar year 2013, and it's starting to ship now."
"We're working on some exciting new projects that should help us drive the growth in 2014. We are also expanding into new markets, such as our new partnership that Bob talked about with a major customer in oil and gas industry. We signed the contract end of December. It's a great project. It's a great opportunity to drive the growth for many years to come."
"Overall, we are confident about opportunities we have in the pipeline. Actually, a lot more confident than 90 days ago."
Of course you always need to take management's word with a grain of salt, so I turned to management guidance. The below table shows management guidance from 1Q12 - 1Q14 and the actual results. The company was in-line or beat its outlook with the exception of only one quarter (1Q13). This was very encouraging, as I knew that their word had some weight.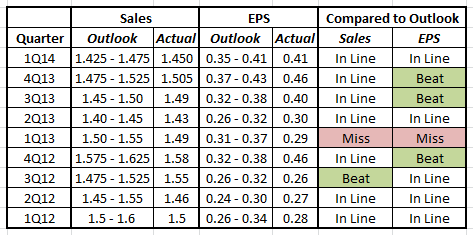 Management's outlook for 2Q14 forecasted sales at $1.425 - $1.475B and eps at $0.36 - $0.42. Looking at the historical outlooks I concluded that the most likely scenario was for the company to achieve mid-range of that outlook. 2Q13 sales was 1.428 billion and eps was $0.30 so even an in-line announcement would show growth in both sales and eps. As sales have not grown in over 9 quarters a positive increase would most likely look very good to the market. Plus there was the possibility of a beat which could shock.
Also noteworthy was the CEO's stake. His annual salary is under $900k while his share holding along with options are worth over $10m. So obviously he has a lot of incentive to push this company forward. Combining all the above (i.e. outlook, CEO's incentive, management efforts to reduce debt, and the relative cheapness of the stock) it was an easy long to put on as a value investor. I purchased the stock on March 21st at $17.94.
Earnings last week came out and the company beat on both sales and eps with sales at $1.48 and eps at $0.44. The stock closed the day at $20.90 or up over 14%. Even after the move up the stock is trading at a P/E of 12x. Management has increased the bar with a new outlook that is again higher than last year's comparable with a sales outlook of $1.5 - $1.6 and eps of $0.45 - 0.49.
Company guidance can be a big help and investors who follow managements' actions and results can discover another piece of the puzzle. But I would like to point out that each investor should try and calculate an estimate independently of guidance, as best as they can. I have found that there are cases where guidance made no sense and that I could not see how it would be achieved. In this case my analysis lead to no purchase. So either way, watching guidance can help you both make money and save you money by not buying a potential loser.
Disclosure: I am long SANM. I wrote this article myself, and it expresses my own opinions. I am not receiving compensation for it (other than from Seeking Alpha). I have no business relationship with any company whose stock is mentioned in this article.