This article contains some thought provoking ideas for traders to consider going into the last of April's and the first of May's trading weeks. The end of the much loved October - May trading season and the start of the feared May - October trading season is upon us. I believe the market is being artificially propped up by super-dovish comments from Yellen in the US and Draghi in the EU which are temporarily calming the wider market's jitters concerning the return of the financial markets to a government-interference-free era. As a result, the risk of the Ukrainian/Russian crisis escalating and a broader market correction of 5-10% (which hasn't happened since the debt crisis of summer 2011) haven't been accurately priced into the market, creating opportunities for risk loving traders to profit from increased volatility this summer. I believe we're seeing the death throes of this 5 year bull with biotech and technology already down 20+% from their New Year highs.
About 60% of S&P companies have yet to report Q1 earnings but of those that have, 76% have beaten estimates. Sounds great right? Then why are we only up 0.75% in 2014 with the historically poor returns season of May-October about to start?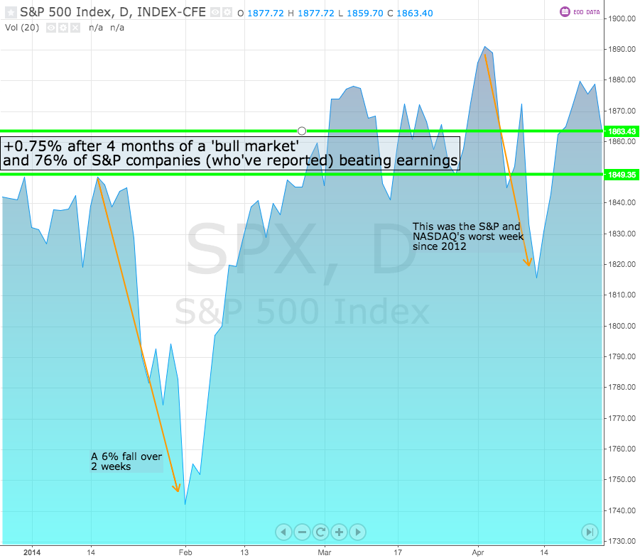 I spoke about this in my last article, "Why I'm A Bear". For those of you unaware of the phenomenon here's a quick summary. Since 1950, the Dow Jones Industrial Average has seen an average return of 0.3% from May to October but 7.5% from October to May. This bull's legs look even more shaky when you consider how long it's been since we had a 'fairly routine' correction in the region of 10% (2011 in fact). However, in the 4 months since the end of 2013, we've seen some fairly high volatility, with the S&P posting its worst week since 2012 only 4 weeks ago. This sell-off followed possibly the most dovish comments ever from a Federal Reserve chairperson and 2014's market high. Biotech and technology stocks have also sold off heavily from their February highs. This volatility isn't exactly a sign of a confident and healthy bull.
Momentum also seems to have left this market, with the S&P failing to break through the 1885 ceiling 4 times (if you include a brief visit towards 1890 at the start of April) since March. Looking at the daily chart below, from a psychological standpoint, the steam looks to have run out of this train.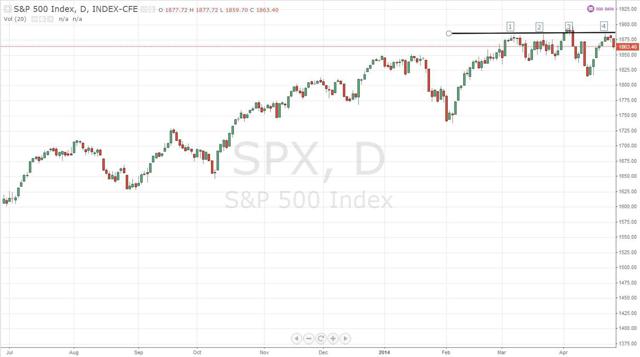 Despite these signs, the VIX, which is used as a measure of volatility or fear in the market, closed on Friday near its post-2008 crash lows.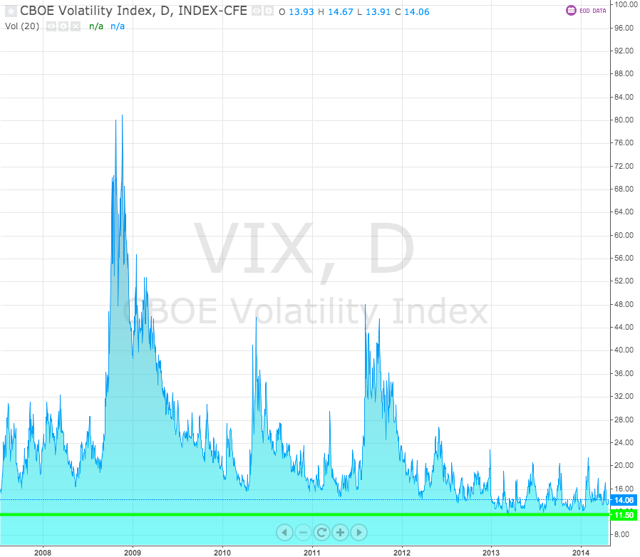 This to me just highlights how loony the market has become. It does however, offer opportunities for profit if you consider how close Ukraine is to an invasion and or civil war and what that means for the broader market. I think a significant escalation from the saber-rattling of the last few weeks is imminent in Ukraine as neither side can back down without losing face. I also don't think that the West's half-hearted economic sanctions and criticism are going to deter Russia from further aggression to secure and buffer its borders from NATO and the West. Russia has never cared about being the bad kid in the class - it didn't stop former leaders of Russia and I don't think former spy master Putin is going to be shaking in his boots at a lawyer in America threatening his country's finances.
The buildup of troops on the Ukrainian border along with incursions by Russian attack helicopters in Ukrainian airspace last week signal Russia's readiness to cross the border. Their foreign minister Sergey Lavrov has made it clear that Russia will "respond" if its interests are attacked in Ukraine as they were in South Ossetia in 2008. Russia can also hit back at sanctions with non-military methods by increasing the price of Europe's energy or withdrawing investment from European property markets, threats that have already made Germany, the UK and Italy hesitant to put their weight behind the US-led sanctions. This weekend alone has seen international observers taken hostage.
The top chart below shows how the VIX has reacted to spikes in the crisis at various points over the last 6 months. I've highlighted 3 peaks of over $16 and compared them to spikes in slightly out-of-the-money June $16 calls in the bottom chart.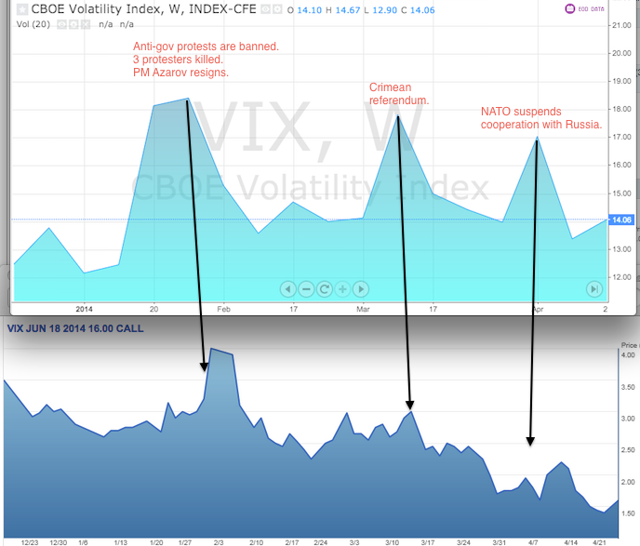 Even if you factor in the time-decay of out-of-the-money options, it's clear how quickly investors have rushed to hedge if the crisis looks like taking a dangerous turn. In my opinion, at $1.60, these calls are trading way below potential value if Russia sends in the tanks. Couple this likelihood with a well overdue market sell-off as we enter the May-October cycle, and I think you're looking at a ripe opportunity to profit from any incoming volatility. The agreement in Geneva before Easter led to the latest sell-off in those calls and it doesn't look as if the market has priced back in the fact that neither side has even attempted to implement agreed actions.
Gold looks like another likely beneficiary if the Ukraine crisis heats up. Last week saw a record decline in foreign holdings of US Treasuries. Russia has reportedly started dumping their USD reserves in order to lessen the effects of economic sanctions. This follows recent efforts by Russia to lessen their dependency and other oil-producing nations' dependencies on the USD for buying and selling oil. Russian company Rosneft (OTC:RNFTF), the world's top oil producer by output, is headed by one Igor Sechin, a long-term ally of Putin. He reportedly visited as part of an Asia-wide tour, the Indian state-run Oil and Natural Gas Corp with a view to cementing Russian-Indian oil trading for the long-term. One aspect of this relationship will involve the building of a $30 billion oil pipeline that will take Russian oil through China and into India, economically linking 3 of the biggest countries in the world in one go. The question remains on whether the oil in this pipeline will be traded in rupees, rubles or yuan, because it certainly won't be in dollars. A weakening of the greenback as its use as the petro-dollar decreases will see investors running to gold, the reserve of reserves, for safety instead.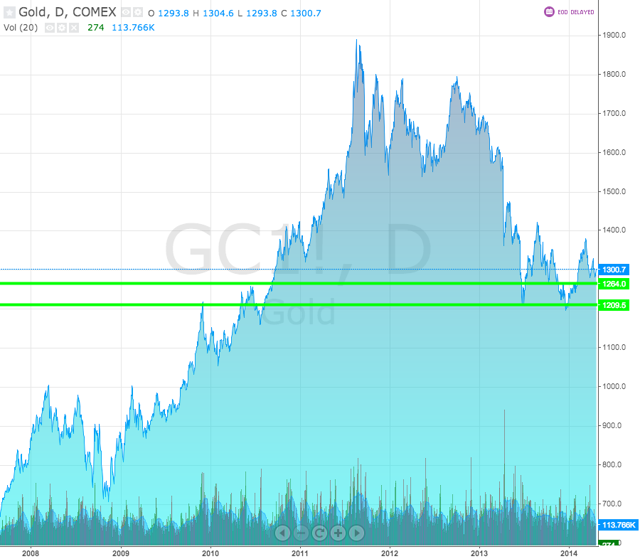 At $1,300 an ounce, and within 8% from multi-year lows, I don't think it's ridiculous to say that gold is at a floor after a 30%+ fall from its 2011 high - a peak which coincidentally occurred around the same time as the market's last 10% correction. Of course any increase in gold's price will benefit other players like miners who are worth a look as well for investors looking to diversify.
On 25th May, the Ukrainian people will have their first presidential election since Yanukovych fled in February. The pro-Russian protestors in the Eastern part of the country do not recognize this upcoming election as legitimate and view the interim government in Kiev as illegal. Russian foreign Minister Sergey Lavrov has warned that if the vote goes ahead before common ground is found, it will be "destructive" for Ukraine. Russia seem intent on rustling up as much civil and paramilitary unrest before then as possible and neither they nor the armed pro-Russian public in Eastern Ukraine strike me as parties that will turn around with their tail between their legs if Ukraine decides to join the Western bloc of nations. In light of this and the fact that we are entering a historically weak financial period with a very weak bull market, a spike in volatility from post-crash lows seems imminent. Investors who are risk adverse may wish to move their investments to cash for the summer months, however for others, calls in the VIX and gold offer two avenues to profit from an escalation in the Ukrainian/Russian crisis and or a general market correction, which I think is well overdue.
Disclosure: I have no positions in any stocks mentioned, and no plans to initiate any positions within the next 72 hours. I wrote this article myself, and it expresses my own opinions. I am not receiving compensation for it. I have no business relationship with any company whose stock is mentioned in this article.