Joe Price, the former finance chief of Bank of America (NYSE:BAC) will pay $7.5 million as a settlement in a lawsuit in New York. The lawsuit accused Bank of America and former executives of hoodwinking investors when it acquired Merrill Lynch.
Additionally, in the settlement agreement, Price consented to not serve in a public company as either an officer or director for at least 18 months.
N.Y. Attorney General stated that " This settlement is one more step in our effort to hold top financial executives accountable for their actions". He also found that while BAC was seeking huge aid from United States taxpayers during the financial crisis, the bank did not disclose what it knew about Merrill's projected losses to its' shareholders.
Merrill Lynch Losses Finally Come To Forefront
At the time of the merger, Bank of America was hailed for making the deal. The acquisition cost $50 billion. However, by January 2009, it was discovered that Merrill Lynch had incurred $16 billion in losses before tax.
The case began in 2010, when Kenneth Lewis, the Chief Executive at the time, and Joseph Price, the finance chief at the time, and Bank of America, based in Charlotte, North Carolina, were sued during the global financial crisis. Last month, Lewis and Bank of America settled the case with General Eric Schneiderman, the New York Attorney. Lewis paid $10 million to settle claims made against him for not telling the government and shareholders the truth about Merrill Lynch in order to complete the merger, and the bank itself paid $15 million.
Now in April, Mr. Price has agreed to pay the price as well. Price did not join the earlier settlement, because he believed that it would have hindered his ability to work for the bank. The payments made by Lewis, Price, and Bank of America will cover the legal costs incurred by the investigation, as well as the cost of the prosecution.
Concealing Public Information
New York accused the executives of Bank of America of concealing vital information from the banks shareholders. In order to push the deal through, the executives did not inform its own shareholders that Merrill Lynch had mounting losses. Although the bank had agreed to the purchase of Merrill Lynch in September of that year, they withheld information about Merrill Lynch's financial troubles to get shareholder approval of both banks before the vote for a merger on December 5, 2008.
The essence of the case is that the shareholders made an erroneous decision, because they were not given the right information; as a consequence, the bank and its executives misrepresented the effects of the merger on the bank's future revenue.
More Accountability Needed For BAC Executives
New York Attorney General Eric Schneiderman inherited the case in 2011 from former New York Attorney Andrew Cuomo, who is now serving as governor of New York. After the settlement, Schneiderman made a public statement to the effect that the settlement was yet another positive step to make leading financial executives responsible for their actions.
Price, 53 years of age, was represented by attorney William Jeffress, and Bank of America paid the $7.5 million settlement. Jeffress added that his client decided to settle because of the toll it was taking on him and his family and not because he considered himself guilty. Bank of America spokesman Lawrence Grayson, decided against making any comments.
Bad News For BAC Shareholders -- We Recommend Taking Some Profits Now
If $7.5 million sounds like a lot of money, it is negligible, compared to a whopping $6 billion BAC paid out recently in legal fines and fees.
These losses stem from deceptive marketing and billing practices with their credit card customers, faulty mortgages, rigged foreign exchange rates, and frontrunning. This is still just a sample of the bank's recent lack of prudence and consideration for its shareholders.
What's worse-BAC is now facing a possible $16 billion settlement with U.S prosecutors over the sale of its mortgage securities pre-financial crisis. This amount would beat J.P. Morgan's (NYSE:JPM) similar settlement in November.
By no measure do these fines-alone or compiled-not touch BAC shareholders, who could likely see the stock, and institution's reputation, continue to drop in 2014, as it did after announcing its first quarter results.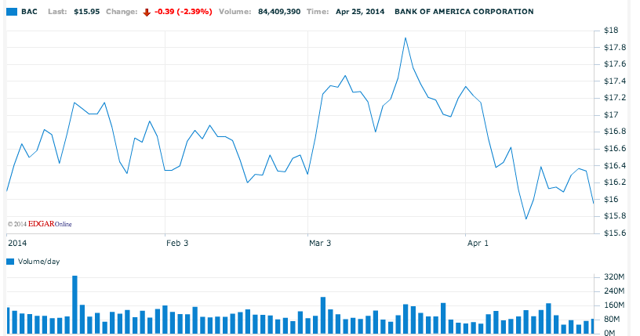 (Nasdaq.com)
We recommend investors take some profits in BAC immediately.
We invite readers wishing to read and join the discussion about Bank of America to click the +FOLLOW button above the title of this article.
Disclosure: I have no positions in any stocks mentioned, and no plans to initiate any positions within the next 72 hours. I wrote this article myself, and it expresses my own opinions. I am not receiving compensation for it (other than from Seeking Alpha). I have no business relationship with any company whose stock is mentioned in this article.