It's likely to be a big week for those that are following the Herbalife (NYSE:HLF) saga closely. The company is set to report earnings after the bell today, Monday. There's a ton of information floating around on the web with regards to Herbalife's upcoming report, all suggesting Herbalife should fare well by the numbers.
Everything that I've read, so far, boils down to the question: is the risk worth investing in Herbalife before, what is assumed to be, a fantastic earnings report? Of course, I say the answer is a resounding "no".
It's estimated that Herbalife will report $1.29/share, down from the $1.37 estimates it carried just a month ago. Revenue projections call for growth of 9% over the year. Forbes noted on the explosive growth of the company:
Over the last four quarters, the company has seen its income grow by an average of 10% year-over-year. The 21% increase in the third quarter was the biggest rise.

For three quarters in a row, the company's reported revenue has been on the rise. In the fourth quarter, revenue rose 13% to $1.27 billion while the figure rose 19% in the third quarter from the year earlier and 18% in the second quarter.
As Mr. Ackman himself said, the only thing preventing us from investing in Herbalife - a company that grows this well - is the small fact that it's an illegal pyramid scheme.
I concur, Mr. Ackman.
In addition to the numbers, we're going to be looking at whatever color management offers up around the ever expanding controversial saga that has encompassed Herbalife.
Could we get that wild card from earnings on either the good or bad side? Will the company unload a new defense to Mr. Ackman's relentless attack? Perhaps new disclosures will be made with regards to the regulatory scrutiny that the company has been under? Subpoenas? Board members? There's so many interesting things that could occur, I'll be on the edge of my seat today.
Of course, for the long term, I remain much calmer and resolute in my short position against the company. Herbalife, as we know it, isn't going to be around much longer, I predict.
One thing that I'll definitely be interested in hearing more about is Herbalife's presence in Venezuela. As you know, many companies are taking a significant charge on Venezuela's recently devalued currency.

Ford said it's now using a rate of over 10 bolivars to the dollar, compared to the 6.3 Bolivar exchange it previously used.
Even Coke took a $240 million+ charge:
Based on recent changes to the Venezuelan currency exchange rate mechanisms, we changed the exchange rate we used to remeasure our Venezuelan subsidiary's financial statements into U.S. dollars. As of March 28, 2014, we used the exchange rate determined by periodic auctions for U.S. dollars conducted under Venezuela's Complementary System of Foreign Currency Administration (SICAD 1). As of March 28, 2014, the SICAD 1 rate was 10.8 bolivars to the U.S. dollar, compared to the official exchange rate of 6.3 bolivars to the U.S. dollar we previously used. During the first quarter, the Company recorded charges of $247 million related to the devaluation of the Venezuelan bolivar.
When headlines like this one started to pop up last week, it got me thinking about Herbalife's operations in Venezuela - where growth in local dollars, according the company's 10-K, was up over 80%.
Herbalife lists currency devaluation as one of its risk factors in its most current 10-K. Their forward looking statements exclusively single out Venezuela.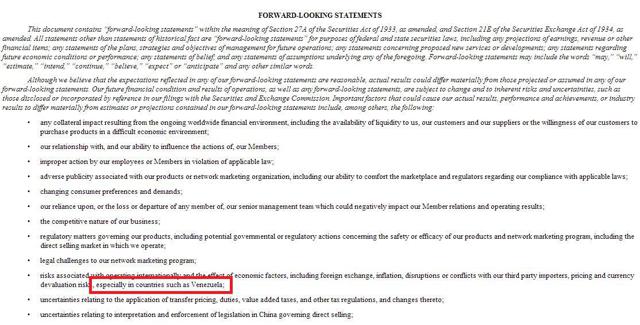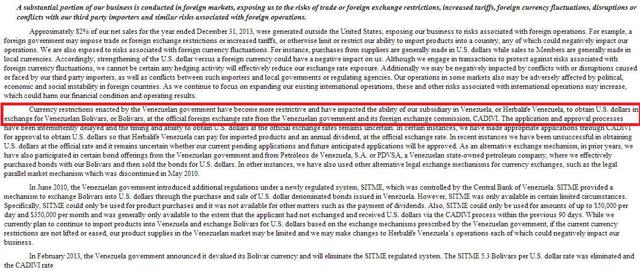 Additionally, if you poke around at Herbalife's P/L, you can see that the company did take a charge of about $15 million in 2013 from the devaluation of the currency.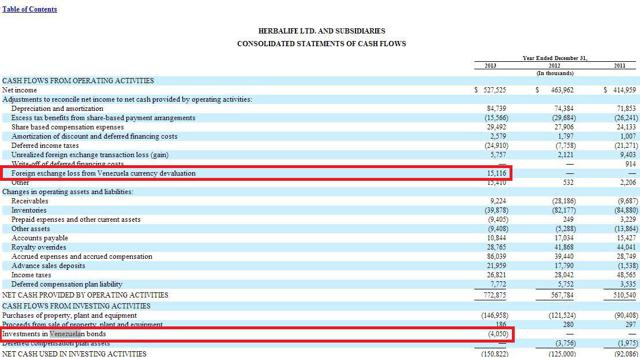 Seemingly trying to "double down" on Venezuela, you can also see a line item where the company invested in Venezuelan bonds. Interesting tactic for a country whose currency is worth less now than in 2013. What is the purpose of this? Trying to tie the money up so it can continue to be valued at disingenuous exchange rates?
This was a point of contention for Mr. Ackman, who first pointed this out in 2013, when the company was using an exchange rate that seemingly wasn't available anymore:
According to the 10-Q on page 10, in the second quarter of 2013 Herbalife used the official CADIVI rate of 6.3 Bolivars to 1 U.S. dollar for the purpose of consolidating its Venezuelan operations and balance sheet. Herbalife has been unable to convert Bolivars to U.S. dollars at this rate and has resorted to "alternative legal exchanges" in which the Company has only been able to convert a nominal amount of Bolivars at a rate "75% less favorable than the new CADIVI rate (10-Q p. 10)." As highlighted in the 10Q on page 37, if the company used an exchange rate commensurate with the rates available in alternative legal exchanges, the company's reported cash and cash equivalents as of June 30, 2013 would decline by $93.2 million and it would incur a corresponding amount of foreign exchange loss to operating profit. Furthermore, "Herbalife Venezuela would operate at a loss and this could have a significant negative impact to our consolidated financial statements."
Why does the Company continue to use an exchange rate in Venezuela that is substantially better than what can be achieved in the market?

Why does management's guidance for the balance of 2013 "assume a Venezeulan (sic) exchange rate of 10 to 1" if the Company is marking its Venezuelan assets and liabilities on its June 30, 2013 balance sheet at the CADIVI rate of 6.3 Bolivars per U.S. dollar?
So now, the question becomes, how much money and how much business does Herbalife have in Venezuela? Add Venezuela to the U.S., Canada, and China - on the list of countries that we have unanswered questions about for Herbalife.
Additionally, in an exclusive by Michelle Celarier of the NY Post yesterday, it was announced that Bill Ackman is going to be showing a screening of a victim documentary, specifically for the media, regulators and other private invitees. The screening will then include a panel, moderated by Connie Chung, where regulators and others will be able to ask questions of former distributors:
In his quest to bring down Herbalife, activist investor Bill Ackman will publicly showcase a documentary about former Herbalife distributors who say they were defrauded by the company.

Ackman, who has bet more than $1 billion that Herbalife's stock will collapse, is offering the film as his latest evidence that the controversial nutrition products company is a pyramid scheme. He said his Pershing Square hedge fund commissioned the 15-minute documentary last year to get alleged victims before regulators and the public.

Herbalife has denied it is a pyramid scheme.

The documentary will be shown at an event Friday in New York City. Members of the press, government, community and consumer organizations are invited to attend the showing, which will be simultaneously webcast.

The specific time and place is undisclosed to prevent any interference at the actual event, according to Ackman.

The film will be followed by a live panel discussion with individuals in the film, moderated by former CBS news anchor Connie Chung.
You can watch a 1 minute trailer for the documentary at the above link. It's also available at factsaboutherbalife.com, where it's going to be webcast after the showing.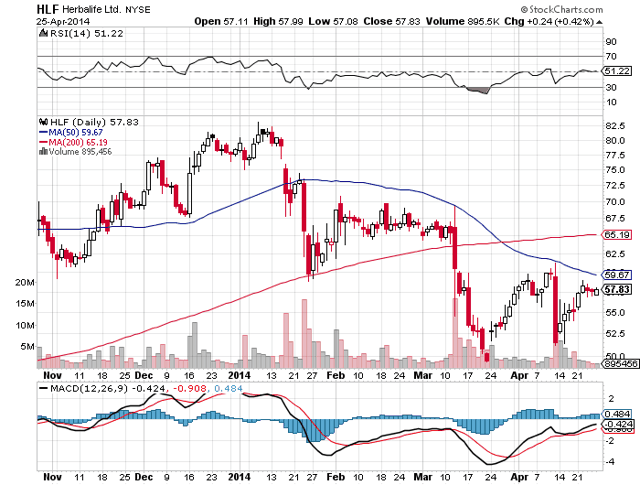 In the meantime, Herbalife's stock continues to inch upward over the past week, leading me to want to ask questions about the buyback - how much money has been spent buying Herbalife stock back during this saga? Could this be one of the items that continues to prop up the stock price? A $6 billion valuation on this company with the regulators circling is nothing short of baffling.
Those watching Herbalife's stock price this week are likely to be subjected to whiplash, as earnings and Mr. Ackman's documentary are likely to throw gas on the fire of both sides' arguments. I'll be watching closely.
For the long-term, I continue to contend that Herbalife is a global confidence game that systematically is spreading globally, bilking people out of their money as it continues to grow - all under the guise of a weight loss product company.
Best of luck to all investors.
Disclosure: I am short HLF. I wrote this article myself, and it expresses my own opinions. I am not receiving compensation for it (other than from Seeking Alpha). I have no business relationship with any company whose stock is mentioned in this article.