In the past few months big banks have been suffering from a slowdown in sales and trading revenue that, while a popular reason to give for lackluster earnings, hasn't had much substance behind it from what I've seen in the press. In light of that, I thought it would be instructive to take a quick look at Bank of America's (NYSE:BAC) sales and trading business over the past decade or so in order to understand what the business looks like and what it could look like going forward in terms of revenue.
To do this, I've constructed the below graph using data pulled from BAC's SEC filings.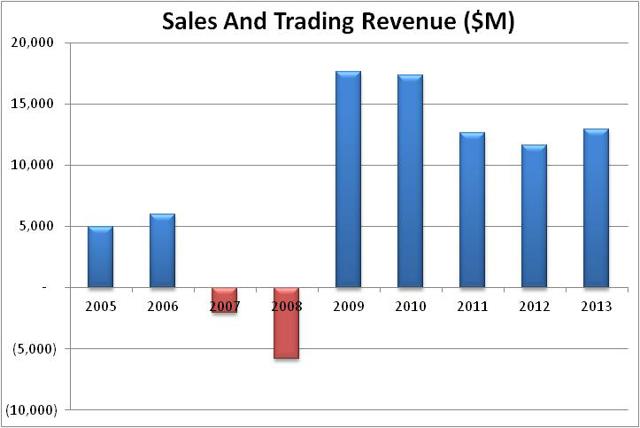 Click to enlarge
A couple of things are obvious at first glance of this chart. First, BAC's sales and trading business used to be much smaller than it is now and second, 2007 and 2008 were very, very ugly. The first point is easily explained as BAC didn't yet own Merrill Lynch; that merger was, of course, a product of the financial crisis and exponentially expanded BAC's sales and trading businesses along with other investment banking activities. The second point is also pretty easily explained as the crisis took a toll on all forms of investment banking virtually without exception and I suspect many sales and trading desks' numbers look like BAC's during those two years and in particular, in 2008. I don't read too much into those heavy losses because it is to be expected when the world as we know it is falling apart. Hopefully, we won't see a similar situation again anytime soon.
Now, the implications of owning Merrill for BAC shareholders now can be seen pretty clearly since Merrill was taken over for a princely sum in 2009. After producing about $17 billion annually in revenue in 2009 and 2010 the sales and trading business fell off a cliff to about $13 billion in 2011 and has failed to recover its previous highs. Now, this roughly corresponds to when Project New BAC began and the company began to de-risk all of its businesses, shrinking its owned assets (including trading assets) and paring the company down to its core businesses. With that work largely done, I believe we'll see sales and trading begin to grow again appreciably in the next couple of years and in fact, you'll notice that 2013 was a very nice improvement over 2012, the beginning of a trend, in my view.
So what can shareholders expect from this business? I think we'll see sales and trading become a growth center again for BAC as Project New BAC winds down and the company begins to take some risk again. Merrill had a world class investment banking operation that BAC now owns and it will be put to good use once the de-risking has subsided. In the next couple of years we could reasonably see the sales and trading business back around $17 billion, providing some much needed revenue growth in an industry that is struggling to do so. With BAC's sales and trading business already artificially depressed due to New BAC, I think there is material upside.
Sales and trading revenue is high margin and will become a profit growth center for BAC again in the coming years. I think there is $3 to $4 billion in revenue upside over the near term for sales and trading revenue and that doesn't factor in future growth in the business. Once New BAC has been completed and the bank is able to take some risk again, we should see substantial revenue growth for BAC. Revenue has been depressed on purpose in the past couple of years but that will be coming to an end in 2015 and upside to revenue forecasts.
Disclosure: I am long BAC. I wrote this article myself, and it expresses my own opinions. I am not receiving compensation for it (other than from Seeking Alpha). I have no business relationship with any company whose stock is mentioned in this article.