As the Fed takes its foot off the gas pedal on QE and the extreme volatility of the MBS market dampens, investors have seen agency mREITs gain significant ground. The Market Vectors Mortgage REIT Income ETF (NYSEARCA:MORT) rose 10.3% in Q1, while industry leaders Annaly Capital Management (NYSE:NLY) and American Capital Agency (NASDAQ:AGNC) saw 10% and 11.4% growth respectively. With earnings season for mREITs upon us, specifically Gary Kain's AGNC reporting today, we will take a look at how the market has changed and how AGNC's portfolio has actually performed this quarter. Our goal will be to make a projection of what the key numbers are likely to be, and in turn, project how much potential we see in the near term as mREIT stocks continue to price more in line with their intrinsic book values.
Market Recap
The impact of the Fed tapering QE3 is plainly visible when examining price movement in the MBS market over the past 12 months. As shown below in the graphic of the market for Fannie Mae (OTCQB:FNMA) 3.5% 30-year MBS (this coupon represents a larger percentage of AGNC's holdings than any other individual coupon), the extreme short-term volatility that was indicative of all MBS coupons in 2013 has significantly dissipated thus far in 2014.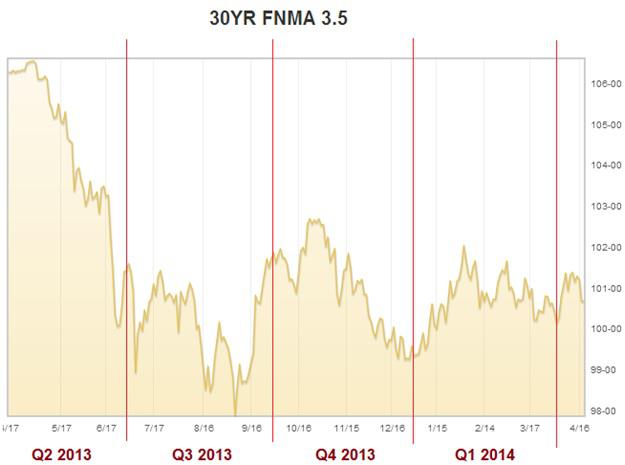 Retrieved and edited April 17, 2014
High volatility in the bond market has significant negative effects on mREIT portfolios, and this relative period of calm is certainly good for the sector. These market conditions allow managers to lower the cost of hedging activities, thereby increasing spread income. This is certainly one of the reasons that many firms in the sector have seen deep market price discounts to book value shrink from the 15-25% range to a smaller 10-15% discount over the past few months.
When assessing American Capital Agency's position going into the quarter, it is clear that management aligned their portfolio for Q1 expecting this sort of environment. The net duration on the portfolio was extended to 1.5 years as of December 31st, 2013, up significantly from .9 years on September 30th 2013. On the Q4 earnings call in early February, it was implied that the net duration gap had been extended even further than the quoted 1.5-year figure. Had there been sharp movements in Q1 comparable to what we saw in 2013, this duration gap would have caused concern regarding the portfolio's bottom line. Given the stability in the markets, management was certainly ahead of the curve in this case, and AGNC's spread income will likely show material gains compared to what was realized in Q4, without damaging book value.
In general, the actual change in the value of MBS holdings across the quarter was relatively small. Despite some significant gains through January and early February, most coupons began to give back gains in the back half of the quarter. Overall, the majority of MBS coupons finished in positive territory, with longer-term bonds outperforming shorter-term bonds. Interest rate swaps were muddled, as short-term swap rates increased while longer-term swap rates decreased, and hedge performance depends greatly on how management has weighted their hedge composition. With this in mind, we will break down what we expect to be the impacts of Q1 from AGNC's MBS portfolio, Hedge portfolio, and other investments given the numbers reported as of 12/31/13.
MBS Portfolio Movement
To begin assessing how pricing has affected AGNC, we will take a look at AGNC's MBS portfolio at the end of Q4 to get a feeling of how it was positioned going into Q1 and what rates are the most relevant.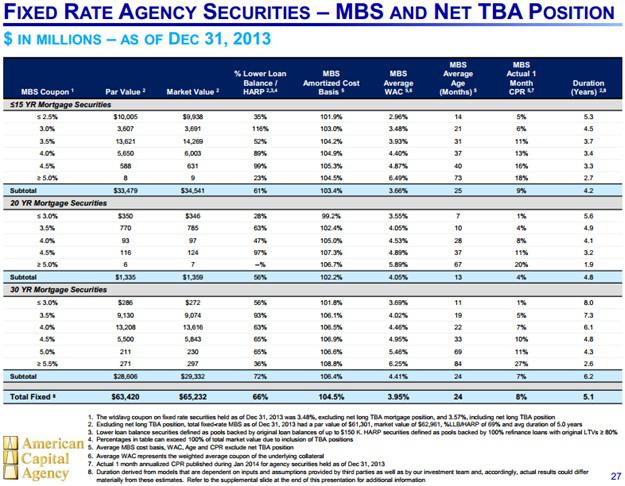 Page 27 of American Capital Agency Q4 Shareholder Presentation, Retrieved April 27th, 2014
If we look at page 7 of AGNC's Q4 presentation, we have the fair value of its MBS as of 12/31/13. If we map that to the market pricing on 3/31/14, we get the following changes.
30-year MBS

12/31/13

Holdings

3/31/14

Δ

Δ%

Projected Fair Value

3

95.11

272

96.59

1.48

1.560%

276.24

3.5

99.48

9074

100.66

1.18

1.182%

9181.29

4

103.11

13616

103.97

0.86

0.833%

13729.40

4.5

106.06

5843

106.72

0.66

0.621%

5879.29

5

108.8

230

109.06

0.26

0.241%

230.55

5.5

110.05

297

110.34

0.29

0.267%

297.79

29332 (total)

29594.57 (total)

15-year MBS

12/31/13

Holdings

3/31/14

Δ

Δ%

Projected Fair Value

2.5

99

9938

99.09

0.09

0.095%

9947.41

3

102.05

3691

102.69

0.64

0.625%

3714.06

3.5

104.58

14269

104.78

0.20

0.192%

14296.46

4

105.94

6003

105.78

-0.16

-0.150%

5994.01

4.5

106.44

631

105.90625

-0.53

-0.501%

627.84

34532 (total)

34579.77 (total)

*Holdings and Projected Fair Value Figures in Millions of $
Overall, AGNC's MBS asset mix was positioned neutrally going into Q1. In recent quarters, AGNC has shifted to overweight 15-year coupons compared to 30-year MBS, which have traditionally composed over half of its portfolio. 53% of the portfolio was 15-year mortgages to start Q1, while only 45% was in 30-year bonds (the remaining 2% were 20-year securities). On the Q1 call, it was indicated that management was not taking delivery on 15-year MBS TBAs; that might indicate a shift back slightly in the direction of 30-year bonds, however, there wasn't enough discussion on this to draw any significant conclusions, so we will assume the 12/31/13 figures are representative of AGNC's composition through Q1.
In summing these figures, we derive that the portfolio AGNC held at the end of Q4 would have gained around $310M, or $0.88/share. These figures reflect that AGNC's MBS assets experienced a weighted average of 0.48% appreciation during Q1.
Since we have only derived one figure, and taking it as the best estimate, there is great importance in qualitatively accounting for the additional information we have about the portfolio in Q1, however, there aren't a great number of factors that would significantly bias this derivation given the low market volatility. Our assumptions include that AGNC kept roughly the same leverage through the quarter, but even if it increased leverage, the price drop late in the quarter might make levering up mid-quarter a wash. AGNC did buy back shares and decrease gross equity, but not enough to significantly reduce exposure (roughly $74M used to buy back shares, less than 1% of total equity). As noted above, the low variance environment through Q1 also suggests that there is a small chance of management positioning during very specific short-term periods in the quarter, causing a material deviation from the general performance of their assets (this was seen in Q3 of 2013, when they were overweight on hedges and their exposure to a late-quarter price spike was minimized).
Since there appears to be no significant heuristic biases in our derivation, we will establish a level range for possible values. Our analysis yields that AGNC's likely MBS appreciation was somewhere in the range of $250M to $350M (between $0.71 and $0.99 in gains per share).
Interest Income
As of 12/31/13, the net spread on AGNC's portfolio, excluding its aggregate TBA positions, was 1.56%. Implying a larger duration gap would serve to increase this figure, and during the conference call in mid-February, management derived a scenario in which the aggregate portfolio spread was 1.65% was obtained, and stated that was close to what AGNC was running at the moment. From this, we can safely assume that management was taking actions to increase spread income through the quarter. From this guidance, we will project our net spread at 1.61%, assigning a confidence range of ~5 Bps; this is roughly an average of the starting figure and the mid-quarter estimate that encompasses both figures.
Continuing to recognize the general stability of the bond market in Q1, we will not account for significant changes in exposure for which this net spread should apply, and we can take the starting equity as representative of its portfolio size in order to derive a spread income figure. We will build a small amount of upside potential into our range, as book value was likely higher for the majority of the quarter.
Based on our derivations, we will place our net spread projections between 1.56% and 1.66%, and the average portfolio value of roughly between $65B and $69B. Those figures would mean AGNC earned between $254M and $282M, or between $0.72 and $0.81/share in interest income in Q1. This does not account for the dividend returns from other mREIT investments, only direct interest income from MBS.
Hedges
As noted in the market summary section, hedges did not all perform equally in Q1. Ten-year swap rates fell significantly, losing 23 Bps in the first quarter (dropping from 3.09% to 2.86%), while five-year swaps rose 3 Bps from 1.79% to 1.82%, and two-year swaps rose 7 Bps from .49% to .56%. The composition of AGNC's swap portfolio (shown below) suggests significant exposure to all three of these terms.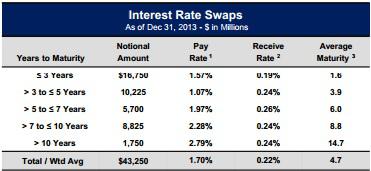 Page 29 of American Capital Agency Q4 Shareholder Presentation, Retrieved April 27th, 2014
Unfortunately, the lack of details provided on specific durations on the various sub-categories of holdings and the non-linear nature of swap pricing this quarter prevents an extremely accurate forecast of the movement on the swap portfolio. To derive the best estimate possible, we will aggregate disclosed swap positions into 3 groups, and use the information that we have. We will group the <5-year swaps to estimate with the 2-year figures and assign an estimated duration of -2 years. The 5-7 year swaps will be estimated with the 5-year figures and an estimated duration of -4 years. All swaps with >7-year terms will use the 10-year figures and be assigned a duration of -5 years. Using those figures, we would estimate an aggregate of ($77M) in depreciation from the swap portfolio.
No significant biases exist to this figure, based on our information. Management's trend of reducing hedge exposure might shift the portfolio towards lower-duration hedges, which would help the portfolio, but the first half of the quarter alone was notably more negative for the swap portfolio than the entire quarter, and reducing hedge exposure as the quarter went on might have a counterproductive effect. We will center our estimate around the derived figure, and assign ($50M) to ($100M) as a reasonable range for the performance of the swap portfolio in Q1.
The composition of its swaption portfolio is weighted toward longer swap terms (7.0 year average), exposing it to more of a drop. Extrapolating that, on average, the related move for underlying swaps related to the swaptions moved down about 15 basis points, and applying the average duration of -3.0 years as quoted by AGNC, we derive an estimate of ($141M) in loses on swaptions (not including time depreciation of the swaptions or transaction costs).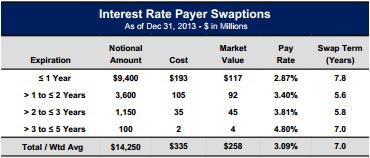 Page 29 of American Capital Agency Q4 Shareholder Presentation, Retrieved April 27th, 2014
Despite the clean calculation, there are significant concerns about the precision of this number. The most direct way for AGNC to back out of expensive hedges is to reduce exposure to swaptions, which it did in Q4 by reducing the notional value of the swaption portfolio by 29% Q-Q. To provide some context as to where it has traditionally positioned the swaption portfolio, we can look back to Q2 of 2012, before QE3 was initiated by the Fed. In this quarter, swaption holdings had a notional value of roughly 10% of MBS holdings (including TBAs). Going into Q1, swaptions carried a notional value of twice that amount, covering 21% of MBS holdings. Given the guidance during the Q4 earnings call and the historical portfolio trends, it is a near certainty that management reduced the overall value of the swaption portfolio in Q1.
Despite the reduced holdings, our estimate also has even more significant biases in the negative direction. The imbalance of the quarter leads to the conclusion that reductions in swaption holdings early in the quarter were actually detrimental to hedge performance. Also, swaptions will naturally price with a factor of volatility in the market, and as volatility has dropped, it can be assumed that the value of these swaptions decreased beyond what can be implied by the duration calculation.
Given the significant uncertainty in our estimate, we will establish a wide range of possibilities for the performance of the swaption portfolio in Q1, project a range of ($125M) in losses to ($200M) in losses.
In aggregate, we estimate that AGNC has seen between ($175M) and ($300M), or between ($0.50) and ($0.85)/share in losses from hedging activities.
mREIT Investments
As most investors know, AGNC management held significant investments in other mREIT companies during Q1. Many analysts haven't been fond of this strategy, however, it was an unequivocal success in Q1. While the MBS market didn't make sustain significant moves in either direction, agency mREITs saw huge gains of over 10% across the board. Obviously, there is significant exposure risk to this strategy, as the funds AGNC uses to pursue it are being leveraged at 6x-9x, which must be considered when assessing AGNCs leverage, however, in Q1, its investment functioned equivalent to an imaginary 11% coupon MBS with a 0 CPR that appreciated >10% during the quarter. This is a huge win for management, and even though it is a limited portion of the portfolio, it reemphasizes to the market that AGNC management was ahead of the curve compared to other managers in Q1, and that AGNC's market price should likely be valued at a more generous implied percentage of book value than its competitors.
To understand the actual effect of this investment on AGNC's portfolio, we would have to know the basis that was exposed during particular periods. Going into Q1, it only had $237M of mREIT stock in its portfolio. In just a month, it increased that number to $400M. We will make a rough calculation and assume that the quarterly average was ~$350M. Given that we also don't know two-thirds of the companies held by AGNC [it disclosed a roughly $140M position in Hatteras Financial Corporation (NYSE:HTS)], we will also take an industry average to approximate the gains and dividend, and assume ~$38M in appreciation (11% gains) and a 3% dividend equivalent to about 10M in interest income (an additional $.03/share).
So What is Our Book Value Estimate, and What Does it Mean?
If we apply our derived figures above, we arrive at the following figures for quarterly gains in book value through Q1:
MBS Appreciation - Hedge Depreciation + Interest Income + mREIT Investment Gains + Buyback Benefit - Dividend Payout
Best Case:
$350M - $175M + $282M + $48M + $6M - $229M = $282M
Worst Case:
$250M - $300M + $254M + $48M + $6M - $229M = $29M
Those gains would represent $0.73 to $1.45/share in comprehensive income, and a new approximate NAV of between $24.01 and $24.73. It is also worth noting that MBS prices have risen roughly in line with last quarter's rise so far this April, and it is implied that AGNC's day-to-day book value is a few percentage points higher than what it reports in its Q1 figures.
Conclusions
Overall, the majority of the market price appreciation that AGNC saw in Q1 was due to recalibration to book value, rather than material gains in the portfolio. That being said, management should report a positive book value quarter, with NAV gains somewhere between 0.5% and 3.5%. Additionally, the rising net spread and interest income is a big win going forward for investors. Taxable income likely significantly outperformed the dividend, providing investors safety in the near term and the hopes of a potential dividend hike later in the year, if these spreads are sustainable. Lastly, despite market value gains outpacing the book value gains, AGNC is still likely trading in the range of a 10% discount relative to its day-to-day book value; this provides significant upside as QE comes to a close, and leaves buybacks on the table in the event of a market price drop not caused by significant portfolio decay. In agreement with other Seeking Alpha contributors, we are overweight AGNC.
Disclosure: I am long AGNC. I wrote this article myself, and it expresses my own opinions. I am not receiving compensation for it (other than from Seeking Alpha). I have no business relationship with any company whose stock is mentioned in this article.