It was about last year when Apple (NASDAQ:AAPL) bears were lining up to underbid each others' mega-low price targets.
Really, it all began in 2012. Yes, Apple was likely overvalued at $700 during that September of 2012 (fearing that the stock was overbought and that it was facing political pressure then, I sold my shares at an average price that was between $670 and $700).
At the same time, the amount of abuse Apple received from the investment community during the months that followed in 2013 was, in my opinion, absolutely unwarranted (and yes, I bought back - most recently at $422).
Between August 2012 and March 2013, a prominent analyst would cut his Apple price target from $900 to $420, leaving many in the investment community scratching their heads. How could an analyst shave off ~53% of the company's supposed value in such a short span of time? Did the fundamentals of the company really change so significantly?
On March 7th, 2013, Fortune would quote an Ed Zabitsky, who reiterated his Apple target of $270/share.
On May 15, 2013, when Apple was trading in the $430 range, a Seeking Alpha contributor named David Trainer wrote a "Danger Zone" article in which he declared that Apple's stock could be worth "~$162/share".
And then there were the self-declared Apple bears.
Seeking Alpha's Michael Blair, who has gained a reputation for his bearish Apple views, often takes jabs at Apple (and at those of us defending its discounted stock price). Recently, Blair stated in an article that the real premium smartphones are actually not iPhones, but the following phones (listed in order): a $6,600 jewel-encrusted Vertu Constellation, a Tag Heuer phone, an authentic gold HTC (OTC:HTCCY) One, a Lamborghini smartphone, et al (you get the idea).
While reading his article, I assumed that Blair was aiming his piece at those of us who have argued that premium iPhones should not be mixed in with discount phones in the market share rankings, as this paints a very unclear picture of who's actually winning the premium smartphone war. I contend, as I have in the past, that Apple has few competitors in the premium smartphone space, and it is therefore dominating the arena and as a result taking home significant margins. Blair, on the other hand, believes that Apple's iPhones are no different than those we'd consider discount smartphones. Of course, this is a flawed view, as the iPhone ranks considerably higher than any other smartphone in the industry, which indeed would make the iPhone a premium offering.
Blair declared the following during the year in which he would hold his short Apple positions:
I am an Apple bear. Like a wounded bear, I covered my short calls when Apple went north of their strike price and took a small loss, offset somewhat by a small gain on short puts I had closed out earlier. On balance it was a loss, but not enough of a loss to cause tears of anguish.
During the year, Blair and his mega-bear buddies saw Apple rise by almost 40% YoY, a year in which Apple beat both the Nasdaq Composite Index and the S&P 500 (without even including the competitive dividends offered by Apple).

Click to enlarge
(Source: Google Finance)
After a tremendous 2Q 2014 beat, where does Apple stand today?
I will discuss a few points to present my view on Apple and in the articles that follow, I will present more details on these views (time permitting).
The iPhone and a possibility of NO new products
The iPhone is obviously by far the most important product Apple owns. At 53% of Apple's total 2013 revenue, the iPhone generates the lion's share of Apple's sales. Below is a comparison of Apple's unit performance of existing products (left-hand side) to total revenue (right-hand side). This chart has a lot of information on it, so again, keep in mind that all product units are on the left and total revenue (in gray) is on the right. 2014 numbers include 2 quarters of actuals and 2 quarters of my own estimates.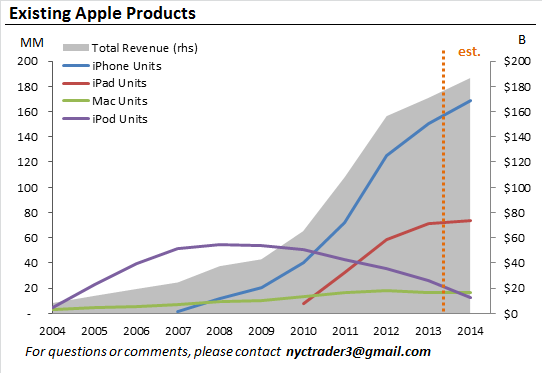 As the chart shows, clearly, the iPhone is the most important factor predicting top line growth. Notice that the iPhone unit growth is highly correlated with Apple's total revenue, suggesting that other products possibly serve merely as complements to a better overall digital experience and act as important contributions to Apple's dominant ecosystem.
The iPhone also continues to pleasantly surprise the investment community as Apple's smartphones continue to dominate the industry's smartphone margins. This is likely due to strong demand of iPhones at distributor channels and Apple's bargaining power in retaining higher margins than peers during negotiations (others are unable to negotiate similar margin levels - likely due to a lack of similar demand).
New Products
Nothing would make me or others in Apple's investment community happier than Apple introducing a new hardware product that is just as important to Apple's top line as the iPhone. This, of course, might not be the reality. More likely, Apple will continue to introduce new products that merely serve as complements to the digital experience and contribute marginally to the ecosystem, something that will retain Apple's forward growth.
Capital Management
In November 2013, I wrote an article named Apple - Buy Back Shares Aggressively, Now. It sounds like Apple listened. The company stated the following on its recent earnings call:
We have acted aggressively and opportunistically and have delivered on our intention to return capital to shareholders at a fast pace. Including dividends and net-share-settlements, we've taken action on $66 billion of total $100 billion program announced last year.

Today we've taken additional steps that will increase the overall size of the program from $100 billion to over $130 billion within the same timeframe of December 2015 as before. There are two elements to the expansion of the program. First, we're increasing the size of our share repurchase authorization from $60 billion to $90 billion. We are very confident in Apple's future, and we believe our current stock price does not reflect the full value of the Company. That's why the vast majority of our capital program continues to be allocated to share repurchases.
Apple currently has $150.6 billion (down from $158.9 billion) in cash, of which 12% is in the U.S. (was 22%). The decline in U.S. cash was due to a significant amount of capital distribution during 2Q 2014, a positive signal for investors, as long as Apple continues to generate cash at the same pace.
Conclusion
Overall, Apple continues to trade at a deep discount relative to peers. Its 13.7X PE doesn't tell the whole story - as 30% of the stock price is locked in overseas cash. Ex-cash, Apple trades at under ~9X PE.
While pundits criticize Apple for its financial engineering, I fully support it. Apple is adding enormous value specifically to the iPhone, but also to its other products that are built around its ecosystem. While the company continues to produce impressive existing product results and will possibly experiment with introducing new products, a little capital management is fine with me.
Risks to my bullish sentiment include competitive and political pressure, as well as supply and macroeconomic risks.
Disclosure: I am long AAPL. I wrote this article myself, and it expresses my own opinions. I am not receiving compensation for it (other than from Seeking Alpha). I have no business relationship with any company whose stock is mentioned in this article.