Earnings: Q2 profits of $1.26 vs. $.93 consensus and $.46 in Q2 last year. [see earnings call transcript]
Revenue: Increased 26% Year-over-Year at $8.27 Billion vs. $8.23 Billion consensus, sailing past expectations.
Raised Guidance: DuPont (NYSE:DD) even increased its 2010 earnings forecast to $2.90 to $3.05 a share from $2.50 to $2.70, a 16% jump in expectations.
Ellen Kullman, DuPont Chairman and CEO, stated positively, "We grew sales across every segment…several businesses, including electronics and titanium dioxide, delivered results that far exceeded pre-recession levels."
Comment: Shares of DuPont were trading up 4.5% following the company's earnings release Tuesday morning , trading at $40.75 per share, compared to Monday's closing price of $38.99 per share.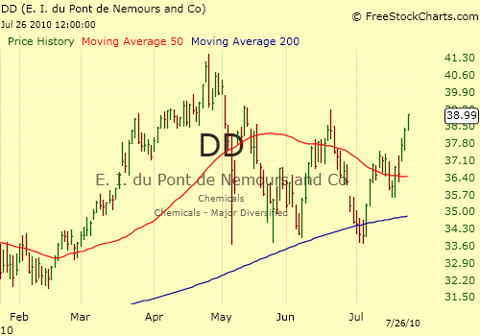 Click to enlarge
As you can see above, DuPont shares are trading above both its 50-day and 200-day moving price averages, a very healthy sign for the company's technical strength. Tuesday's stock price is approaching a previous April 2010 high. If the April high can be broken to the upside in the near-term, then we could see a crowd of new investors build a base of confirmation with confident continued buying. Additionally, DuPont pays a hefty 4.3% dividend. With a solid dividend and double-digit revenue growth, DuPont is another Dow component proving the current U.S. domestics earnings picture is improving.
Disclosure: No positions in the stocks mentioned.