The most recent Amazon.com (NASDAQ:AMZN) earnings report didn't change the Amazon.com story much. Again, earnings estimates have had to suffer massive revisions downward, but that's just because those earnings estimates are faith-based instead of following Amazon.com's business model. It's not a coincidence that these downward revisions have now been going on for four years straight.
Anyway, there are still a few interesting tidbits to comment on. Here they go.
Earnings estimates
What is the main consequence of Amazon.com's Q1 2014 earnings report and guidance? It's another ritual slashing of the earnings estimates, of course. Q2 2014 was expected at $0.24 per share before the earnings report. Now it's down to a loss of $0.05 and consensus ought to go lower still, to around a loss of $0.25 or so.
Not only did Q2 2014 get slashed, but the whole of 2014 also got slashed as a result. From the $2.65 per share expected 90 days ago, the consensus is now down to $1.32 and might head lower still. This is a halving of the earnings consensus for 2014 in just 90 days. And it puts Amazon.com's 2014 price/earnings ratio at 230 times, even after Friday's drop!
The slashing didn't stop at 2014, either. 2015 also saw yet another 17.4% drop in earnings estimates, from $4.26 per share to $3.56 per share. Obviously, Amazon.com is not going to earn $3.56 per share in 2015, so that particular estimate still has a long way to drop as well. Still, it's impressive that Amazon.com is more expensive on a 2015 earnings multiple on Friday after dropping 9.9% than it was the day before.
The profitability myth
In the end, it all comes down to the profit myth. The profit myth is the one that states that Amazon.com was able to be more profitable in the past, so it will be more profitable in the future. Hence, if you just apply a larger margin percentage to the expanded sales base, you can justify just about anything.
In a Marketwatch article, RBC Capital's Mark Mahoney is quoted embodying the myth. He asks:
"Which would you prefer from Amazon: revenue growth or margin expansion?"
And his answer is:
"revenue growth, because Amazon has proven profitability in the past" and the company's growing expenses were "more elective/offensive in nature," including such items as marketing, technology and content, instead of "structural/defensive."
This "Amazon has proven profitability in the past" belief is the key to the profitability myth around Amazon.com. The myth states that Amazon.com can have lots of profits … later on.
I have already shown, however, that Amazon.com's profitability decline is structural and tied to its sales mix. I've shown that even with unchanged assumptions regarding the profitability of each of Amazon.com's main segments, we can produce a model that closely predicts Amazon.com's profitability over the last 6 years, including both the periods were Amazon.com was more profitable, and its recent unprofitability.
Thus, Amazon.com's profitability did not fall because of investments or a conscientious option. It fell because its sales mix changed, from a sales mix heavy in higher-margin media, to a sales mix heavy in lower-margin EGM. And since the previous sales mix is not coming back, the higher levels of profitability are not coming back, either.
So against all expectations, what Amazon.com keeps reporting is lower CSOI profitability. Q1 2014 came in below expectations in that regard and Amazon.com guided towards lower-than-expected CSOI for Q2 2014 as well. This might be against the analyst expectations, but it's within the expectations of a model which accounts for the changing sales mix. Such a model predicted that Amazon.com would see a further 0.3% of sales in CSOI pressure during 2014.
Amazon.com is taking measures left and right to try and improve profitability, but the greatest factor continues to be the sales mix, and even if the measures end up having an effect, the effect will probably also hit revenue growth at the same time.
Shipping costs
Along with the sales mix, another thing which isn't going too well for Amazon.com is shipping costs. Here, too, a myth has evolved. The myth says that as Amazon.com builds its fulfillment centers nearer the customers, Amazon.com can reduce shipping costs. In this case, the myth actually makes some sense. But then why do I call it a myth? It's a myth, because shipping costs have continued upwards in spite of all the investment!
The following chart chronicles what has happened to gross shipping costs as a percentage of product revenues. I use product revenues, because otherwise Amazon.com activities with no shipping (such as 3P sales or AWS) can dilute shipping costs somewhat. I also use gross shipping costs to show what's really happening to shipping costs in spite of Amazon.com's attempts to recover some of those shipping costs from consumers: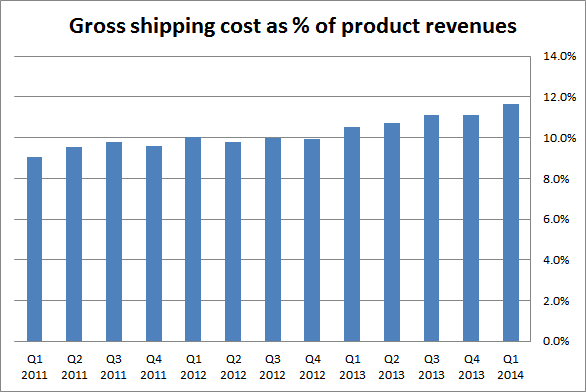 In the latest quarter, not only have gross shipping costs continued their march upwards, but even net shipping costs took another 0.3% jump. This happened in spite of Amazon.com's increase in the free shipping threshold. It's perhaps the effect of the continuous increase in shipping prices by the main shippers. It's thus no surprise that Amazon.com has decided to increase the Prime membership price by $20 on top of changing the free shipping threshold. Amazon.com also decided to end free shipping to 10 different European countries, which is bound to hit sales growth in those countries.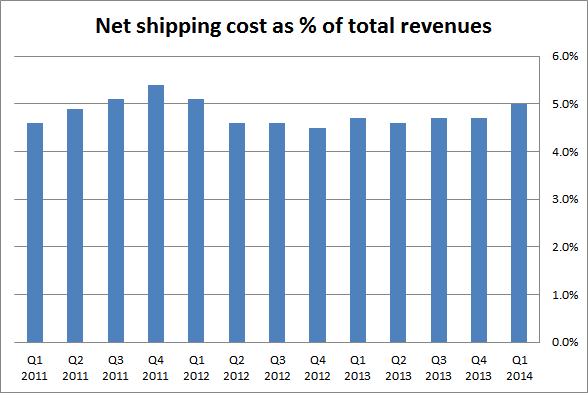 The delivery network
As a result of the uncontrolled shipping costs, lately the new myth is that Amazon.com might try its hand at running its own delivery network. This, too, makes no sense.
To know why it doesn't make much sense, one just has to think about the scale of the companies involved. United Parcel Service (NYSE:UPS) had TTM revenues of $55.4 billion, FedEx (NYSE:FDX) has TTM revenues of $45.2 billion. Amazon.com, on the other hand, spent "just" $7.1 billion in gross shipping in the last twelve months.
So Amazon.com would build a delivery network which would be 12.8%-15.8% of the size of UPS/FDX's. Such a delivery network would be much sparser and have much lower economies of scale. This would be a tremendous problem because EBITDA margins in the delivery business aren't particularly large, at 13-16%. So a more inefficient provider with lower economies of scale would likely run at a loss.
The defining characteristic here is that once again, Amazon.com is not trying to enter a high-margin business. Instead, if Amazon.com really decides to have its own delivery network, more likely than not Amazon.com will have a further earnings problem to go along with it, except for the most densest of places.
Conclusion
To summarize it, Amazon.com kept on guiding for lower than expected earnings, leading to another round of reduced earnings estimates. On an earnings-multiple basis, Amazon.com is more expensive on Friday after dropping nearly 10%, than it was the day before it reported earnings.
The drop in profitability is structural, though Amazon.com is doing everything it can to counter it. The measures Amazon.com is taking to shore up earnings are bound to have a negative impact on revenue growth, while in all likelihood not being enough to attain the future margins analysts dream of.
What we will thus see next is earnings that aren't much better than flat, together with a plunging revenue growth rate which will soon follow the plunging unit growth rate after avoiding such fate for the last 4 quarters (helped by the ebook accounting change).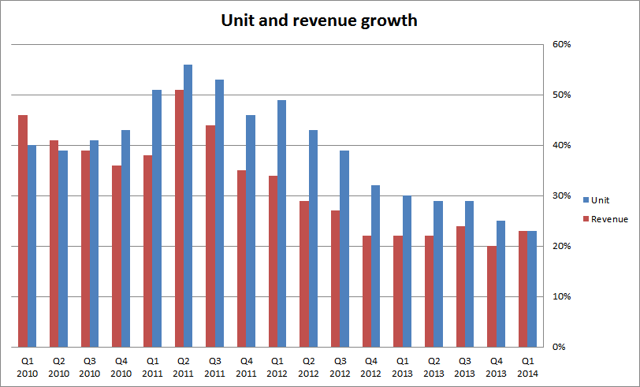 These poor prospects, with earnings and earnings estimates on a downward slide which has lasted for four years already, are available for the taking at a price of 230 times 2014's earnings estimates. In a rational market, there's still a lot of downside ahead.
Disclosure: I have no positions in any stocks mentioned, and no plans to initiate any positions within the next 72 hours. I wrote this article myself, and it expresses my own opinions. I am not receiving compensation for it (other than from Seeking Alpha). I have no business relationship with any company whose stock is mentioned in this article.
Additional disclosure: I have options positions which stand to gain from Amazon.com stock going down.