A reader asked if hedging helped reduce drawdowns in the Graham Value Stock portfolio. The portfolio, like many long strategies, suffered significant drawdowns in 2008.
I used Portfolio123 to back-test two modifications to the strategy. All tests re-rank stocks every 3-months, selling those that no longer qualify and replacing them with the highest rated stocks, assume .50% slippage, and cover the time period of 1/2/99 - 4/27/14.
First, let's review the baseline backtest for the un-hedged version of the strategy. The test below has different re-balance dates than the portfolio update from mid-April and therefore slightly different results. However, it serves as a consistent comparison for the two hedged portfolios: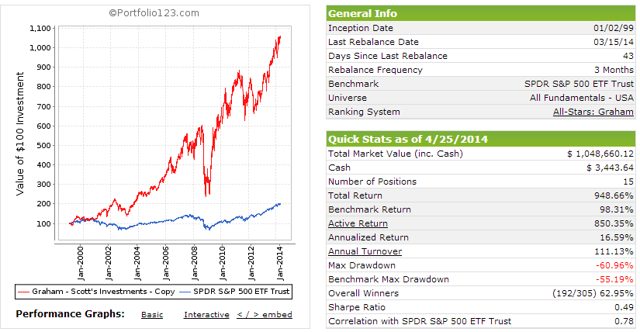 Next, we sell all stocks in the Graham Value strategy and goes to cash when the 50 day moving average of the SPDR S&P 500 ETF (NYSEARCA:SPY) crosses below its 200 day moving average. Stocks are re-purchased when the 50 day moving average of SPY is above its 200 day moving average on the re-rank date. This hedge "re-ranks" on the same 3-month frequency as the stocks in the strategy. Thus, it could conceivably keep an investor in cash for 3 months. Interim signals (50 day SMA crossing over/under 200 day SMA) are ignored and only honored on the re-rank date: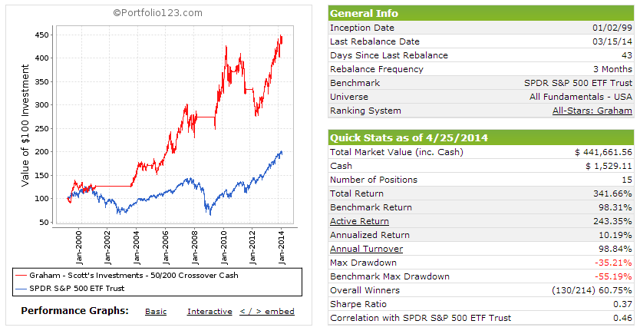 The last strategy uses a 15% entry-based stop loss. Stocks are sold when they trade at or below -15% of their purchase price. The resulting proceeds are held as cash until the next re-rank date. Thus, the portfolio could hold significant amounts of cash if several stocks are stopped out: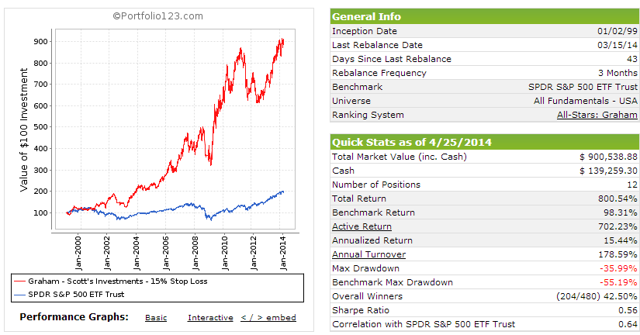 There are a number of variations which could be applied to hedge the portfolio. The two listed above are not intended as recommendations or optimal, but as a demonstration of the material impact risk-management can have on an investment strategy. In both cases drawdowns were reduced, and in the crossover strategy total returns and sharpe ratio were also negatively impacted. The stop-loss strategy had slightly lower total returns but a higher sharpe ratio.
Disclosure: No positions