Gilead Sciences (GILD) recently made headlines as the company blew past Q1 2014 revenue and earnings forecasts. The company brought in product sales of $4.9 billion and earnings of $1.48/share, a far cry from the expected $0.91/share originally posed by analysts. Of the $4.9 billion, $2.3 billion was directly attributed to the company's latest drug found in Sovaldi. Sovaldi is the company's lead hepatitis C pill, but has recently garnished increasing concern due to its seemingly high cost. Approved by U.S regulators in December, the drug requires a 12-week course that costs $84,000.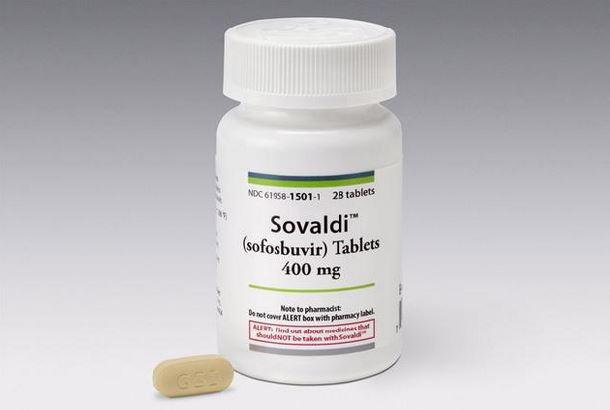 (Image Source)
Although normally seen as an overwhelming positive for investors, some have come to wonder if the company will experience a backlash in light of the drug's seemingly excessive price tag. Whether or not these fears come to fruition, Gilead Sciences still retains several positives which should outweigh these concerns. Here are three particular thoughts for bullish investors to consider:
Sovaldi is a growing success. The launch of Sovaldi has significantly increased the company's earnings potential. Sales of Sovaldi came in at $2.3 billion. Much of this latest success has thus far been driven by hepatologists and gastroenterologists. To date, the company believes that only about half of the physicians visited by the company's therapeutic specialist have prescribed Sovaldi. This suggests that there is still room for significant growth for the hepatitis C drug. There are an estimated 1.7 million diagnosed patients in the United States alone, and only 400,000 that are under treated care. With a $84,000 regimen, this can lead to a significant amount of sales going forward.
Gilead's pipeline remains extensive. The company's product pipeline can be found here. The company has 10 drugs currently approved or already under Phase 3 clinical trials. On top of these products, there are 12 additional candidates now under Phase 2 clinical trials. Numerous other candidates are in Phase 1 clinical trials or under consideration. Additionally, the company has focused on high-profile diseases that spread across multiple areas of expertise. These include liver diseases, HIV/AIDS, cardiovascular diseases, respiratory diseases, and inflammation diseases.
Strong HIV/AIDS product demand. The medicines from Gilead sciences continue to lead the way in this field. These include the company's commercial products of Atripla, Truvada, Complera/Eviplera, Stribild, and Viread. Altogether, these five products brought in $2.2 billion in sales for Q1 2014. To date, nine out of ten patients who are new to treatment have been prescribed medicine from Gilead Sciences. Gilead uses a single-table regiment that is both convenient and effective. The number of people in developing companies receiving Gilead antiretroviral therapy has increased from 30,000 people in 2006 to more than 5.4 million in 2013. More than 35 million people are living with HIV today, of which 9.7 million are receiving therapy.
Based on the closing price of $73.90 as of April 25, Gilead trades with a market capitalization of $113.63 billion. The company carries a low forward price-to-earnings ratio of a mere 9.91 based on analyst estimates of $7.46 for 2015. The surprise of Sovaldi has helped to significantly increase Gilead's earnings outlook.
Yet at the same time, Gilead Sciences now trades with a somewhat high price-to-sales ratio of 8.33 and price-to-book ratio of 9.94. Nevertheless, it is common for biopharmaceutical companies to trade at higher premiums in light of their growth potential. Much of this is to be expected as well given the ramping sales of the company's latest commercial drug.
For all of 2013, Gilead brought in total revenue of $11.2 billion resulting in an operating income of $4.5 billion. Growth to the bottom line has begun to pick up once again in light of the latest success from Sovaldi. We also see that Gilead Sciences has continued to pour its cash flows into increasing the growth of the top line. Research and development accounted for $2.1 billion for 2013. Net income for 2013 was $3.1 billion, reflecting a 19% increase over 2012. For 2012 and 2011, Gilead brought in net incomes of $2.6 billion and $2.8 billion respectively.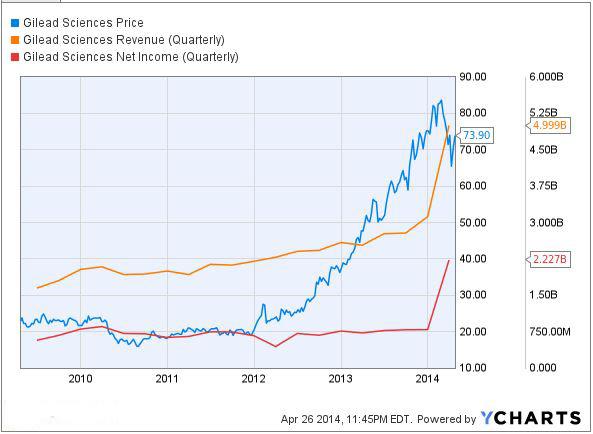 A look at the balance sheet shows that the company also has total assets of $22.5 billion in contrast to total liabilities of $11.1 billion. However, it is worth pointing out that $11.9 billion of the company's assets are classified as intangible assets, a financial category notorious for write-offs. Altogether, the company carries total stockholder equity of $11.4 billion.
Final Thoughts:
Gilead Sciences remains a promising company with a quickly growing revenue base. The company has a truly diversified product portfolio with numerous successful commercial drugs already in the market. The company does appear to trade with a significant premium when it comes to the company's balance sheet. However, in light of the commercial success of Sovaldi, it remains clear that the growing earnings and developing portfolio more than justifies this excess.
Disclosure: I am long GILD. I wrote this article myself, and it expresses my own opinions. I am not receiving compensation for it (other than from Seeking Alpha). I have no business relationship with any company whose stock is mentioned in this article.