After the run the technology and smaller cap sectors had in 2013, it should be expected that they would run into some headwind at some point and so far in 2014, the technology sector, as represented by the PowerShares NASDAQ-100 QQQ Trust (NASDAQ:QQQ) and the small cap sector, as represented by the iShares Russell 2000 Index ETF (NYSEARCA:IWM) are off -1.6% and -3.0% respectively YTD (dividends included) through April 25, 2014. Though there are many other technology and smaller cap ETFs available to investors, these two represent the benchmarks in their space and are by far the most popular for investors and traders.
For investors wanting to stay exposed to the equity markets but are looking to hedge some downside risk in sectors that have shown the most vulnerability so far in 2014, there are several high yielding equity based Closed-End funds (CEFs) that fit the bill. Most equity CEFs that hedge...either by selling call options, buying put options or even shorting securities...do so with correlated securities to their long positions, but not all.
Reiterating A Buy On JTD
In my last article on April 1st, which you can read here, I recommended a few funds that were seeing their Net Asset Values (NAVs) outperform but hadn't yet seen their market prices keep pace and thus were seeing their discounts widen further and further. One such fund was the Nuveen Tax-Advantaged Dividend Growth fund (NYSE:JTD), $15.72 market price, $17.41 NAV, -9.7% discount, 7.3% market yield, and you can see JTD's widening discount in this 1-year Discount/Premium graph.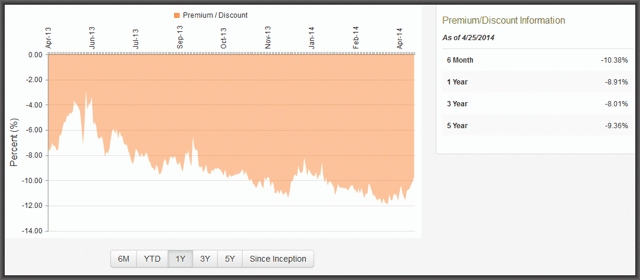 Click to enlarge
JTD has moved up from $15.30 since I recommended it and has reduced its discount from -11.9% to -9.7%, all in the face of a market that is overall negative for the month of April. Part of the reason why JTD's NAV is outperforming this year, up 3% YTD, is because JTD sells index options against such popular indices as the NASDAQ-100 and the Russell 2000. This strategy didn't work as well in 2013 when JTD's NAV was up "only" 20.6% but it is now starting to pay off as the NASDAQ-100 and the Russell 2000 struggle.
JTD, like many leveraged CEFs, includes mostly high dividend paying stocks and fixed-income securities to help pay for its high yield. In the case of JTD, the fund is 28% leveraged (more like 40% leveraged if applied to its net common assets) of which 19% of its overall portfolio is in preferred securities with most of the rest in US based large cap stocks. Here is JTD's Top 10 stock holdings as of 3/31/2014.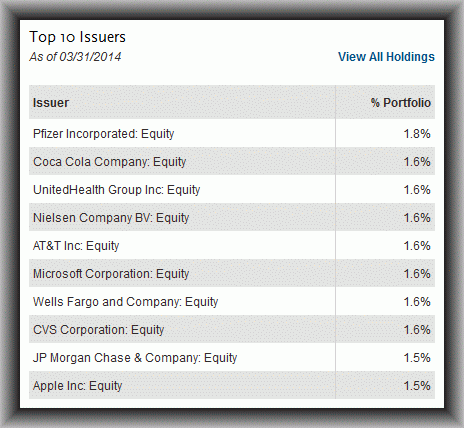 Between leveraging up its portfolio of large cap stocks and preferred securities, JTD can cover most, but not all, of its $0.285/share quarterly distribution before expenses. Note: JTD recently raised its quarterly distribution from $0.275/share to $0.285/share in December and now offers a current 7.3% market yield. But like most leveraged equity CEFs, portfolio appreciation is also necessary to cover their distributions and this is a big reason why leveraged equity CEF NAVs are more risk/reward oriented than say, option-income CEFs, which are more defensive and rely more on a trendless market environment to cover most of their high distributions and yields.
So during weak market periods, leveraged equity funds are generally not where you want to be as their NAVs will generally depreciate faster than their correlated indices. However, a fund like JTD is in a unique position among leveraged equity CEFs because of its added short option exposure. As a result, JTD can offer more downside protection than most leveraged CEFs and could continue to see its NAV outperform even in the face of a more negative equity market environment.
Being short options on the NASDAQ-100, Russell 2000 and its more correlated S&P 500 allows JTD to supplement its primary income strategy of leveraging up dividend paying stock and preferred securities. This could be worth upwards of $4 million of additional income per year conservatively in a flat or trendless market and $4 million per year would represent about 25% of the $16.5 million JTD is obligated to pay each year to shareholders based on its current $0.285 per share per quarter distribution. Here is a snapshot of JTD's option sleeve as of 12/31/2013.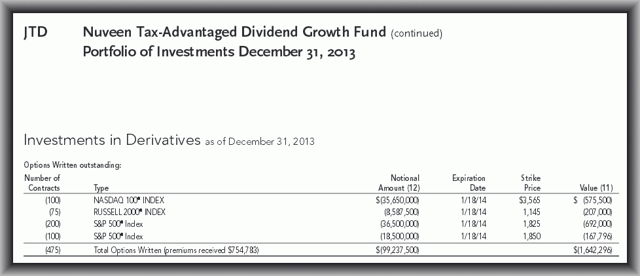 Click to enlarge
JTD is a relatively small CEF at only $253 million in net common assets though with leverage, the fund's total invested assets jumps to $354 million. So deriving $16.5 million in total distributions on $354 million in total assets means the fund needs to generate about a 4.7% yield after expenses. This becomes much more attainable should the short option strategy start to contribute since $4 million plus JTD's total investment income of $12.2 million in 2013 would pretty much cover JTD's $16.5 million in distribution obligations without relying on portfolio appreciation at all.
This is why I like JTD in the current market environment..long value and dividend yielding securities and short options in technology and small cap indices. Of course, all of this could change and technology and small cap could come back into favor, sort of like 2013 all over again, but even under such a scenario, JTD's NAV still returned 20.6% in 2013. This is because selling index options should not be confused with selling index ETFs short. Selling ETFs (or stocks) short can expose the fund to greater relative losses whereas options are time depreciating assets which tend to favor the seller of options rather than the purchaser of options over time. Then consider that JTD offers investors a windfall 7.3% market yield based on a 6.6% NAV yield and a historically wide -9.7% current discount and I believe JTD is well positioned to outperform going forward.
A Guggenheim CEF Also With An Outperforming NAV
Whereas JTD is a highly leveraged stock and fixed-income CEF that just so happens to also sell options, it is more common to find option-income CEFs that supplement their income and appreciation potential with leverage. The Cohen & Steers Global Income Builder (NYSE:INB) and the Nuveen Dow 30 Enhanced Premium & Income fund (DPO) are two such CEFs and both trade at very narrow -1.1% and -2.9% discounts respectively.
Hybrid CEFs that combine leverage and options to generate income are not nearly as common as CEFs that just use one or the other strategy. But it is even more rare to find equity CEFs that use uncorrelated securities in their long and short strategies to generate income. In other words, funds like JTD have a greater opportunity to outperform should their leveraged long sectors outperform their uncorrelated short option sectors like the NASDAQ-100 and the Russell 2000.
One other fund that also uses this uncorrelated income strategy is the Guggenheim Equal Weight Enhanced Equity Income fund (NYSE:GEQ), $18.59 market price, $20.98 NAV, -11.4% discount, 9.4% market yield. GEQ is quite a bit different than JTD but one common thread is that they are both long more value oriented securities and are short options against the NASDAQ-100 and the Russell 2000 small cap indices.
GEQ is a modestly leveraged pure stock based CEF that relies more heavily on selling options for its income. In other words, both GEQ and JTD are hybrids using both leverage and options to generate income but one relies more on options and the other relies more on leverage.
GEQ is also a small fund at only $184 million in common assets but 14% leverage pushes that up to about $214 million in total managed assets. GEQ essentially owns every S&P 500 stock in an equal dollar amount and rebalances its portfolio every quarter to maintain that equal weighting. This is in contrast to the actual S&P 500 which is a market cap weighted index. Thus GEQ gives greater emphasis on the smaller cap S&P 500 components though we are still talking about mostly large cap stocks here. Selling options is GEQ's primary income generation and here is GEQ's option sleeve from its latest Annual Report dated 12/31/2013.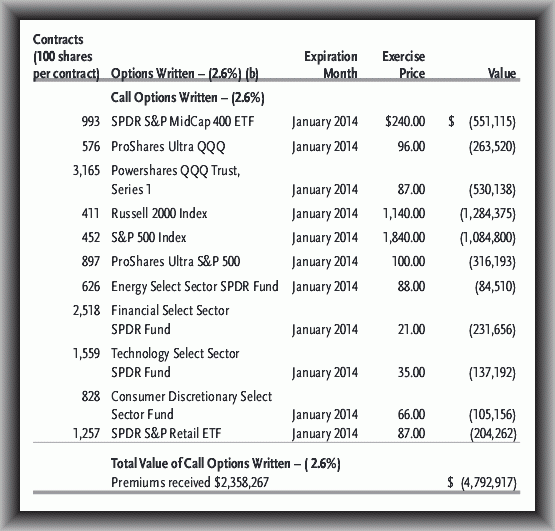 The list above would be typical of GEQ's short option exposure (22 day average contract length) though obviously this will vary month to month. What you'll notice is that GEQ also sells options against some of the Ultra ProShare 2X ETFs as well as the more popular market cap and sector focused ETFs.
What this means is that GEQ is very defensive and can generate a lot of option premium ($2,358,267 shown for the January rotation alone), particularly in the smaller cap and technology indexes, two sectors that have so far underperformed in 2014. This has helped GEQ's NAV show a 3.4% total return so far in 2014, outperforming the S&P 500 index as a whole.
As long as GEQ's portfolio of equal weighted S&P 500 stocks holds up better than the indices it sells options against, the fund's NAV will continue to outperform. This strategy wasn't as effective in 2013 when technology and small cap excelled and GEQ's NAV was up only 18.9% on a total return basis, but it is now. And yet GEQ's market price hasn't exactly received a lot of respect even if its strategy is starting to come into its own. This is shown in GEQ's Discount/Premium graph since inception on 10/27/2011.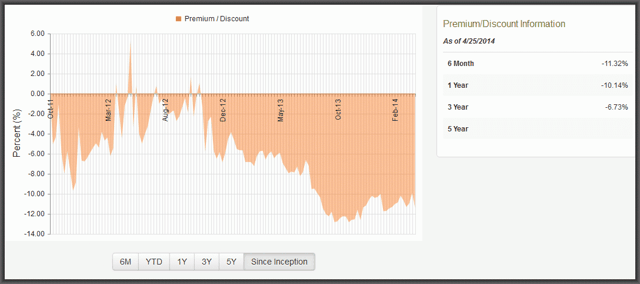 Click to enlarge
But this is where the opportunity is because an outperforming fund at a very wide -11.4% discount and a very generous 9.5% market yield (8.4% NAV yield) is highly undervalued if the NASDAQ-100 and Russell 2000 continue to struggle compared to GEQ's equal weighted S&P 500 stock portfolio.
GEQ is one of three Guggenheim equity based CEFs that sell index options against their pure equity portfolios. The other two, the Guggenheim Enhanced Equity Income fund (NYSE:GPM) and the Guggenheim Enhanced Equity Strategy fund (NYSE:GGE), are also very defensive, selling index ETF options against up to 100% of the notional value of their portfolios. The difference, however, is that GPM and GGE don't own individual stocks like GEQ and they sell only correlated options against the index and sector ETFs they own. This makes GPM's and GGE's NAVs more tied to the performance of their ETFs, either underperforming in a strong up market because of the defensive nature of being short options or outperforming in a flat or weak market when their options sold are more likely to expire worthless.
GEQ's NAV, however, isn't as tied to the performance of its short option ETFs and can provide more "alpha" if the stocks it owns outperforms the options it sells. So far this year, that has been the case and GEQ's NAV performance is the strongest of the three. For that reason and the fact that GEQ trades at a much wider -11.4% discount than GPM at a -4.1% discount or GGE at a -5.7% discount, I much prefer GEQ right now.
Conclusion
There is good reason to believe that the current trend of value and dividend sectors outperforming the higher beta technology and smaller cap sectors will continue as the Federal Reserve tapers its Quantitative Easing and reduces the liquidity that has helped drive the higher beta sectors over the last few years.
But like any well diversified portfolio, CEF investors should include a variety of funds that can excel in a variety of equity and fixed-income environments since no one can say for sure where the markets go from here. Based on the prevailing trends however, JTD and GEQ represent exceptionally undervalued, high yielding funds that should be included in any high yielding CEF portfolio.
Disclosure: I am long JTD, GEQ, INB, DPO. I wrote this article myself, and it expresses my own opinions. I am not receiving compensation for it (other than from Seeking Alpha). I have no business relationship with any company whose stock is mentioned in this article.