CVS Caremark (NYSE:CVS), the second largest drug store chain in the U.S., is a promising investment opportunity for long-term investors due to its healthy financial performance, strong growth initiatives and dynamic approach to yield long term success. The company ended 2013 with a 4.6% year-on-year growth in total sales. However, a drop in front-end sales due to a less severe season was well offset by an increase in pharmacy sales due to drug price increases. Also, the company has been consistently improving its bottom line results in recent quarters. In addition, the company's recent aggressive share buyback plan of $6 billion will fuel EPS growth in the near future. Moreover, the company has attractive valuations in contrast to its peers, as shown below in the table.
Financial Performance
Despite the growing competition in the Drug Store Industry, coupled with headwinds of a less severe flu season, the company has been delivering healthy financial performance in the recent past, putting a promising end to FY13 and giving out a strong FY14 outlook. The company's sales base has been growing quite well with an increase in drug prices in the U.S.; mainly, pharmacy sales benefited due to drug price inflation. As the drug price inflation trend continues; I believe 1QFY14 will be another strong sales quarter for CVS. Also, the company's smart growth program, "Extra Care", is likely to portend well for its front end sales.
Moreover, CVS' gross margins expanded in FY2013, due to an increased trend of generic drug usage in the U.S. In addition, the increased prices for generic drugs also positively affected margins. The following table shows the sales trend of pharmacy and front-end sales of CVS in the four quarters of 2013.
| | | | | |
| --- | --- | --- | --- | --- |
|   | 1Q-13 | 2Q-13 | 3Q-13 | 4Q-13 |
| Pharmacy Sales (Y-O-Y Growth) | (2.3%) | 0.8% | 5.7% | 6.8% |
| Front-End Sales (Y-O-Y Growth) | 1.4% | (0.4%) | (1%) | (1.9%) |
Source: Company's Quarterly Earnings Report
The following chart shows the increasing gross margins of CVS in 2013.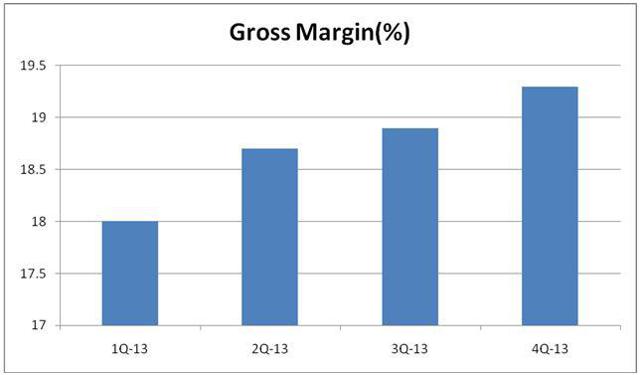 Source: Company's Quarterly Earnings Report
Moreover, a strong sales trend in the recent past has been positively affecting the company's earnings. In the recent quarter, the company experienced an EPS increase of approximately 16% year-on-year. The company has been successfully beating analyst estimates by reporting better-than-expected EPS in recent quarters. Going forward, the company's sales prospects will grow with its strategic initiatives like extra care program and increased use of generic products coupled by drug price inflation, thereby escalating bottom-line results. The company is scheduled to report 1Q2014 results early next month. The following table shows that the company has consistently beat analyst earnings estimates in recent quarters.
| | | | | |
| --- | --- | --- | --- | --- |
|   | 1Q-13 | 2Q-13 | 3Q-13 | 4Q-13 |
| Estimated EPS ($) | 0.79 | 0.96 | 1.02 | 1.11 |
| Actual EPS ($) | 0.83 | 0.97 | 1.05 | 1.12 |
| Earnings Surprise | 5.10% | 1% | 2.90% | 0.90% |
Source: Yahoo Finance
The Affordable Care Act (ACA) remains an important stock price driver for the company. As the program will roll out to add 30 million uninsured people to prescription drug plans, the company's sales base will expand. I believe CVS is well positioned to enjoy the benefits of ACA, an important growth generating opportunity for the company. Also, the company's initiative to stop tobacco sales helps to align it with healthcare providers, patients and clients, and will strengthen the company's role in the U.S. healthcare system.
Investor-Friendly
As far as commitment to shareholders is concerned, CVS has a strong record of providing benefit to shareholders through increased dividends and strong share buybacks. The healthy shareholder returns offered by the company are supported by its strong cash flows. The company offers a solid dividend yield of 1.5% and has been consistently increasing dividends in the recent past. Recently, CVS announced a dividend increase of 22% year-on-year to $0.275 per share. The dividend is scheduled to be paid on May 2, 2014. Other than sharing returns with shareholders through dividends, the company has been undertaking aggressive share buybacks. The company has initiated a share buyback program of $6 billion, under which it intends to buyback $4 billion of common stocks in 2014. The company currently has a free cash flow yield of 4.5% and expects to generate free cash flows of $5.1-$5.4 billion for the full year, 2014, which indicates dividend stability and supports share buybacks.
Conclusion
The company has been delivering healthy financial results in the recent past and is likely to keep growing its top and bottom lines in the future. Analysts have estimated a robust next five years earnings growth rate of 14%. Also, the company has maintained shareholder friendly policies, as it has been consistently sharing its successes through dividends and share buybacks. Moreover, CVS' valuations remain attractive in comparison to its peer Walgreen (WAG). CVS has a cheap forward P/E of 14.5x in comparison to its peers' average of 15.15x. Moreover, the company has a lower PEG and price-to-sales of 1.2 and 0.70x, in comparison to WAG, as shown below in the table. Due to the abovementioned factors, I am bullish on the stock.
| | | | |
| --- | --- | --- | --- |
|   | Forward P/E | PEG | Price to Sales |
| CVS | 14.5x | 1.2 | 0.70x |
| WAG | | 1.35 | 0.90x |
| Rite Aid (NYSE:RAD) | | 0.45 | 0.30x |
| Average | 15.15x | 1.1 | 0.70x |
Source: Yahoo finance
Disclosure: I have no positions in any stocks mentioned, and no plans to initiate any positions within the next 72 hours. I wrote this article myself, and it expresses my own opinions. I am not receiving compensation for it (other than from Seeking Alpha). I have no business relationship with any company whose stock is mentioned in this article.