Corning (NYSE:GLW) is definitely a quality stock to own. This world leader in display products did its earnings report today, April 28. GLW beat both EPS and Revenue Street estimates for the last four quarters. The iPhone 6 sapphire display rumor is annoying but GLW again beats on earnings, $0.01, and beats revenue estimates too, $2.39 billion vs the $2.31 bill consensus.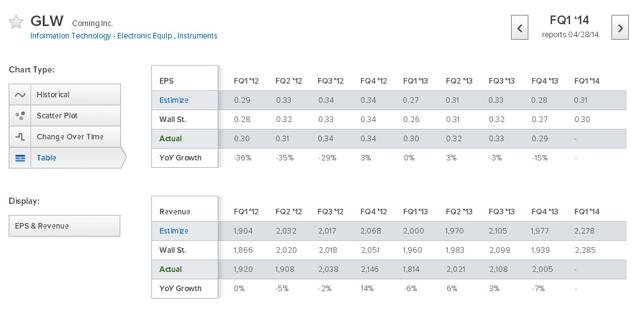 Click to enlargeSource: Estimize
The past earnings wins have helped GLW deliver a +45.75% one-year return. Based on the Strong Buy rating of Alpha Omega Mathematica for Corning, I suspect the stock can do another +20% run before 2014 ends. The world's biggest smartphone vendor, Samsung, can compensate for the possible loss of iPhone display sales. Samsung (OTC:SSNLF) and Corning have a long-term display supply contract that will last until 2023.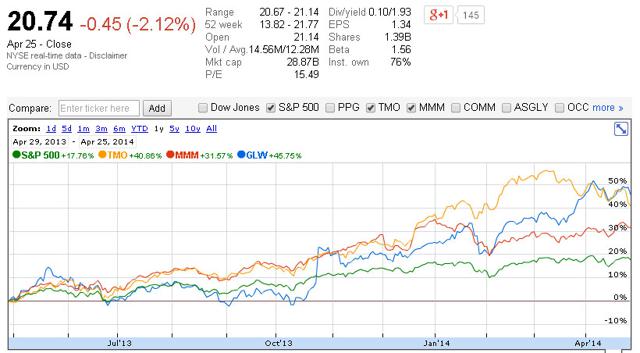 Click to enlarge
Source: Google Finance
Apple Is Not the Only Client for Gorilla Glass
Samsung also owns 7.4% of Corning so the South Korean company is obligated to help protect Corning's Gorilla Glass dominance in the mobile display market. Gorilla Glass protection is found in almost 75% of existing smartphones. However, recent write-ups here at Seeking Alpha have called for a boycott of GLW due to the misleading belief that Corning will suffer gravely from the decision of Apple (NASDAQ:AAPL) to use sapphire glass for the upcoming iPhone 6.
To some extent, Apple's defection from Corning Gorilla Glass for its new iPhone hurts Corning. Apple is still the king of the high-end phone market. The rumor that the new iPhone 6 will use sapphire glass is noisy panic-inducing news.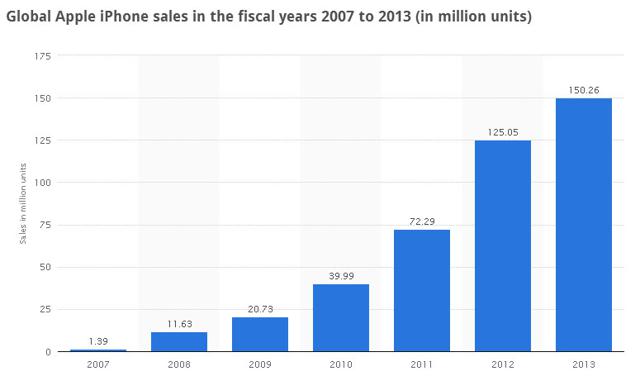 Click to enlarge
Let's say Apple sells another 50 million iPhone 6 units this year, Corning's Gorilla Glass business will lose around $100 ($2 per phone display) in sales this year if Apple totally uses sapphire glass from GT Advanced Technologies (GTAT). The next fiscal years without Apple's orders will mean Corning losing $300 million worth of sales.
That is of course if Apple will continue to sell the same 150 million volume sales per year - which I find hard to believe because there are now so many lower-priced premium phone alternatives to the iPhone. The lower cost of Gorilla Glass 3 will keep the product popular among iPhone alternatives like those found in Galaxy S5 and Nexus 5.
The highly popular $327 Xiaomi Mi3 premium phone also uses Gorilla Glass. The much-anticipated $299 OnePlus One has its big 5.5-screen protected by Gorilla Glass 3. In fact almost all the current popular Android and WP8 rivals of the iPhone come with Corning's Gorilla Glass protection. The list is super long so just check this link to see what products comes with Corning's glass.
Gorilla Glass can thrive even without Apple. This protective product is now found in 2.5 billion devices spread among 33 brands and 2,400 products. Samsung, Xiaomi, Nexus, LG, Lenovo, Huawei, ZTE, Sony, HTC, Microsoft, and other multinational OEM companies, have a combined sales volume that's more than 5x bigger than Apple.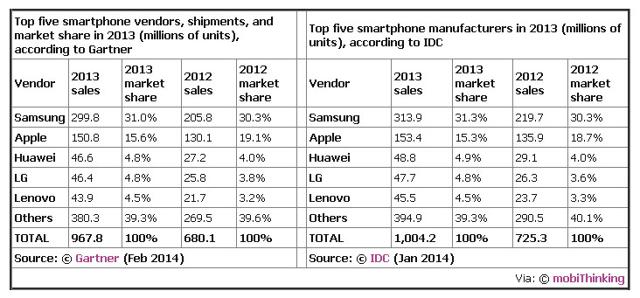 Click to enlarge
Phone manufacturers who are increasingly facing thin-margin pressure will stay with the cost-effective Gorilla Glass rather than spend $10 or more for sapphire glass. Only Apple, with its high-margin business model (and undying iLoyalists) can afford adding sapphire to its Bill of Materials. The average selling prices of smartphones (except for iOS products) will gradually decline to the $200-250 range.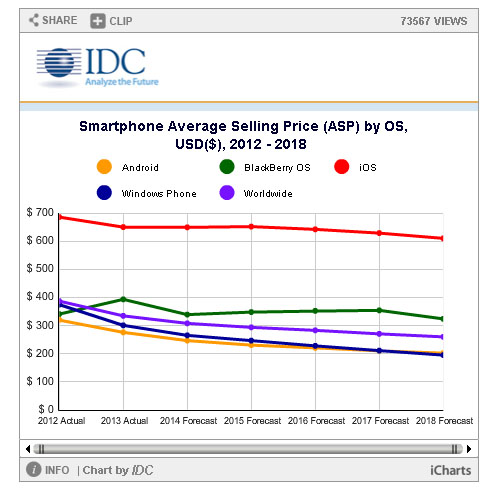 Corning can further offset the loss of the iPhone screen business through Gorilla Glass sales to white box phone vendors in China and India. The Thl T11 smartphone from Chinavasion has Gorilla Glass 3 even though it only retails for $222. The low price, less than $3, of Gorilla Glass 3 means even sub-$200 phones from Shenzhen can have the said display protector.
Furthermore, Gorilla Glass is also now being used in laptops, markerboards, elevators, and other interior architectural applications. The loss of the iPhone 6 deal is just a minor setback for GLW.
Gorilla Glass Is Not Corning's Biggest Revenue Source
As per fellow contributor Max Koffler's chart, Gorilla Glass or Specialty Materials only account for 15% of Corning's revenue. GLW has two bigger and more important divisions. Corning derives 39% of its sales from Display Technologies and 27% from Telecommunications.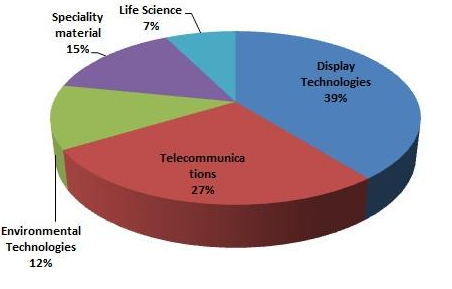 I disagree with Koffler's statement that GLW's success is closely tied to how many phone screens it sells. The threat of losing $300 million in sales from Apple is hardly fatal to Corning's bottom line. A check on Morningstar shows GLW delivered $7.82 billion in sales last year.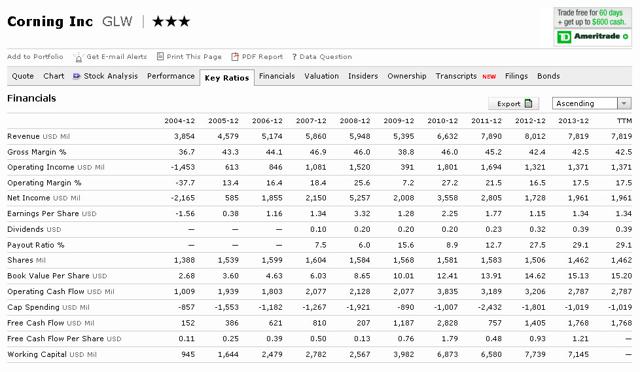 Click to enlarge
Corning's flexible OLED-compatible Willow Glass is a strong future tailwind for the company because UBI Research is projecting the consumer AMOLED market to become a mammoth $750 billion industry by 2020. The Display Technologies division of GLW, through its huge presence in China, is strategically positioned to benefit from the $50.56 billion that display materials will become by 2020.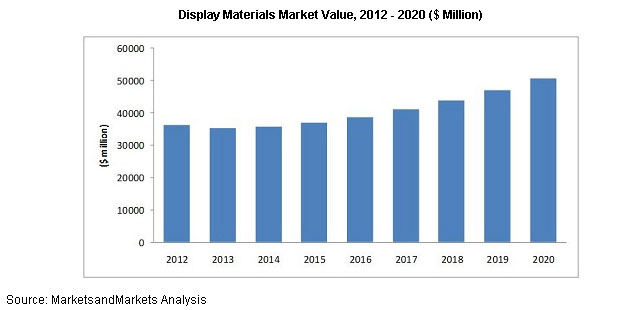 The display solutions of Corning for large-screen products are strong tailwinds in the shift towards bigger size television sets and computer monitors. Corning's Gorilla Glass is also being used in smartwatches. The rise of wearable computing is one more source of new revenue stream for GLW. Watches from Intel, Samsung, Pebble, and others will need Corning's protective glass.
Conclusion
With or without Apple, Corning is a quality stock for long-term investment. The company is a big derivative winner from the rise of smartphones, tablets, touch screen computers, and large-size monitors/TVs. Alpha Omega Mathematica's Strong Buy recommendation for GLW is mainly due to its great Value Indicator score.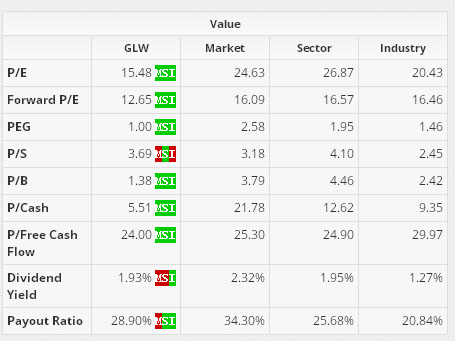 GLW's TTM and Forward P/E are lower than its peers. The PEG, P/B, P/Cash, P/Free Cash Flow, and Payout Ratios are better than the Diversified Electronics industry averages. Corning's EV/Revenue is also only 3.50, and EV/EBITDA is 11.13.
Apple's defection may temporarily derail the upside movement of GLW this year, but the company will continue to prosper and the stock market will eventually give Corning another rally. GLW is now higher than its MA50 and MA200 average. Corning again beats the street projections but a sell off may still happen.
Wait for the sapphire screen-pessimists to bring down the stock and buy GLW when it bottoms out. Nevertheless, I'm hoping the market will surprise me and give GLW a post-earnings boost later today.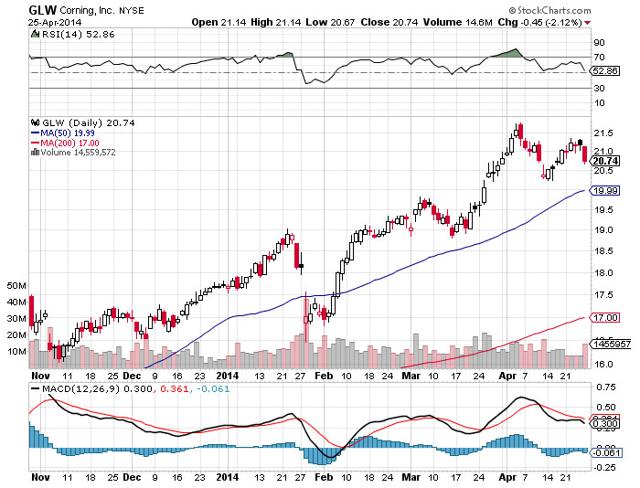 Click to enlarge
Disclosure: I am long AAPL. I wrote this article myself, and it expresses my own opinions. I am not receiving compensation for it (other than from Seeking Alpha). I have no business relationship with any company whose stock is mentioned in this article.
Editor's Note: This article discusses one or more securities that do not trade on a major U.S. exchange. Please be aware of the risks associated with these stocks.