In my previous article on Enzymotec (NASDAQ:ENZY) I mentioned Enzymotec's great 2013 full year performance and looked forward for an even better 2014. I concluded in the article that "investors looking for a small-cap biotech company for the long run can find Enzymotec an interesting opportunity". This recommendation was based on the latest business decisions such as penetrating the fish oil omega-3 market with Omega PC, increasing InFat sales as a result of the one-child policy change in China, and expanding the Vaya Pharma market coverage in the United States. The recommendation was backed up by Enzymotec's forecast to increase its EPS from $0.53 in 2013 to the $0.7-$0.87 range in 2014. As the Q1 earnings call is just around the corner, in this article I want to cover a few events that took place since the previous February 18 article and what I will be looking for in the upcoming earnings release.
Since its IPO, the Enzymotec stock price increased by 150% from the IPO price of $14 to an all-time high of $35 in December 2013. From that high in December, the Enzymotec stock price plunged 45% to its current price of $19. Holding Enzymotec from September 27 (IPO day) to April 21 (the day this article was written) would have yielded 7.4%, which is lower than 15% IBB (iShares Nasdaq Biotech ETF) or 9.3% XBI (SPDR S&P Biotech ETF) would have yielded for the same period of time with less risk (assuming investing in an ETF of multiple tickers in a specific sector is less risky than investing in one ticker in the same sector), as shown in graph 1 below.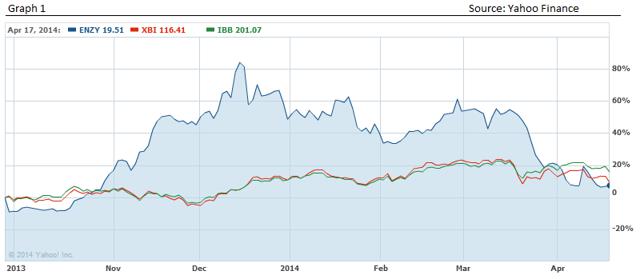 If that downtrend continues we might see Paulson & Co, the largest shareholder of Enzymotec, changing positions from a passive investor to an active one, thereby gaining more control in the company to reverse the stock trend. Paulson & Co, a $23B investment management firm, completed a purchase of 19.24% percent of the company's shares in March 10, making it the biggest shareholder of Enzymotec. It will be interesting to see how long it takes until the investment giant becomes more active in Enzymotec's leadership.
Enzymotec is also in the middle of a patent war with competitor Neptune Technologies & Bioressources, Inc. (NASDAQ:NEPT) for krill oil patent infringement. The US Patent and Trademark office has still to provide final decisions on the patent infringement claims made by Neptune. Once these decisions are announced they will have a direct impact on the stock price. If the USPTO finds that Enzymotec actually infringed Neptune's patents, it will probably fine the company and require the company to pay royalties for every krill oil product sold. A Wells Fargo analyst quantified this risk, stating that a 5% royalty will have a $2.5M impact on Enzymotec's bottom line, equaling a $0.11 impact on earnings per share. This impact on earnings will stimulate an additional decrease in stock price. For now, the litigation status and ITC investigation status are unclear and I'm curious to see the company's response to these events.
In the earnings call I will pay attention to the progress due to the company's latest business decisions to expand revenue streams that were mentioned in the annual earnings release:
Expanding Vaya Pharma sales outside the US and further in the US - In the annual earnings release, CEO Ariel Katz mentioned that Enzymotec is currently expanding its Vaya Pharma sales force in the US and is looking for new strategic partnerships to expand its sales further. What is the status and how have Vaya Pharma's sales improved since the sales force grew?
Gaining more market share in China for the InFat product line - Is the sales volume through Biostime increasing and is there a new strategic partnership to increase sales further with Danone, Nestle, or Mead Johnson Nutrition?
Increasing omega-3 (krill and fish oils) revenues to offset the manufacturing facility investment and royalty impact (if any) from the Neptune litigation - What is the company's prediction of the market share the company could gain in the fish oil market, and what is the revenue expected from the joint venture with Polar A/S to produce and market the fish oil-based omega-3?
Conclusions
Enzymotec stock suffered a sharp decline in the last few months. The Paulson & Co investment management firm used that opportunity to increase their holdings in Enzymotec to 19.24%. The patent infringement investigation status is still unknown as well as progress in the company's emerging revenue streams. For now, as there are many unknowns for Enzymotec, I would neither buy nor sell it till some of these unknowns become clear, hopefully right after the earning release. I will follow up on the points I highlighted in this article then.
Disclosure: I have no positions in any stocks mentioned, and no plans to initiate any positions within the next 72 hours. I wrote this article myself, and it expresses my own opinions. I am not receiving compensation for it (other than from Seeking Alpha). I have no business relationship with any company whose stock is mentioned in this article.