Friday morning, the 25th, Growlife Inc. (OTCPK:PHOT) began trading again on the OTC. The trading resumption was at the expiration of a Securities and Exchange Commission suspension than began April 10, 2014. When trading opened, a number of retail investors questioned why they were unable to place trades, and/or why they were not seeing price quotes on the bid and ask.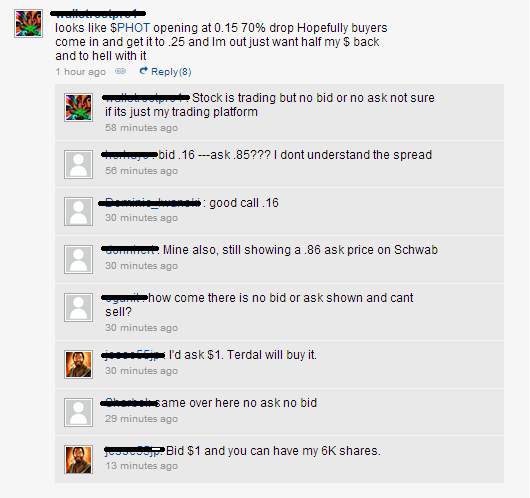 For those not familiar with the risks associated with the OTC, or for those that have never experienced a trading suspension due to SEC order, these questions are reasonable and understandable. This article will seek to explain in layman's terms dark trading, the requirements that need to be met before broker dealers can enter unsolicited quotes, and the process by which a broker can register as a market maker and enter solicited quotes on their own behalf. This information, while directed at long shareholders of Growlife and Advanced Cannabis Solutions (OTCQB:CANN) is applicable to any stock temporarily suspended by the SEC.
Why an SEC Suspension?
Sometimes circumstances arise where the SEC, to protect investors and the public interest, may suspend trading in a stock. Most of the time, longs are understandable upset and want to know why their stock was suspended. The SEC typically cites one or more of the following reasons:
The company is not current in its filings of periodic reports, and therefore there is a lack of current, accurate, or adequate information about the company.
There are specific questions about the accuracy of press releases, reports, the operating status, transactions, or reports.
The SEC suspects potential market manipulation, has questions about insider trading, or concerns about the ability of broker dealers to clear and settle transactions.
There is never a forewarning that the SEC is about to suspend trading in a particular security, and unfortunately, it happens a lot more frequently that most people think. Here is a direct link to SEC suspensions that have occurred since 1995.
What happens now that trading has resumed?
Once a suspension has expired, it is very unusual for the SEC to comment publicly on the status of the company. That comes later. Just because the ten-day suspension period ends doesn't the investigation is over or that the company is in the clear. There may still be an ongoing investigation. However, there may be quite a delay between the resumption of trading and when the SEC will announce any enforcement actions against a company or unrelated parties. Until then, some people will be of the opinion that the company has serious legal problems or that there has been some attempt to defrauded investors, either by the company, related insiders, or unrelated third parties. This almost always has a detrimental effect on the stock price.
The big detriment to long shareholders at this point is limited price discovery. Because, although shares have resumed trading, brokers are still forbidden from entering quotes unless they (the broker dealer) can prove the company is in compliance with Rule 15c2-11, Initiation or resumption of quotations without specific information.
As a means reasonably designed to prevent fraudulent, deceptive, or manipulative acts or practices, it shall be unlawful for a broker or dealer to publish any quotation for a security or, directly or indirectly, to submit any such quotation for publication, in any quotation medium (as defined in this section) unless such broker or dealer has in its records the documents and information required by this paragraph (for purposes of this section, "paragraph (A) information"), and, based upon a review of the paragraph information together with any other documents and information required by paragraph (B) of this section, has a reasonable basis under the circumstances for believing that the paragraph information is accurate in all material respects, and that the sources of the paragraph information are reliable.
(Yes, believe it or not, that is one sentence!)
Not to be over burdensome, but a summary of the information required is:
A copy of the prospectus specified by section 10 of the Securities Act of 1933.
A copy of the offering circular provided for under Regulation A under the Securities Act of 1933, or a copy of the issuer's most recent annual report or information that, since the beginning of its last fiscal year, the issuer has published.
The following reasonably current information:
The exact name of the issuer and its predecessor (if any);
The address of its principal executive offices;
The state of incorporation, if it is a corporation;
The exact title and class of the security;
The par or stated value of the security;
The number of shares or total amount of the securities outstanding as of the end of the issuer's most recent fiscal year;
The name and address of the transfer agent;
The nature of the issuer's business;
The nature of products or services offered;
The nature and extent of the issuer's facilities;
The name of the chief executive officer and members of the board of directors;
The issuer's most recent balance sheet and profit and loss and retained earnings statements;
Similar financial information for such part of the 2 preceding fiscal years as the issuer or its predecessor has been in existence;
In addition, the broker dealers must disclose if any associated person is affiliated, directly or indirectly with the issuer (company), whether the quotation is being published or submitted on behalf of any other broker dealer, and whether the quotation is being submitted or published directly or indirectly on behalf of the issuer, or any director, officer or 10 percent owner.
Until those requirements are met, the stock will trade dark, or without bid/ask prices displayed. This seriously impedes the price discovery mechanism that National Best Bid and Offer or NBBO provides. So, retail investors will probably not be able to enter trades online and will have to personally have to contact their broker in order to place those trades. However, extra due diligence is probably warranted if you are or thinking about becoming a shareholder of a company that has recently been suspended by the SEC. Or, as stated by the SEC directly:
Investors need to be careful before purchasing a stock after an SEC trading suspension has ended. If you are considering this move, here are several things you can do to help protect yourself:
Ask the broker quoting the stock what information it has on the company and how recent that information is, bearing in mind that the SEC's reasons for imposing a trading suspension typically involve a lack of current, reliable information.

Look for information on your own and evaluate carefully whatever you find.

Understand that there may be an illiquid market for some of these stocks, particularly if the company does not have to file periodic reports with the SEC.

Use extreme caution if anyone is recommending you purchase the stock without offering current information about the company.
As an aside, It is important to remember that not all suspensions and investigations are directly related to the company as a whole. It may be limited to select individuals or even unrelated third parties that may collude to manipulate market prices. It may also be the result of improper filings or other administrative errors resulting in inaccurate public information.
One of the most common ways for a company to prove compliance with rule 15c2-11 is to have an attorney attest to the accuracy and timeliness of public filings. Once this letter has been issued, broker dealers can be reasonably assured that the company is in compliance.
Next Steps after Rule 15c2-11 has been met.
Once either the company has met or the broker dealer is reasonably assured that the company meets the requirements of rule 15c2-11, they may begin entering unsolicited quotes. This helps the price discovery mechanism get off the mat and at least up onto one knee. However, liquidity and price discovery will still be impeded simply because there are not market makers willing to solicit quotes and step in as a counter party to willing participants.
In order for that to happen, a broker dealer must file FINRA form 211. Then, solicited quotes can be entered in by that particular broker. The more Form 211's filed, the more market makers, the greater the liquidity and better the price discovery mechanism.
It is not necessary for stocks to have one or more market makers to survive on the OTC. Specific examples in this particular sector that actively trade without market makers are Medical Marijuana (OTCPK:MJNA) and HEMP, Inc. (OTCPK:HEMP). Neither have broker dealers making a market in their stocks, yet they both actively trade on the OTC.
However, to be completely straight forward, the historic precedence of stocks that have been suspended by the SEC does not lend confidence to long shareholders. All one needs to do is to go through that list linked above and try to find one that has come off suspension, had unsolicited quotes re-established, and brokers file 211's to solicit quotes. They are rare indeed, but it is not unheard of.
As an example, research the recent history of Makism 3D (OTCPK:MDDD). The company was suspended in December of 2013, closing at $0.90 on December 12. It reopened December 31, and traded with an intraday low of $0.12. At this writing, the stock is trading at $0.30 per share, has submitted all the necessary documents to comply with rule 15c2-11, and has unsolicited quotes being printed. This example illustrates the additional risk discount buyers are demanding and an additional discount based on limited liquidity.
What that means to PHOT and CANN longs
Growlife CEO Sterling C. Scott has commented, suggesting that the SEC temporary suspension is the result of unrelated third party actions.
It appears, from counsel's discussions with the SEC's staff, that the SEC suspension was prompted by concerns that some 3(rd) party holder(s) of Growlife stock may have been planning to engage in some form of manipulative promotional activity. Growlife does not have any more specific information regarding this matter. On behalf of Growlife, I can confirm that Growlife was not involved in the planning of any potentially manipulative promotional activity nor does it have any knowledge of any planned 3(rd) party promotional activity of any kind or type, proper or improper.
Right now, both PHOT and CANN longs have discovered how quickly the price can drop once trading resumes. For instance, PHOT, which closed at price of $0.50 on April 9th, had an intraday low of $0.10 on April 25th, the first day of trading. Similarly, CANN had closed at $29.99 per share on March 26th, and saw an intraday low of $7.00 on April 10th, the day trading resumed. This drop in price should be attributed to three things.
The first two would be the lack of liquidity and failure of price discovery explained above. The third is an increased risk premium that most investors will demand based on the recent suspension. Unfortunately, the only thing that can abate that risk premium is an all clear from the SEC for the company. Thus are some of the risks associated with the OTC (see here and here).
Bottom Line
You did your research (you did do some research right?) so just ask yourself if your original thesis is still valid. Then, consider the risk profile going forward; is it still acceptable based on your risk tolerance? Depending on your answers to those questions, how long you plan on holding the shares, what your current unrealized profit or loss is, then you need to make a personal decision on what to do with your shares.
Whatever you decide, don't let an inability to enter an order over the computer hold you back. Call your broker personally and have them enter an unsolicited order. But, keep in mind that individual broker dealers can have more restrictive purchase or sale restrictions based on house risk management policies as outlined in their individual brokerage account agreements.
Disclosure: I have no positions in any stocks mentioned, and no plans to initiate any positions within the next 72 hours. I wrote this article myself, and it expresses my own opinions. I am not receiving compensation for it (other than from Seeking Alpha). I have no business relationship with any company whose stock is mentioned in this article. This information is not investment advice, nor is it a suggestion to either buy or sell any of these securities. Retail investors should do their own research and fully understand the risks associated with these companies.
Editor's Note: This article covers one or more stocks trading at less than $1 per share and/or with less than a $100 million market cap. Please be aware of the risks associated with these stocks.