Sometimes those easy investments turn out to be much more complicated than they had originally appeared. In my first article on Seeking Alpha, I pointed out a disparity between the share price of Full Circle Capital (FULL) and what I thought would be the intrinsic value of the company after accounting for its investment in Advanced Cannabis Solutions (OTCQB:CANN). My conclusion was that I needed only to wait for the shares of FULL to rise to my newly calculated NAV. Even if the shares of CANN were to fall, the math was simple enough that one could figure out how much the investment was worth to Full Circle's bottom line at any given time, and trade in and out of the position accordingly. At the time, shares of FULL were giving a 90% discount to the BDC's investment in CANN. By keeping a watchful eye on both of the stock prices, anyone could be sure that the shares of FULL were continuing to trade at this discount.
That was until the SEC temporarily suspended the stock, it's the 4th halt of the marijuana sector.
Full Circle's stock plummeted as investors tried to figure out the complete extent of the damage.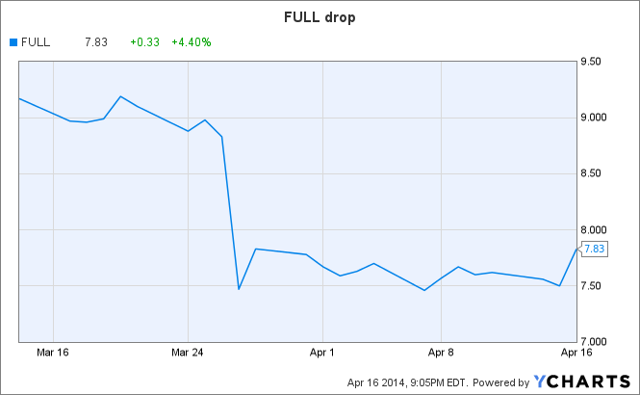 Meanwhile, CANN just stopped trading.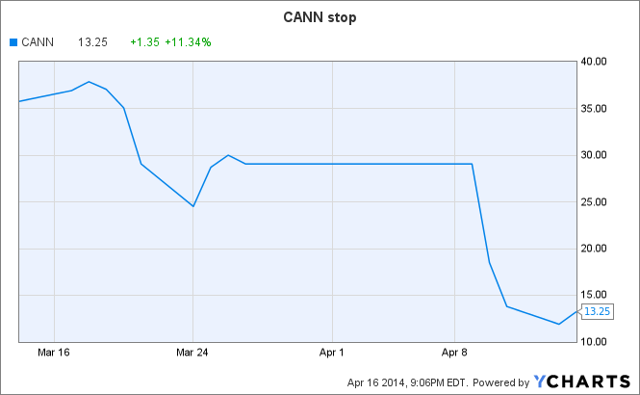 So much for simple math.
Since the suspension has ended, shares of Advanced Cannabis Solutions have traded in the grey market in the teens and the twenties. With FULL trading at $8, the thesis of the first article is still intact. However, all of this turmoil has caused me to become a "green" investor. I can no longer be content with an investment in Full Circle without knowing the ins and outs of possibly its most lucrative investment.
This article will look at three separate issues. The first segment will give a brief overview of what Advanced Cannabis Solutions does. The second will examine the trading suspension CANN shares were placed under by comparing the language of all the SEC suspensions in the marijuana industry over the last two months. The final section will look at the recent developments in the company, its future growth plans, relationship with Full Circle, and examine Advanced Cannabis Solutions' 10-K filed on April 16.
Introduction to ACS
For those new to Advanced Cannabis Solutions, they have a three pronged business plan working with licensed and regulated clients in the marijuana industry, primarily in Colorado. The core aspect of business model is to own the property that marijuana is grown and sold on. By signing triple net leases with growers and dispensaries, the company can keep its hands more clean in an ever-changing regulatory environment. Secondly, the company is looking to supply ancillary products such as baggies and plant nutrients. The third line of business sends its management to consult other marijuana businesses in the industry for a fee. It is important to note that the company does not sell marijuana, and does not have any plans to do so in the future.
The company has made progress on all three major business lines.
These are initial examples of contracts the company intends to sign in the upcoming year. The long-term success of the business is dependent on the company continuing to find suitable projects and partners with which to conduct business. Funding acquisitions via future cash flows, debt, and equity raises can help the company grow into its lofty fully diluted valuation of around $350mm.
Management has experience in both the commercial real estate and medical marijuana industries. On paper, this team is particularly suited to thrive with this business model. The pot sector has a plethora of players, but CANN investors are counting on the execution of the management team to efficiently use capital to partake in the explosive growth in the legal use of marijuana.
Both the business plan and management were given a vote of confidence in January when Full Circle Capital, a business development company, extended them a conditional $30 million secured line of credit. The first $7.5 million is in 12% notes convertible into common shares at $5 apiece. This deal granted both the management team and its business plan a certain amount of credibility, as investors assumed that Full Circle Capital had done a large amount of due diligence before stepping into this sector.
SEC Brings Down the Hammer
On March 26th, the SEC suspended trading of shares of Advanced Cannabis Solutions. By market cap, this was the largest suspension of any stock in the pot sector. The stocks that have been suspended by the SEC recently besides CANN include Growlife Inc. (OTCPK:PHOT), Citadel EFT, Inc. (OTC:CDFT), Aventura Equities, Inc. (OTC:AVNE), and Petrotech Oil & Gas, Inc. (OTC:PTOG). The SEC gives different reasons for the suspension of each company. These are the relevant statements from the SEC's press releases for the reason each marijuana stock was suspended, in reverse chronological order.
PHOT: The Commission temporarily suspended trading in the securities of PHOT because of questions that have been raised about the accuracy and adequacy of information in the marketplace and potentially manipulative transactions in PHOT's common stock. The Commission acknowledges FINRA's assistance in this matter.
(There is a great discussion of PHOT's suspension in this SA article.)
CANN: The Commission temporarily suspended trading in the securities of Advanced Cannabis due to a lack of current and accurate information concerning the securities of Advanced Cannabis. There are questions regarding whether certain undisclosed affiliates and shareholders of Advanced Cannabis common stock engaged in an unlawful public distribution of securities.
(Undisclosed affiliates, and not questioning operations)
CDFT: The Commission The Commission temporarily suspended trading in the securities of Citadel because of questions that have been raised about the accuracy and adequacy of publicly disseminated information concerning, among other things, the company's business operations and assets. In particular, there are questions regarding the accuracy, completeness, and validity of Citadel's several recent press releases, Form 8-Ks, and other public statements since January 2014 relating to transactions involving standby letters of credit ("SBLC's"), see Prime Bank Instrument Fraud, TreasuryDirect.gov (U.S. Department of the Treasury), www.treasurydirect.gov/instit/statreg/fr... (last visited Mar. 20,2014) and Brazilian Letras Tesouro Nacional ("LTN's"), see Frauds Related to Public Bonds,Tesouro Nacional (Brazil), www.tesouro.fazenda.gov.br/en/about-the-... (last visited Mar. 20, 2014).
(Information concerning operations and assets)
PTOG: The Commission temporarily suspended trading in the securities of PTOG because of questions that have been raised about the accuracy and adequacy of publicly disseminated information concerning, among other things, the company's operations. The Commission acknowledges FINRA's assistance in this matter.
(Notice the difference between "operations" and CANN's "securities")
AVNE: The Commission temporarily suspended trading in the securities of Aventura because of questions concerning the adequacy and accuracy of publicly available information about Aventura, including, among other things, its financial condition, the control of the company, its business operations, and trading in its securities.
(Notice operations again, as well as financial condition and control)
Take what you will from each statement, but the SEC has not seemed to question the operations of either CANN or PHOT. This is not to condemn any of the above companies, but there is a stark difference and specificity to each SEC press release.
The SEC definition of an affiliate "is a person, such as an executive officer, a director or large shareholder, in a relationship of control with the issuer." Therefore, any large shareholder, and not just management, could be the person who triggered the SEC investigation.
In response to the suspension, Advanced Cannabis stated this in their press release.
All of the shares owned by the Company's officers and directors are restricted and have not traded in the public market.
There are many shares held by others who were involved in the process of transitioning the former company, ProMap, into the company as it currently exists today. There were also many accredited investors who bought shares in a private placement last year. I will not speculate on who sold shares legally or illegally, but an SEC investigation could have been initiated without even the appearance of malfeasance by current management. Alan Brochstein of 420 Investor, one of the most public faces of MJ investing, was paraphrased by a reporter "that this is most likely a third-party problem with an individual investor breaking the rules."
The SEC does not comment any further on trading suspensions, even when they have concluded their investigation. Just because the suspension has been lifted does not mean that CANN is in the clear. So far, management has been proactive, and come out and flatly said that they have not sold, which is a positive. I will not pretend to have any insider information or perspective in this matter. However, contemplating the SEC suspension, management statements, and company filings, I am inclined to agree with Mr. Brochstein.
Life After Suspension
Advanced Cannabis Solutions released its 10-K on April 16th. There were several revelatory statements in its audited yearly filing. Of particular importance to investors of Full Circle, the details of the requirements to obtain the funding are more fully spelled out.
Full Circle will provide us with the $7.5 million when:
Full Circle agrees on the location of property to be purchased;
The property's appraised value is satisfactory to Full Circle;
A Phase I environmental inspection is completed to the satisfaction of Full Circle; and
We are able to provide a first priority lien on the property to Full Circle.
Further, Advanced Cannabis Solutions revealed that they are expecting to purchase property sooner rather than later.
We have identified four properties that are currently under review for purchase and leaseback to licensed marijuana growers in Colorado. These projects include the purchase and leaseback of existing, currently operating facilities, as well as proposed new construction projects. These opportunities are in Denver and Pueblo counties, Colorado and can be purchased/constructed in the range of $750,000 to $5 million for each project."

It is anticipated that purchase contracts will be signed in the next 30 days with closing expected 45 to 60 days following contract execution.
As people familiar with the situation know, Full Circle Capital has exclusive rights to all debt financing for the first $30 million, and right of first refusal for any additional debt financing past that initial investment.
Also revealed in the 10-K is that Advanced Cannabis Solutions has 973,000 warrants out for investors to purchase shares at $10 each. Management has the ability to force them to exercise at any time, and this could be their first option to fund up to $9.73 million in real estate purchases. If they achieve the 25% ROI the CEO has talked about, Advanced Cannabis Solutions could be one of the first cash flow positive public marijuana companies by the end of the year. While this would add a million shares to the count, I think it would be a great outcome for the startup company. Now is as good a time as any to use that cash.
After the warrants are exercised, I assume that Full Circle will be lending the first payment of $7.5 million for any future real estate deals, as I don't think an equity raise would be in the cards at this time considering the recent suspension of the stock.
There is Always a But...
Following the suspension of the stock, Full Circle released a statement that lead many to wonder if they would fund any portion of the loan at all.
Full Circle Capital Corp. entered into a purchase agreement with Advanced Cannabis Solutions, Inc. to fund $30.0 million of senior secured convertible notes in January 2014. In conjunction with the closing of this agreement, Full Circle Capital purchased for $500,000 warrants to purchase 1.0 million shares of currently unregistered common stock of American Cannabis stock at a $5.50 per share exercise price. To date, these warrants have not been exercised, transferred or sold. Further, none of the senior secured convertible notes have been funded and Full Circle Capital retains the contractual right to fund these notes at its sole and absolute discretion.
This strong language, while clarifying its financial obligations to Advanced Cannabis, made investors question if Full Circle would just wash its hands of the situation completely. Full Circle makes perfectly clear it has no obligation to provide another penny to Advanced Cannabis Solutions past the $500,000 it paid for the warrants when the deal was signed in January. One cannot be sure what will happen until Full Circle either funds a deal, or management informs investors about the business relationship in a press release or on the earnings call in May.
For the foreseeable future, these two companies are intertwined in what could be a very profitable partnership, if they can get this business on its feet.
For its part, during the suspension, Advanced Cannabis Solutions seemed to go about their business. They moved into a new office and signed the aforementioned supply agreement with a provider of special "baggies" for the dispensation of marijuana. This all bodes well for the future of the company, but big questions have yet to be answered.
What We Don't Know
Is management shooting straight with investors and the SEC?
Can management prove and scale its business model in the coming months? Will they responsibly fund their growth?
Is Full Circle Capital going to fund the purchase of properties for Advanced Cannabis Solutions?
We should know all of these answers within the next few months.
Disclosure: I am long FULL. I wrote this article myself, and it expresses my own opinions. I am not receiving compensation for it (other than from Seeking Alpha). I have no business relationship with any company whose stock is mentioned in this article.
Additional disclosure: This is not investment advice or an offer to invest. This article is for general information purposes only.
Editor's Note: This article covers one or more stocks trading at less than $1 per share and/or with less than a $100 million market cap. Please be aware of the risks associated with these stocks.