Nokia (NYSE:NOK) has finally completed the sale of its mobile phone division to Microsoft (NASDAQ:MSFT), originally announced on September 3, 2013.
Nokia's factories in Chennai, India, and Masan, Korea, have not been included in the deal. The Chennai plant is part of a tax dispute with India, while the Korean facility will be closed by Nokia.
Nokia has also entered into a service agreement with Microsoft to produce mobile devices for the Redmond company.
Microsoft now making money out of Android OEMs for patents, not from licensing WinPhone
Let's first start from a collateral damage of Nokia's acquisition, to move to the bigger picture in the next paragraphs.
A few weeks ago, Microsoft officially reduced its Windows licensing fee to $0 for smartphones and tablet makers, in an effort to win more OEMs for its mobile platform, or, more probably, just to avoid the exodus of its existing Windows Phone partners, now that the Redmond company has become a handset producer itself.
The impact on Microsoft's balance sheet from this strategic move will not be huge - so far, Nokia represented almost 90% of Windows phone sales, and was compensated for adopting Microsoft's OS through a questionable "marketing contribution" strategy, where Microsoft was spending to promote Nokia's phones probably in excess of what the Finnish company was charged for licensing Microsoft's software.
Jackdaw Research has a great chart resuming Windows Phone revenues in the last few quarters: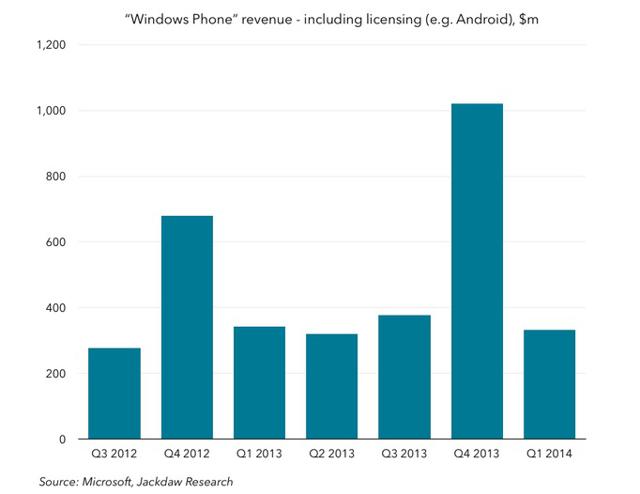 The key thing to note here is that, other than in the fourth quarter, this number stays a little under $400 million a quarter. And it's worth reminding everyone that this number is not just Windows Phone licensing itself but also the rest of Microsoft's mobile licensing activity (think patents licensed to Android OEMs). As such, as Microsoft executes on its new policy of not charging OEMs for Windows for devices under 9 inches, there's only a very small amount of revenue at risk - likely $100-200 million per quarter. And of course Nokia was paying about 90% of that anyway, so it would have become an internal transfer starting today.
Analysts like Nomura's Rick Sherlund recently estimated that Microsoft was making about $2 billion a year from Android OEMs:
To arrive at Microsoft's Android licensing revenues of around $2bn a year, the analyst assumed that Microsoft makes an average of $5 per unit on each Android sold, and that Microsoft has about 70 percent of the total market covered by its licensing deals.
While we do not agree with Nomura's numbers (probably overestimated), we agree with the conclusion, which was made based on Microsoft's business model at that time:
Android will still be a bigger source of profits for Microsoft than its Windows Phone business.
With Microsoft now giving away Windows Phone software for free, the company's investors should look at Google's (NASDAQ:GOOG) (NASDAQ:GOOGL) competing platform Android as the source of a very high margin (probably over 90%) royalty stream in mobility, and relate to the WinPhone OS just as a tool now given as a gift to OEMs to drive traffic to Microsoft's cloud services, which are included in the mobile software platform.
However, by looking at Microsoft's relatively small licensing business in mobility, we do risk missing the main impact of the Nokia's acquisition for Microsoft's shareholders: owning a $14.8 billion per year business (2013 data) that needs to be restructured, in a big way.
Will Microsoft be able to turn around Nokia's unprofitable business?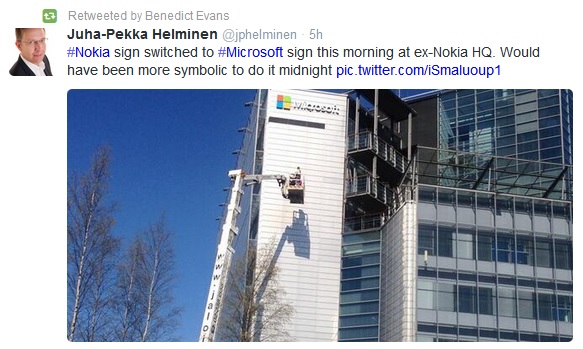 Here is a quick look at how Nokia's handset division performed in 2013:

In 2013 Nokia's phones made a loss of € 780 million ($ 1,075 million), and caused a cash outflow of approximately €1.2 billion ($1.65 billion) to the Finnish company.
Microsoft has a long history of acquisitions (149 companies during Mr. Ballmer's reign), not all of them very successful.
With most of them, the company moved into new business areas - mobility, however, isn't one. The company knows the sector quite well, and its former CEO had already admitted defeat: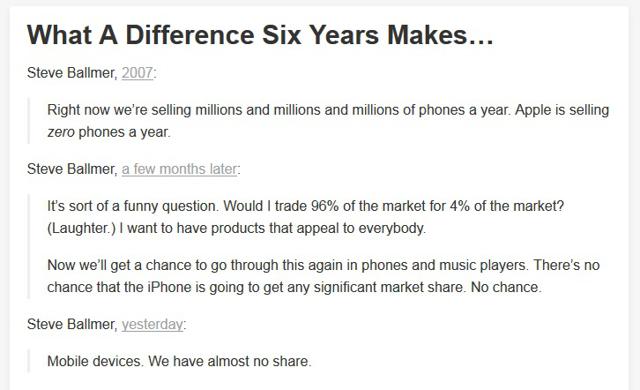 While we believe that Microsoft will have a hard time digesting and turning around an unprofitable division like Nokia's handset business, having to deal with three different operating systems (Microsoft's own WinPhone, Asha and now even a forked version of Android that powers Nokia's new X range), and operating in a very competitive sector where only Samsung (OTC:SSNLF) and Apple (NASDAQ:AAPL) can now turn a profit, we are fully aware that only time will tell investors if a happy ending out of Nokia's acquisition is possible.
Some recent moves, however, following Microsoft's CEO transition may indicate that the climate that lead to the Nokia's acquisition has already changed, and allow for some educated guesses about what we estimate as the most probable outcome.
Microsoft 1.0 morphing into Microsoft 2.0
John Kirk recently wrote one of the most interesting analysis of Microsoft's business model, and how it may be evolving:
Microsoft 1.0 had one of the most successful business models of all time. But no matter how successful Microsoft became, management seemingly could not abide the thought of any other technology company sharing the spotlight of success.
If a competitor was being successful with customers Microsoft wasn't addressing, Microsoft had to have those customers as well.
If a competitor was being successful in a market where Microsoft didn't compete, Microsoft felt compelled to compete there as well.
Most damning of all, if a competitor's success could be attributed to its business model, Microsoft felt compelled to assimilate that business model and make it their own.
Microsoft wasn't setting their own agenda. Instead, they were letting the successes of their competitor's set the agenda.
The analysis goes on describing how Microsoft behaved in relations to Apple's iPod success, and how it failed trying to win that market (do you remember Zune?).
In the mobile market, Microsoft tried once more to copy Apple's strategy, becoming an integrated hardware/software producer through the Nokia acquisition.
A failed attempt, already: no one, for example, would expect Apple to license its iOS free of charge to other OEMs in an attempt to create a sustainable ecosystem.
Time to try analyze Microsoft's new CEO, Satya Nadella, first moves, and what they may mean related to the Nokia acquisition.
Nadella cuts Windows umbilical cord
The launch of Word, Excel and Powerpoint in the Apple App Store, ahead of the Windows platform, was a clear indication that Nadella may be pursuing a different strategy from Ballmer:
The move was anticipated, pragmatic (given the contrasting installed bases of the two tablets, especially in enterprises), and only relates to one product on one device. But it was just about as symbolic as a gesture could be, reinforcing the promises which Nadella made on his accession to the throne - to put mobile and cloud strategies at the heart of Microsoft's growth plan.

The Office for iPad announcement makes all this explicit, though it also raises new questions - particularly, whether Nadella is less sold than Ballmer on the idea of creating an integrated hardware/software platform, Apple-style, for mobile, post-PC and cloud-attached devices.
Back to John Kirk's analysis, we'd like to highlight one of his forecasts for Microsoft 2.0 we completely agree with:
Unprofitable strategies (like Windows RT, the Surface tablet, Windows Phone 8, buying Nokia, moving to a functional organization) will be undone. This will take some doing but the process has already begun.
In other words (with our note added in brackets and Italic):
Microsoft 1.0 was about Windows on every computer. Microsoft 2.0 is about MICROSOFT on every computer. [we would probably use the word "device" instead of computer to underline a post-PC era]
Another write off, soon? A definitive "probably", although Microsoft investors shouldn't be too worried
A quick look at some recent Microsoft write offs, mostly due to acquisitions / entries into unknown territories that were not completely successful (some numbers are missing for attempts like Zune, etc. that did not technically require a write-off):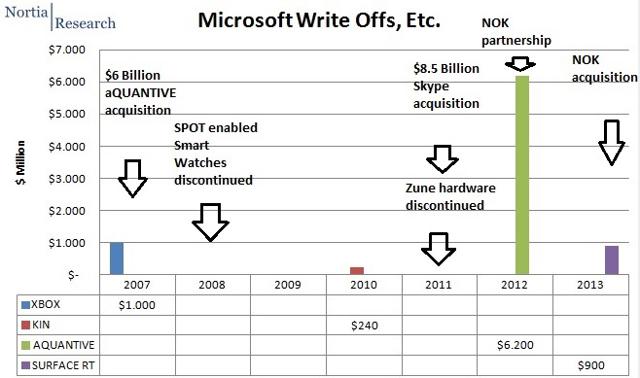 We do believe that Nokia might soon become Microsoft's next big write off, as the Redmond company morphs into a different company, whose focus may be different from selling low margin mid and low end mobile phones, mostly in very competitive markets .
The way the deal was structured, however, will probably mitigate the negative impact for Microsoft investors.
Kudos to Robert Cringely for his bright use of lateral thinking at the time the Nokia acquisition was announced:
I don't think Nokia has to succeed in order for Microsoft to consider the acquisition a success.

So why, then, did Microsoft buy Nokia? The stated reason is to better compete with Android and iOS, furthering Ballmer's new devices and services strategy, but I think that game is already lost and this has more to do with finance than phones.

Microsoft, like Apple and a lot of other companies, has a problem with profits trapped overseas where they avoid for awhile U.S. taxation. The big companies have been pushing for a tax holiday or at least a deal of some sort with the IRS but it isn't happening. So Apple, sitting on $140+ billion has to borrow $17 billion to buy back shares and pay dividends because so much of its cash is tied-up overseas. But not Microsoft, which just bought Nokia - a foreign company - with some of its overseas cash. Redmond said so today. That makes the real price of Nokia not $7 billion but more like $4.5 billion, because it's all pre-tax money.

So what does that make Microsoft's acquisition of Nokia?

Money laundering.
Calling the Nokia acquisition money laundering may probably be a stretch, but as many analysts noticed when the deal was announced, the real "cost" to Microsoft is less that the number reported, because of the use of overseas funds.
Add to this that a write-off can be positively seen as a creative "NOL generating" financial operation for a very profitable company, and you get to our point: as Microsoft's new strategies, which may include de-emphasizing the device and services reorganization, become clearer, Nokia may represent the last bad news generated by "Microsoft 1.0" loss of business focus, and a not-too-expensive price to pay for Microsoft investors while moving to a better focused Microsoft 2.0.
Disclosure: I have no positions in any stocks mentioned, and no plans to initiate any positions within the next 72 hours. I wrote this article myself, and it expresses my own opinions. I am not receiving compensation for it (other than from Seeking Alpha). I have no business relationship with any company whose stock is mentioned in this article.