In my Market Forecast this weekend, I said:
If SPX 1100 is cleared, SPX should retest the 1120 level. Miners went up quite a bit last week and may need to take a quick breather.
Monday, SPX closed above that 1100 level. Yesterday morning, SPX tested 1120, then, pulled back, as miners saw profit-taking. US Steel (NYSE:X) reported earnings that missed the average estimate, and added selling pressure for the mining stocks. X shares fell 6.4%. Coals were also weak: Cliffs Natural Resources (NYSE:CLF) -3.22%, Walter Industries (NYSE:WLT) -4.47%, Peabody Energy (BTU) -1.8%. Gold fell all the way to below $1160 before bouncing back a little to close above that level. Gold miners stumbled: Rangold (NASDAQ:GOLD) -3.58%, Newmont Mining (NYSE:NEM) -3.99%, Barrick (NYSE:ABX) -4.12%.
After the market, Broadcom (BRCM) reported strong earnings and forecasted a strong Q3. BRCM initially traded lower in after-hours, but, came back up to trade +1.2% higher. Buffalo Wild Wings (NASDAQ:BWLD) had a great quarter, easily beat the earnings estimates; its shares jumped +7.69%. Bagger Vance caught some "wings" on this one as he commented in the Trading Room today:
Bagger Vance July 27, 2010 12:51 PM

if spicy burritos (NYSE:CMG) were good last week, one has to think the wings were on fire, too (BWLD)
On the other hand, although Panera (NASDAQ:PNRA) also reported well, its outlook did not impress the investors. PNRA shares traded down 2.47%.
The Dow closed up +12.26 points; SPX slid 1.17 points; Nasdaq fell 8.18 points: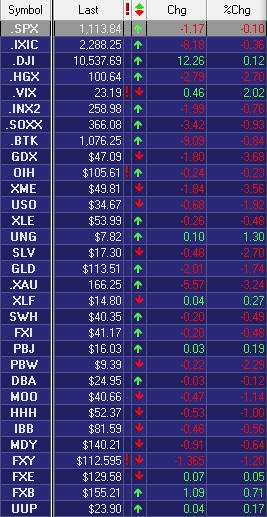 Most sectors were in the red yesterday. Commodity sectors were weak. XME (metals and mining) dropped 3.56% while GDX (gold miners) fell 3.68%. USO (oil) and GLD (gold) were both down. XLF (financials) barely closed in the green. FXI (Chinese ADRs) slipped slightly.
Major market indices were hardly changed, so, we'll look at the charts another day.
SPX tested 1120 yesterday and Nasdaq tested 2300. This is not a big deal since we were just there in June. In fact, SPX went briefly above 1130, then, took a 2-week sharp dive. The market has rallied rather quickly in these past 3 weeks from visiting SPX 1010 on July 1st. It looks to be taking a breather. A close above that 1120 will be encouraging (note: in June, SPX never closed above 1120). We'll need to be very patient, as this market has been making big swings. Lots more big earnings coming up today (see Market Forecast), including Akamai (NASDAQ:AKAM), Corning (NYSE:GLW), Visa (NYSE:V), and Boeing (NYSE:BA).


Disclosure: no positions