Following Apple's (NASDAQ:AAPL) dominant second-quarter performance, which sent the stock soaring more than 8%, activist investor Carl Icahn took to Twitter (NYSE:TWTR) to send a few reminders to, presumably Apple CEO Tim Cook, about what's really important.
Aside from strong earnings and revenue beat, Apple had just announced an increase in its share repurchase authorization to $90 billion from the $60 billion. The company also increased its quarterly dividend by about 8%. Last but not least, Apple said it will split its stock 7-for-1 in June. All told, the company said it would boost the overall size of its capital return program to more than $130 billion by the end of 2015, up from its previous $100 billion plan.
Immediately thereafter, Mr. Icahn shared with the world his feeling in two separate tweets, which are as follows: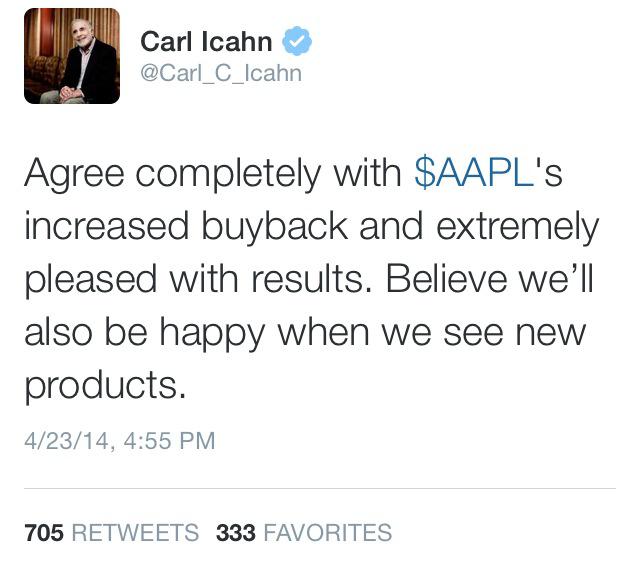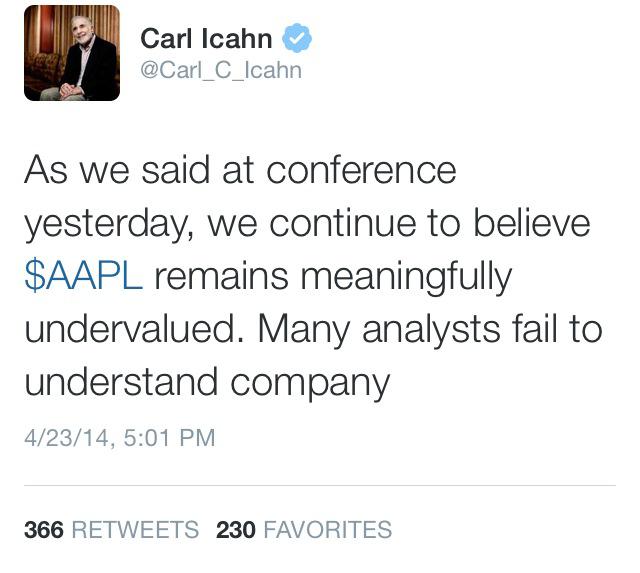 The first tweet was the most interesting, which (in my opinion) suggests that this quarter's results are now a thing of the past. Now Apple still has to deliver on innovation. Icahn will, presumably, be more impressed with a new product release. While Tim Cook may have not announced any new products during the conference call, according to the company's subsequent 10-Q filing with the SEC, Icahn may soon get his wish.
The filling revealed a $2.8 billion jump in commitment for things like new manufacturing equipment, research and development, marketing and product tooling. Now with rumors about an iTV, an iWatch and all sorts of possibilities, this investment could be allocated for any number of directions. You may wonder, what's the big deal? These off-balance sheet commitments are not out of the ordinary.
This would be true, except the $2.8 billion doubles what Apple spent for all of 2013. And here we are, only with four months of the year having elapsed. So while some may scoff at the fact that the $2.8 billion figure includes the typical investments, such as internet and telecom services, that it far exceeds last year's total tells me that the company is preparing to launch something big. And it won't be the typical enhancement/upgrade to an existing category.
What's more, the hint is that the filing shows a 30% jump in research and development costs, which, in the quarter, reached $1.4 billion. Last year, R&D was 2.6% of sales. This quarter, it rose to 3.1%. Note, we are only two years removed from when Apple spent (only) $841 million in R&D, which (then) accounted for 2% of sales. So this 66% jump in R&D spending shouldn't be taken lightly.
For more than two years, Samsung (OTC:SSNLF) has poked fun at Apple, suggesting that "the next big thing is here." This is to say, the world no longer has to wait for Apple to create. More than anything, this has been what has spawned notions that Apple has lost its innovative edge, when, in comparison to prior years, the gap between product releases have been consistent.
In last week's conference call, Tim Cook said told investors that he and his team "currently feel comfortable in expanding the number of things we're working on". But he did remind investors that "We care about every detail and when you care about every detail and getting it right, it takes a bit longer to do that [announce the product]" "That's always been the case."
Perhaps this was Cook's response to Icahn. For now, aside from hitting the mark on every single earnings metric, investors will just have to "settle" for $130 billion in cash. And with the stock trading at near 52-week highs, Apple's stock remain a bargain on the basis of its cash hoard of $151 billion, which dropped recently from $159 billion. From my vantage point, this too is another sign that Apple is using its cash to re-grow the top line. More importantly, the company is gearing up to remind Samsung and other critics that the "next big thing" will always be rooted in Cupertino.
Disclosure: I am long AAPL.
Business relationship disclosure: The article has been written by Wall Street Playbook's tech sector analyst. Wall Street Playbook is not receiving compensation for it (other than from Seeking Alpha). Wall Street Playbook has no business relationship with any company whose stock is mentioned in this article.