Some of my favorite SA authors have written articles recently about a great rotation from growth to value. A widely followed hedge fund manager says there is a clear consensus that we are witnessing another tech bubble, and paraded after him on TV are chartists showing a classic head and shoulders pattern on the iShares NASDAQ Biotechnology Index ETF (NASDAQ:IBB) price chart - yikes, the tech bubble is about to burst.
Let's see if we can identify the start of a biotech bubble assuming there is one: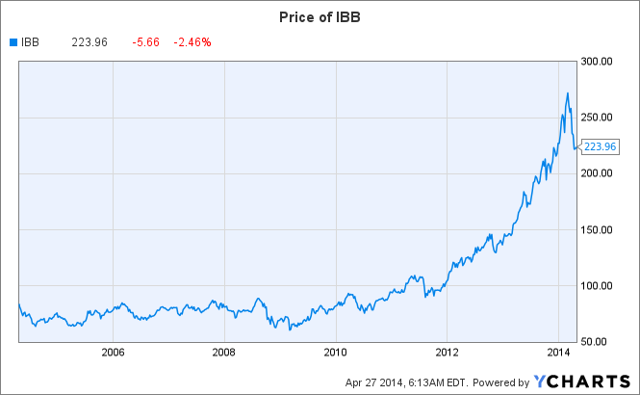 Click to enlarge
In late 2011 right after the European debt crisis hit the market, biotech began what until now was an almost exponential rise.
In this brief article I take a simple - and yes, simplistic - look at revenue versus multiple expansion as the primary driver of some stock prices. The valuation multiple used is price-to-sales ratio, or more accurately, market cap-to-revenue. I did this while contemplating the sale of some of my own biotech stocks, and the results were helpful to my decision-making.
Starting with the company I consider the paragon of biotech, Regeneron (NASDAQ:REGN):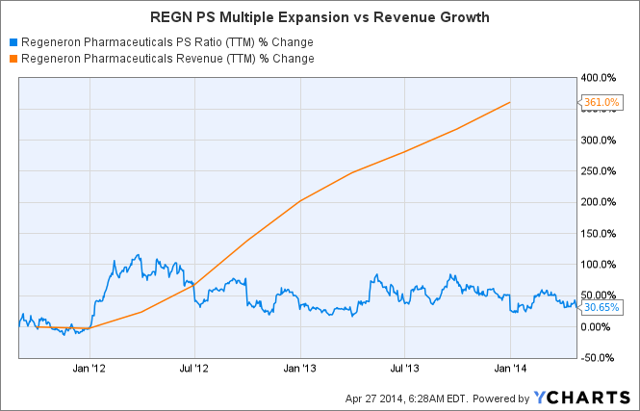 Click to enlarge
REGN PS Ratio (TTM) data by YCharts
Since 1 September 2011, REGN stock price has appreciated 378% (not shown), driven by revenue growth of 351% and by multiple expansion of about 30% (recent P:S = 15).
For a comparison, let's look at stalwart Johnson & Johnson (NYSE:JNJ).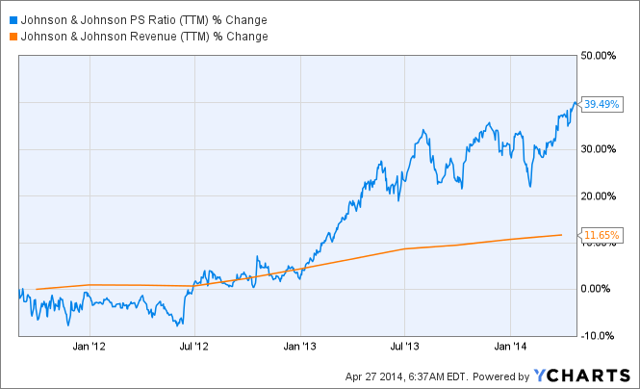 Click to enlarge
JNJ PS Ratio (TTM) data by YCharts
During the same interval, JNJ stock price appreciated 52% and was driven more by multiple expansion (P:S expanded nearly 40%) than by revenue growth (+12%). During the past two months, JNJ stock is up 8%, REGN down 15%. No question JNJ generates more consistent yearly returns on investment, but do investors really prefer to pay up for multiple expansion (the primary driver of JNJ stock price) rather than for revenue growth (the primary driver of REGN stock price)?
Next biotech champion: Gilead (NASDAQ:GILD).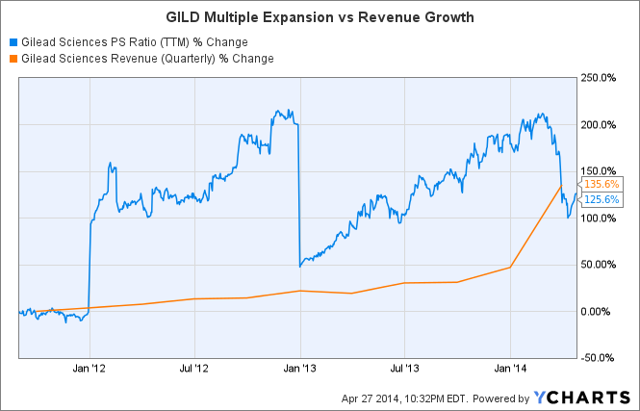 Click to enlarge
GILD PS Ratio (TTM) data by YCharts
Since 1 September 2011, GILD stock is up 274% driven by revenue growth of 136% and by multiple expansion of 125% (P:S increased from only 4 in late 2011 to about 9).
For Biogen (NASDAQ:BIIB), I had to use P:E rather than P:S which was not available in Ycharts: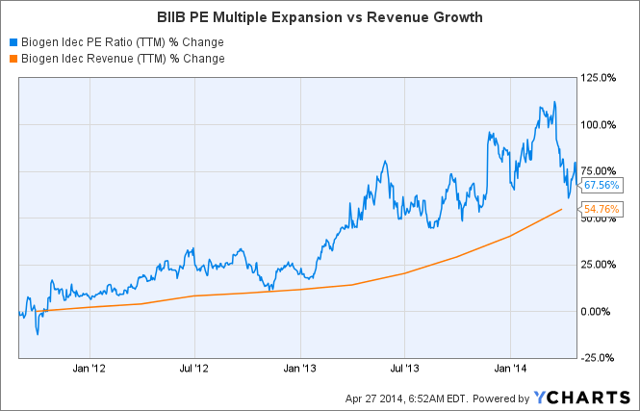 Click to enlarge
BIIB PE Ratio (TTM) data by YCharts
BIIB stock price is up 205% since 1 September 2011, driven by revenue growth of 55% and by multiple expansion of 68%. GILD and BIIB stock prices are down by 12% and 16%, respectively, over the past 2 months.
Let's do another comparison with a big pharmaceutical, Pfizer (NYSE:PFE):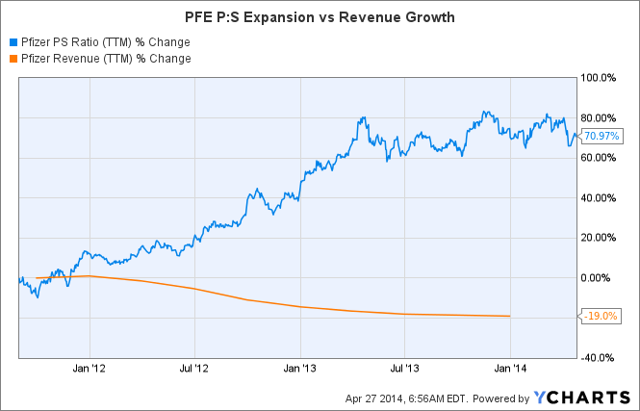 Click to enlarge
PFE PS Ratio (TTM) data by YCharts
Pfizer's revenue actually declined during a period when its P:S valuation increased by 71%. PFE stock price is up 62% since 1 September 2011, and down only 4% over the past two months. Okay, JNJ and PFE are mature, safe companies that pay dividends so the comparison with REGN, GILD, and BIIB isn't really valid, is it? But why is negative revenue grower PFE being rewarded with similar multiple expansion to revenue grower BIIB?
Next let's look at a mature biotech company, Amgen (NASDAQ:AMGN).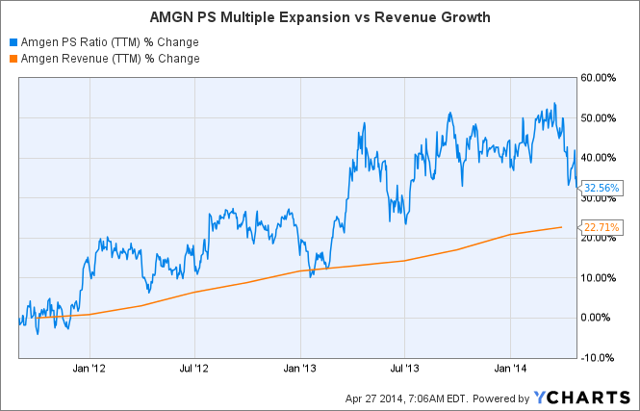 Click to enlarge
AMGN PS Ratio (TTM) data by YCharts
AMGN revenue grew by 23% (compared to PFE's 19% contraction) while its P:S expanded by 33% (compared to PFE's expansion by 71%).
Here are TTM ROIC values (data source: newconstructs.com)
| | | | |
| --- | --- | --- | --- |
| REGN | AMGN | JNJ | PFE |
| 33% | 16.2% | 15.1% | 5.4% |
AMGN provides a greater rate of return on capital than the big pharma, and its stock price has been less dependent on multiple expansion.
Next I looked at a smaller and profitless biotech that I own, and which has lost 20% of its market cap recently: SGEN.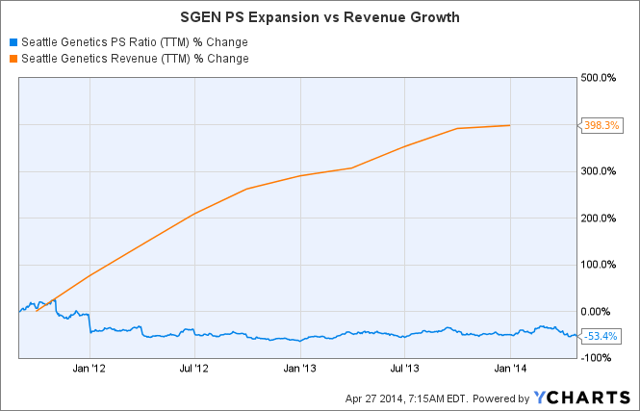 Click to enlarge
SGEN PS Ratio (TTM) data by YCharts
SGEN is what I personally would call a value stock using its own historical valuations: revenue is up by almost 400% and its P:S multiple has contracted by over 50%.
Regeneron in profile. Here is why I refer to this company as a paragon of biotech:
Technology platforms are its patented genetic engineering capabilities
Scientists: 410/2,340 employees are doctoral level
Trial drugs in pipeline: 2 in phase 3; 4 in phase 2; 9 in phase 1
Pipeline supported by 2013 R&D budget = 40% of revenue
Asset heavy with PP&E = 18% of total assets, providing REGN with manufacturing capability
Sales from 3 biologicals on the market
5-year annualized earnings growth = 34%
Inside ownership is high
REGN revenue and returns may indeed be lower in the near-term until drugs emerge from its pipeline, but I cannot imagine selling stock in this brilliant group of people to buy a big, slowly growing pharmaceutical or a utility company. This is the biotech I admire most that I don't own - yet.
Conclusion. The herd is stampeding towards low growth, driven by short sellers and pundits on freak shows showing head and shoulders patterns on the IBB price chart. Prices of many big pharmaceutical stocks are up this year: PFE is flat, but JNJ, Astra Zeneca (NYSE:AZN), Sanofi (NYSE:SNY), Glaxo (NYSE:GSK), Novartis (NYSE:NVS) are all up YTD. Utility companies represented in XLU are even up 14% YTD (revenue growth for its largest component, Con Edison, has been negative 21% since 1 September 2011). If there is indeed a rotation out of biotech and into big pharmaceuticals and - ugh - utilities, its basis is purely psychological, not logical. It's certainly not for the growth. I am not saying there is no bubble in biotech. I could have used similar Ycharts to show overvalued biotechs such as Alnylam (NASDAQ:ALNY) for which revenue has fallen sharply while P:S valuation has steeply climbed. But I don't blame the biotech selloff on shareholders of ALNY or other biotechs which have been bought on the virtue of their fantastic pipelines without any regard for valuations. I think the selloff has been caused by traders rocking the boat to shake investors out of the best growth story in our economy.
Recommendations:
Buy more, don't sell your biotech if its price over the past 2-3 years has appreciated in-line with revenue growth. If, however, your biotech has appreciated on multiple expansion, and P:S is now high double digits, consider cutting your losses and re-investing the proceeds from your sale.
Buy biotech companies with increasing revenue, sales from at least one product on the market, a large R&D budget in support of a deep pipeline, and positive or at least rapidly uptrending returns on capital.
If you want to check historical valuations on your biotech, you can get a nice visual by overlaying in Ycharts the stock price and the P:S ratio - if they are almost superimposed, then you can be pretty comfortable your stock has not contributed to a bubble in biotech.
Don't run with the herd for the safety of slow growing, large cap pharmaceuticals selling at a premium.
Disclosure: I am long GILD, AMGN. I wrote this article myself, and it expresses my own opinions. I am not receiving compensation for it (other than from Seeking Alpha). I have no business relationship with any company whose stock is mentioned in this article.