Based on our "weight of the evidence" approach, we estimate that the U.S. equity bull market dating from March 2009 is vulnerable to the first significant down phase since the mid-cycle correction in 2011. In this article, we highlight some worrisome signs, speculate on some events, which could trigger a deeper correction this time around, and finally propose some key technical levels to watch.
At Williams Market Analytics, we rely heavily on our market indicators in determining asset allocation and weightings. Unlike fundamental statistics, analyst recommendations and manipulated company earnings, market prices are very reliable indicators - they never lie. We give an executive summary run-down of several worrisome signs.
1.) The Risk Environment
Market internals are weakening, even as major broad market equity indexes hover near all-time or multi-year highs. Our key risk indicator, the WMA Market Risk Indicator, continues to deteriorate, as shown below. For a description of the indicator, click here.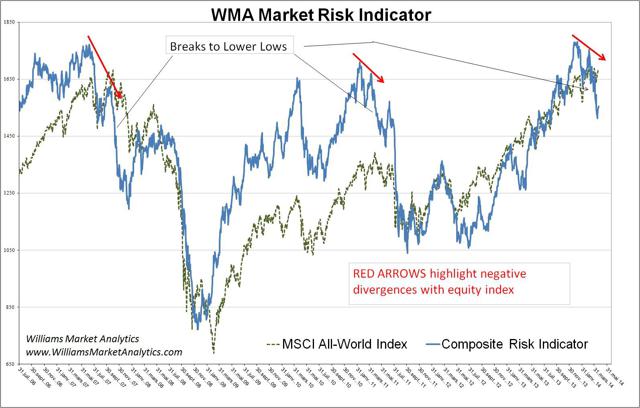 No Help from the Bond Market This Time Around
As stock investors move towards "risk-off" mode, what about the prescient bond market? Well, it seems that bond investors don't appear to perceive a change in risk conditions. As a chap recently suggested in the Financial Times, perhaps for the first time, the bond market is a step behind the stock market. We have another explanation: the bond market is so distorted by the Fed's bond buying program that interest rates and yield spreads are completely out-of-whack. Let's look at two traditionally important spreads to visualize the problem.
The first chart shows the Two's - Ten's spread on U.S. Government notes. Almost 5 Years into the economic expansion, the spread remains around 225 basis points. Where we should be at this stage of the recovery is quite evident from the chart.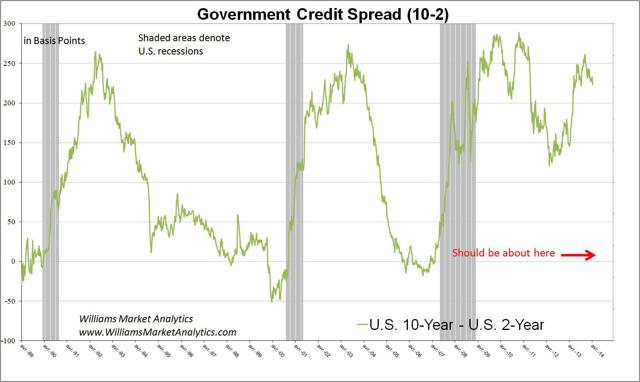 The second chart shows an Investment Grade credit spread. Again, the chart reveals that the spread remains historically very wide for the fifth year of an economic expansion.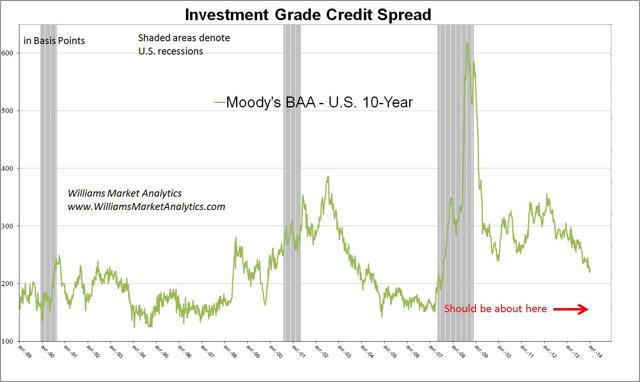 Our conclusion is that the bond market will not be a reliable indicator in predicting the next downturn.
2.) Sentiment Hits Bullish Extreme
The bears have become an almost extinct species. Everyone is bullish. To evidence this claim, consider:
· The Investors Intelligence survey of investment advisors recently showed less than 14% bears, the lowest since the 2007 bull market top. Over 60% are bullish, leaving the ratio of bulls to bears the highest in 11 years.
· The AAII (smaller investors group) shows the percentage difference of bulls less bears hit a four-year high earlier this year.
· The NAAIM (active money managers) indicate that their members were 98% invested, the highest on record.
· Margin debt in stock portfolios is near record highs, typical of a big market top.
· Our "qualitative CNBC indicator." Living in Europe, the author often leaves the financial network on while working informally in the evening. Note the following observations over the past several weeks:
Roughly, 90% of guests are talking up stocks. Is anyone publicly bearish on the market?
Several "talking heads" have uttered the ridiculous phrase, "The greatest danger is being out of the market."
We hear more and more frequently the ubiquitous responses of "it's a stock-pickers market" and "we remain bullish over a longer time horizon" from analysts incapable of just saying "it's NOT the time to buy."
· Our WMA Sentiment Indicator (below) hit levels of "extreme optimism" earlier this year. The previous time the indicator reached such a high level was just before the correction in 2011.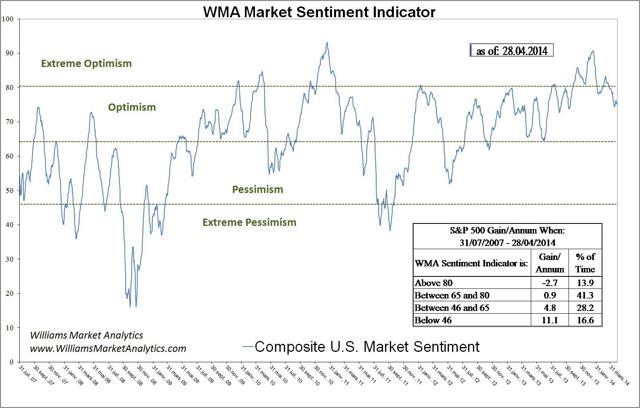 3.) Timing Favors the Bears
Over the past months, we have heard many clients and other market commentators remind us of the "exceptional" market environment in which we find ourselves. They conclude, in light of extraordinary monetary policy measures, that this bull market is different and we still have much more upside from here. Immediately we are recalled of Sir John Templeton's famous quip, "the four most dangerous words in investing are 'it's different this time'." As market historians, we remain conscious of characteristics of prior bull markets, as the current equity bull market enters its 62nd month. Recall that the duration of the average post-war bull market is approximately 50 months, making the current bull market long in the tooth. It is instructive to compare the current bull to the recent 2002-2007 bull due to some interesting symmetries.
· Both the 2009-2014 and 2002-2007 bull markets were spawned following the busting of a bubble (tech and housing).
· The rhythm of gains, as measured on the S&P 500, accelerated in the final phase of both bulls as buying becomes euphoric (see top chart, below). Does the current S&P 500 price chart look a bit parabolic? For those curious, click here to see the classic denouement of parabolic price charts.
· The 2002-2007 bull lasted exactly 1260 trading days (see bottom chart, below). Guess where we currently stand in terms of time duration….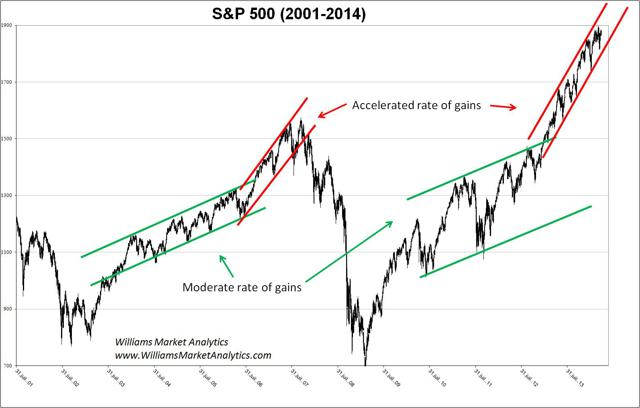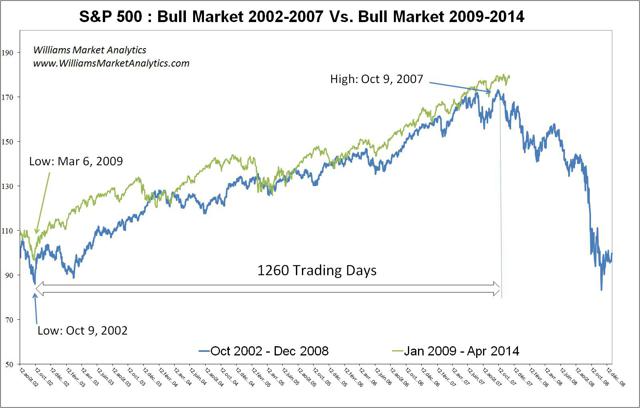 Could this be a case of "déjà vu all over again"?
Two final notes on timing the next down cycle.
1. A notorious high percentage of bear markets begin in the May to October period (see A Novel Idea: Sell U.S. Stocks Into Strength).
2. The January barometer. Over the past 35 years, the Dow Jones Industrials Index annual performance has followed the direction of January in 29 of these years, or 83% of the time. The Dow Jones was down -5.30% in January 2014.
4.) Technical Break-Down of Several Cyclical Indexes
Since the beginning of the year, broad market indexes have been in a topping pattern. After a strong bull market, we would expect a multi-week, complex topping formation as bulls are reluctant to abandon long positions. The Dow hit 16,580 on December 31 and three rallies this year have failed below this level. The S&P 500 has been churning between 1820 and 1890 since February.
However, technical damage is already evident in numerous cyclical indexes, including the Russell 2000, Nasdaq Biotech Index, and Dow Jones Internet Composite. Typically, weakness in high beta indexes precedes a broader market sell-off as fully-invested institutional investors rotate into big caps and defensives to protect their portfolios.
Speculating On Causes For A Market Sell-Off
It's a very difficult task to ascertain which risks the market is mispricing. We observe that the majority of changes in market direction begin on a simple, technical move (e.g.: broken support/resistance, incursion of 50-day moving average). Hence, we strongly believe that "news follows the market." Nonetheless, we offer our assessment of possible news-driven triggers for the correction this year.
Geopolitical. Based on our reading of the crisis in Ukraine, we would guess that a Russian incursion into Eastern Ukraine is more likely than not at this point. Military action would destabilize markets (more in Europe than in U.S.), but we would not expect any greater reaction from investors than following prior Russian invasions of neighbors (for instance, Georgia in 2008). The significance of Ukraine/Russia is that this conflict could be a news event to ignite a corrective move. However, this geopolitical event would have to be reinforced by subsequent (economic-related) negative news to significantly dampen investors' spirits.
Earnings Disappointments. One need not look further than the disappointing results of Amazon last Friday as an example. The forward 4-quarter consensus earnings estimate for the S&P 500 is up to about $131. At the same time, the index P/E is close to 18x, towards the high end of its historical range. While certainly not arguing stocks are "too expensive" based on these metrics, we think the "rah-rah" of Wall Street's cheerleaders (sell-side securities analysts, brokers, and advisories) is a bit stretched concerning the earnings outlook. [As an aside, for the non-initiated, our cheerleaders earn a living by selling financial products (stocks) to the public. Imagine going to the local Tesla dealership and hearing the salesperson say "I feel the Model S is too expensive at the current price, try coming back in six months when supply/demand finds a new equilibrium. It ain't gonna happen. On Wall Street, to sidestep this issue, the cheerleaders typically say goofy things like "we still recommend buying at these levels if you have a 3 to 5 years investment horizon." ] To justify current valuations, we see a catch-22 for investors:
1.) The cheerleaders are once again too optimistic and earnings growth disappoints. Result: stock prices must come down.
OR
2.) Economic growth accelerates and earnings therefore manage to meet/beat forecasts. But as economic activity picks up, the often incoherent Fed-speak will soon turn to advancing the date for the first rate hike, with an almost certain negative impact on the markets as higher rates would hit earnings.
The Federal Reserve. While we are quite skeptical that the "Great Unwind" will go smoothly, reversing the ballooning Fed balance sheet is more of a structural problem that most likely will not be dealt with in 2014 (in any case, the whole idea of solving a debt crisis by adding more debt still leaves us baffled). For this year, the tapering schedule is more or less priced into the markets. Any marked improvement in employment (good news is bad news) or unexpected tick up in inflation could accelerate tapering and offer an excuse to sell stocks. To address one misconception, there is no "Fed put" at current equity index levels. Don't whine if the Fed doesn't immediately stop the QE tapering when your stock portfolio begins losing value. While we are sure that the FOMC has enjoyed playing God with the financial markets these past years, we imagine that they are yearning to get back to their day job.
A Growth Scare. Many previous mid-cycle corrections are sparked by a growth scare. With the PMIs and industrial production well-oriented, it is hard to foresee a soft patch at the moment.
Key technical levels
To briefly conclude, we review some key index support levels to watch, for those able to move more into cash.
· S&P 500. A break of 1814 (April swing low and rising trend support) will open up a test of major S-T support zone between the 200-day moving average (1770) and horizontal support at 1730 (Feb. swing low + Sept. swing high). Below this area, our initial price target would be just south of 1600, which would correspond to a 38.2% Fibonacci retracement of the movement off the 2011 low.
· Nasdaq 100. A small Head-and-Shoulders pattern is forming with the neckline at 3419. A break of this level implies a minimum price movement (the height of the figure) to 3110. Conveniently, this is where we'll find major rising trend support and our initial price objective.
· Russell 2000. Another, more prominent Head-and-Shoulders pattern. The Russell 2000 already broke major rising trend support this year and is in perdition. A likely break of the neckline at 1100 would imply a movement to at least 985, where again we find the 38.2% Fibonacci retracement of the movement off the 2011 low and our initial price target.
Disclosure: I have no positions in any stocks mentioned, and no plans to initiate any positions within the next 72 hours. I wrote this article myself, and it expresses my own opinions. I am not receiving compensation for it (other than from Seeking Alpha). I have no business relationship with any company whose stock is mentioned in this article.